Take Two: Who will take over college football after Saban leaves?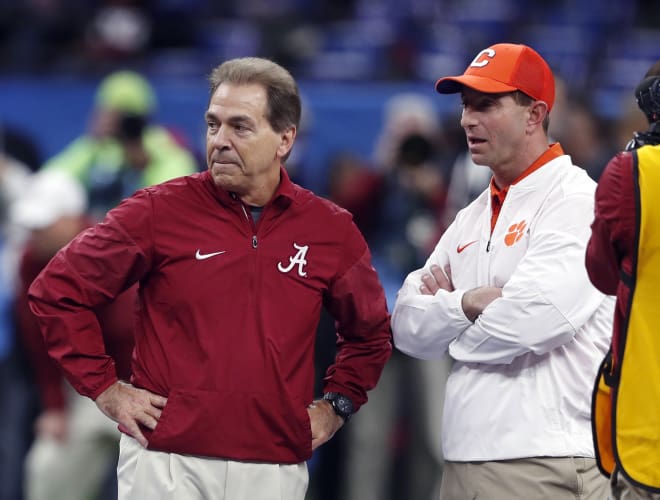 Take Two returns with a daily offering tackling a handful of issues in the college football landscape. Rivals.com National Recruiting Analyst Adam Gorney lays out the situation and then receives takes from Rivals.com National Recruiting Director Mike Farrell and a local expert from the Rivals.com network of team sites.
MORE TAKE TWO: Should Josh Allen be the No. 1 pick in the NFL Draft?

THE SITUATION
Alabama's Nick Saban has won six national championships and is arguably the greatest college football coach of all time, but he's also 66 years old, so the question is who is best positioned to take over the sport once Saban is no longer with the Crimson Tide?
Ohio State's Urban Meyer, Clemson's Dabo Swinney and Georgia's Kirby Smart are three strong possibilities, but maybe no one is better positioned to dominate over the long haul like Swinney.
The question becomes whether Swinney, who's 48 years old, will do it at Clemson or is he lined up to take over at Alabama once Saban hangs it up? Swinney is from Birmingham, Ala., and he played and coached for the Crimson Tide before moving over to Clemson.
Swinney has already won a national title with the Tigers by beating Alabama two seasons ago. He's taken the Tigers to three straight College Football Playoffs. Clemson is a college football superpower.
So will Swinney stay at Clemson in an attempt to build his own program into the best in the business? Or will he be tempted should Alabama come calling once Saban leaves? Would following maybe the best coach ever in the game be appealing or be a turnoff?
FIRST TAKE - LARRY WILLIAMS, TIGERILLUSTRATED.COM
"It's pretty clear Swinney has built a monster in the foothills of South Carolina, one that has unquestioned staying power after 2017. Getting slapped around by Alabama left a sour taste for Clemson fans, but it was nonetheless a startling accomplishment for this program to get back to the playoff after losing so many foundational players from the 2015 and 2016 runs.
"Dabo is an Alabama grad who has loved the Crimson Tide all is life, so sure there's always going to be a possibility he goes home. But everyone who knows him and his family well knows how happy they are at Clemson, how totally content they would be to remain here for good. Bottom line: This is his baby, and he fully plans on adding more national title trophies to the lobby of their opulent football facility. If he leaves for Tuscaloosa, it's probably not going to be anytime soon."

TAKE TWO - MIKE FARRELL, RIVALS.COM
"Dabo has been in the playoffs for three straight years, he already has one title, and Clemson is recruiting at the highest level. If you look at what he's done, you would put him ahead of Smart. Kirby would be the No. 2 guy down the line. Urban is obviously No. 2 right now, but he's a little old to be considered 'next.' I don't see a run of three national championships at Ohio State over the next 10 years with Urban at the helm. With Dabo and Kirby at Clemson and Georgia, you can see something like that happening.
"If Alabama offers, Swinney stays at Clemson. He has a good thing going there. He built it from the start, taking them to this level. It would be a pretty risky move to leave with everything is going so well at Clemson. To follow Nick Saban at Alabama seems pretty risky."