Take Two: Where will 2021 QB Caleb Williams land?
Take Two returns with a daily offering tackling an issue in the college football landscape. Rivals.com national recruiting analyst Adam Gorney lays out the situation and then receives takes from Rivals.com national recruiting director Mike Farrell and an expert from the Rivals.com network of team sites or a regional analyst.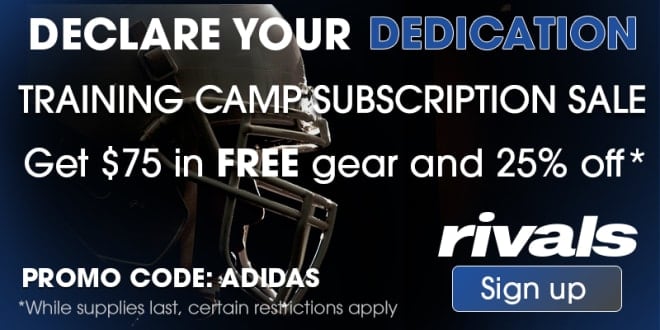 THE STORYLINE
Caleb Williams is one of the top pro-style quarterbacks in the 2021 class and in a sign that the recruiting calendar has been pushed up more than ever he's the only one in the top four at his position not committed yet.
Five-star Brock Vandagriff has pledged to Oklahoma, Kyle McCord picked Ohio State and Sam Huard committed to Washington but Williams is waiting to make his decision as he wades through all his offers.
Yahoo Sports' Pete Thamel wrote a compelling article recently about Williams and his father and their pursuit to find the right school which includes a multi-point plan on what would fit Williams best and which schools would come out on top.
Surprisingly, Stanford and Maryland emerged as the two that fit the Williams' criteria and so those could be two programs to watch in the coming months. The Cardinal has not offered yet but the two sides have been in contact and the Terrapins are aggressively coming after the Washington (D.C.) Gonzaga recruit.
Many believe Williams is favoring two SEC schools in particular - Georgia and LSU - and so it will be interesting to see if those two power programs can stay high on the list.
Will Williams only follow the criteria laid out by his father in picking a school or can those two SEC programs really make a move and solidify themselves as favorites through his junior season?
FIRST TAKE: ADAM FRIEDMAN, MID-ATLANTIC ANALYST
"Maryland is an interesting one because of location but also because of coach Mike Locksley's ability to recruit and the opportunity to play there. It also has great academic standing and that's something that Locksley is going to be able to sell to Williams and his family. Plus, Williams is really close with Maryland offensive coordinator Scottie Montgomery.
"Stanford recruits differently and the way coach David Shaw and his staff handle offers probably endears Williams to the program since they don't just hand them out to everybody. If the Cardinal offer and I suspect they will, then Stanford could very well be a top contender for him.
"But I still think the SEC schools and mainly Georgia and LSU have his attention. They will be able to craft their recruiting pitches around what Williams and his family are looking for and I still think those schools will be in it until the end."
SECOND TAKE: MIKE FARRELL, NATIONAL RECRUITING DIRECTOR
"I don't think there's a four-point, 12-point, 42-point plan to be transfer proof. It's nice that they're doing their research and they're taking their time. It would be nice for a kid to pick a college for that college rather than transferring out after a year if they don't get the starting job.
"Stanford is one of those schools you choose for a different reason. Davis Mills was a five-star kid who chose Stanford and he's waiting his turn and kids don't usually transfer out of there at the quarterback position. Stanford is definitely dangerous.
"Maryland doesn't make a lot of sense to me just because there could be coaching turnover there by the time he's blossomed. I still think Georgia and LSU are still the teams to beat."