Take Two: Can LSU make a serious run at D.J. Uiagalelei?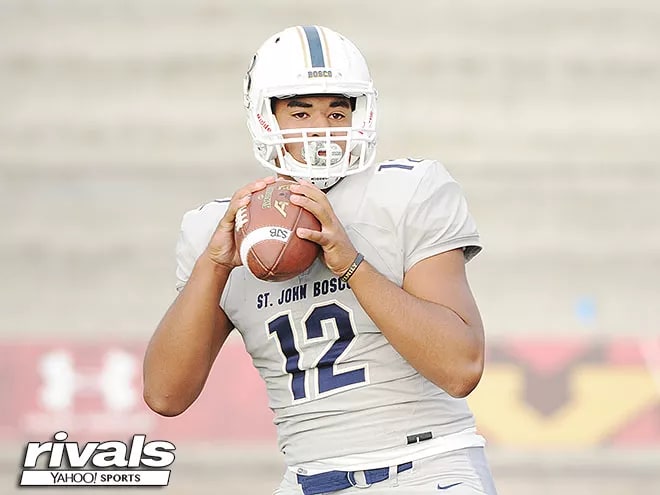 THE STORYLINE 
D.J. Uiagalelei is the No. 1 player in the 2020 class. He's a 6-foot-4, 235-pound quarterback from Bellflower (Calif.) St. John Bosco who is also a star baseball player and has potential future stardom in two sports.
In his junior season, Uiagalelei threw for 3,366 yards with 48 touchdowns and seven interceptions. He also rushed for six scores.
Over the weekend, the 2020 five-star prospect was at LSU's bowl practice as he continues to have interest in the Tigers.
LSU already has quarterback commitments from four-stars Max Johnson and TJ Finley and it could be done recruiting the position for that class, but it's still super early - it's not even National Signing Day for the 2019 crop - and if Uiagalelei continues to show interest, then it would be nearly impossible to turn him down.
Clemson and Oregon have jumped out to an early lead in the Uiagalelei sweepstakes, but showing up at LSU practice was telling. So is the fact that new 2020 five-star commit Elias Ricks from California is working Uiagalelei to join him in the LSU class.
Will it happen?
  FIRST TAKE: SAM SPIEGELMAN, TIGERDETAILS.COM  
"LSU is already sitting in a very good position as the 2020 recruiting cycle jumps to the forefront. The Tigers hold commitments from four-star quarterbacks Johnson and Finley.
"A year ago at this time, LSU offered and hosted Uiagalelei. Since Ricks popped on Christmas, Uiagalelei has become a buzzworthy name connected to the program. With two quarterbacks already on board, it's unlikely Uiagalelei would view LSU as an ideal landing spot. However, I expect coach Ed Orgeron and offensive coordinator Steve Ensminger to continue to court the five-star. Should Johnson or Finley explore other options, LSU's continued pursuit of Uiagalelei may ultimately pay dividends.
"LSU is going to make a hard push for several elite out-of-state prospects in 2020, beginning with Ricks. Uiagalelei fits under that umbrella as well. Right now, a possible two-quarterback haul of Finley and Johnson is an encouraging sign for the Tigers under center moving into the future, but the fact that they remain in the thick of it with the No. 1 quarterback in the country in Uiagalelei, too, is certainly a very strong indicator of the changing narrative in Baton Rouge."

SECOND TAKE: MIKE FARRELL, RIVALS.COM  
"It would be huge to land Uiagalelei. They haven't developed a quarterback in the longest time, so I know other schools are using that against them. I saw Ricks tweet out that he's going after Uiagalelei, and he's an influential kid, a big-time prospect.
"The offense is the problem. The defense is really not the issue at LSU, so if the Tigers got a guy like Uiagalelei and he developed even more they would be a national title contender for sure."