Take Two: Can LSU finish with more five-stars than Alabama?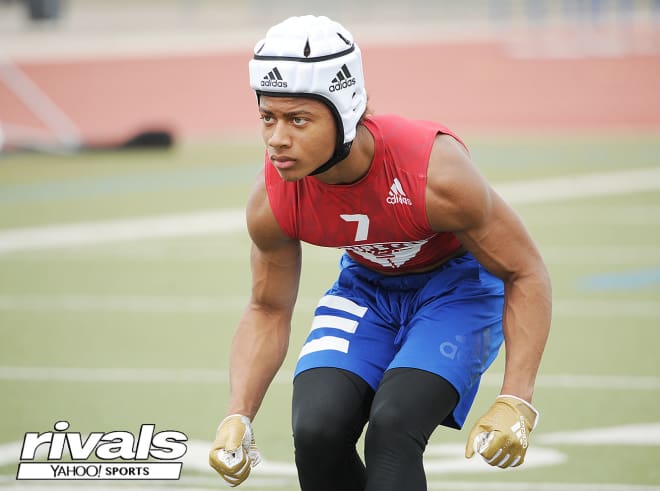 THE STORYLINE
It might be hard to believe, but LSU has not finished with more five-stars than Alabama in its respective recruiting classes since 2007 - more than a decade ago - but this might be the year for coach Ed Orgeron and his Tigers.
LSU already has three five-stars committed in No. 1 overall prospect Derek Stingley, Jr., offensive guard Kardell Thomas and athlete Trey Palmer. The biggest fish left is five-star defensive tackle Ishmael Sopsher from Amite, La., who has Alabama and LSU as his top schools, although he did visit Texas A&M this past weekend.
Currently, Alabama has the top-ranked recruiting class nationally and no five-star commitments. That's right. With 18 four-star pledges in their 22-man class, the Crimson Tide lead the way. LSU is tied with Oklahoma and Auburn as having the most five-stars in one class with three.
This looks like the year LSU could beat Alabama for five-star pledges, but the Crimson Tide could also finish with a huge haul. Seven of the top-10 prospects nationally as of Sunday night remained uncommitted and at least four of them - OT Darnell Wright, DE Kayvon Thibodeaux, RB Trey Sanders and Sopsher - are serious about 'Bama. Up and down the five-star list, Alabama is in the running with top kids.
Can Orgeron and LSU break the streak or will this be yet another year where the Crimson Tide beat the Tigers for five-star pledges?
FIRST TAKE: SAM SPIEGELMAN, TIGERDETAILS.COM
"If there is any year to buck the trend, it's this year with a loaded crop of in-state talent at LSU's disposal in Louisiana Orgeron has done a fantastic job of not only bringing in five-star talent, but locking them in early on. That group includes Rivals' top-ranked in Stingley Jr. as well as Thomas and Palmer. There's also a chance for elite prospects such as John Emery Jr. and Marcel Brooks to be placed in that discussion.
"LSU is currently beating Alabama in the battle for five-stars in their respective recruiting classes 3-0 and Orgeron has a chance to dig the nail in the coffin with Sopsher on Feb. 6. With 20 commitments on board ahead of the early signing period, the five-star defensive tackle is the most buzzworthy topic in Baton Rouge because it's an elite prospect and because the Crimson Tide covets Sopsher as much as LSU does.
"Whether Sopsher picks LSU or Alabama on Feb. 6 has the attention of the entire fan base, it is really just a subplot to what Orgeron has done to lock in multiple five-stars before Christmas and, of course, putting his team in a position to collect more elite talent than the Tide for the first time in more than a decade."
SECOND TAKE: MIKE FARRELL, RIVALS.COM
"Alabama will still win the battle. It will close strong. It's a good recruiting year for LSU, it is doing a good job not only in-state but out-of-state. It had a good season, so it is building on that momentum, but Alabama is probably going to finish first and you're not going to beat the Tide if they finish first."