Take Two: Can Hunter Johnson lift Northwestern to a division title?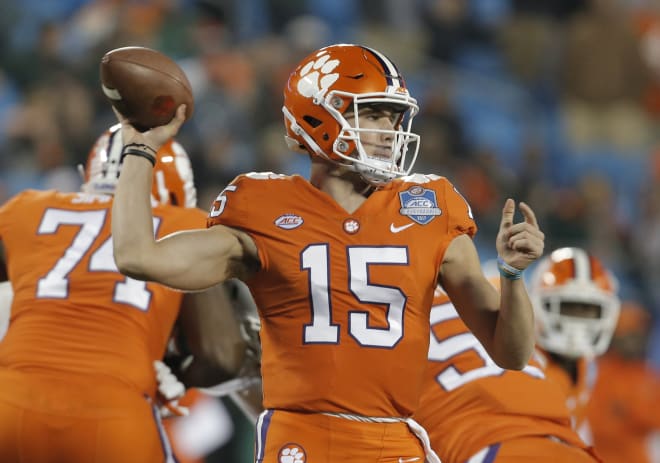 THE STORYLINE  
Northwestern has quietly been a pretty tough out in the Big Ten the last few seasons, and a lot of credit goes to quarterback Clayton Thorson and coach Pat Fitzgerald, who have the Wildcats going in the right direction.
Another big piece of the puzzle announced he will transfer to Northwestern, as former five-star quarterback Hunter Johnson has left Clemson and picked the Wildcats over Purdue, Duke and others.
Could Johnson be the missing piece for Northwestern to win the Big Ten West and play for the conference title? Wisconsin is always tough (the Badgers were the only undefeated team in Big Ten games last season), but the division is wide open after that.
Johnson has special abilities and Northwestern's facilities are on-par with some of the best in the country, so recruiting could see an uptick. The Wildcats have won 10 games in two of the last three seasons. Thorson is back this season (he's returning from injury), so Johnson will sit out this year and be ready to win the starting job in 2019.
Is Johnson the answer for Northwestern to win a division crown? Or is much more needed there to take down Wisconsin, a tough Iowa squad or a Nebraska team now led by coach Scott Frost?
  FIRST TAKE: LOUIS VACCHER, WILDCATREPORT.COM  
"Northwestern has won 10 games and finished second in the Big Ten West in two of the last three years. So I think that having a talent like Hunter Johnson at quarterback will certainly keep the Wildcats in the conversation as a legitimate contender. But taking the next step and actually winning the division will take more than just Johnson.
"Remember, Northwestern has a pretty good quarterback right now in Clayton Thorson, a future NFL Draft pick who was no slouch himself as a four-star coming out of high school. Yet despite having both Thorson and all-time leading rusher Justin Jackson in the backfield over the last three seasons, the Wildcats still couldn't capture a division crown."
SECOND TAKE: MIKE FARRELL, RIVALS.COM  
"I don't think he's the missing piece. You need a lot of pieces to get that done, and Clayton Thorson is a guy who is very highly thought of, very high on NFL Draft boards. Northwestern needs a lot more than a quarterback, and there's no guarantee that Hunter Johnson is going to be the savior there.
"Recruiting - especially on the defensive side of the ball - is important. The offense has been fairly explosive, and I think Johnson is going to help that, but it is a program that needs a lot of help as far as recruiting depth."