Syracuse wins battle for OL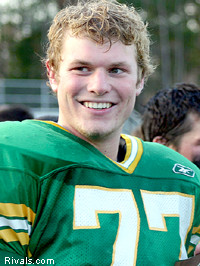 The Syracuse Orange have been playing much better football on the field this season and it's starting to pay off on the recruiting trail. The latest prospect to pick 'Cuse did so over offers from numerous other programs.
"Mark committed to Syracuse on Thursday," said
Steve Spinney
, the father of Nashua (N.H.) Bishop Guertin offensive guard
Mark Spinney
. "Like most kids choosing a college, it came down to the place where he felt the most comfortable, the coaching staff and the academic situation. He felt Syracuse fit him well in all those aspects."
Spinney, who also had offers from Rutgers, Northwestern, UConn, Duke and others, has a family history with Syracuse. His father played defensive end there and his grandfather, Art Spinney, was one of the best to play at the university.
"That really didn't come into play though," said Steve. "He wasn't quite sure if he wanted to continue that tradition or not. He wasn't going to choose a school based on simply that because he wants to win like any kid does. The early play from Syracuse and the way they seem to be heading in the right direction certainly helped, but in the end it came down to comfort."
Spinney could play guard, center or defensive tackle at Syracuse.
"He's fortunate because the offensive and defensive line coaches there like him," his father said. "It hasn't been determined where he'll play yet, but I think his future is a little brighter on offense. But he'll play wherever."