Swann takes in ND game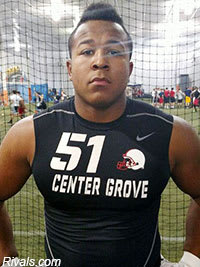 "The main focus I went there with was just seeing what the team was about and watching them play," Swann said. "As far as recruiting, I spoke with the coach and he basically told me would be down sometime during the season to watch us play. That's as far as it got as far as a recruiting conversation."
Swann's interaction with Notre Dame prior to Saturday was limited to mailings, including the game invite. After Saturday's experience, though, the central Indiana prospect is interested in hearing more from the Irish.
"It was amazing - everything I'm sure a football player could ask for," he said. "Playing in front of a home crowd like that would be enjoyable every game."
Close to 20 schools have offered Swann a scholarship. He has named top groups before, but heading into his senior season the three-star prospect is pretty wide open.
"I'm starting to set up official visits," Swann said. "I don't have any set dates, but I'll keep people posted.
"Absolutely those schools are still in the mix," Swann said. "Iowa is the only school I've been to twice besides IU. They are definitely a team I respect and have a higher (interest) in right now.
"There's some other schools I have close ties with as far as the relationship we've built with the coaching staffs. As time goes I'll set up some visits, but I have to talk with my parents because I have a pretty big list."
The 6-foot-3, 265-pound Swann has recorded two sacks in his first three games this season, helping Center Grove get out to a 3-0 record.