Swamp Kings delivers a vanilla retelling of Florida's Urban Meyer era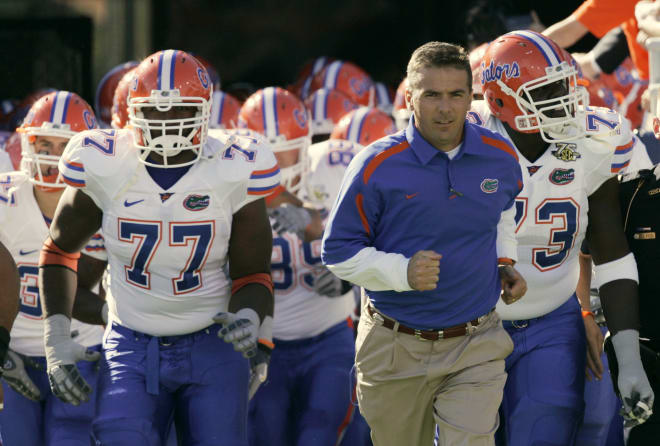 I finally finished the Florida football docuseries "Swamp Kings" that is airing on Netflix, and it was a lot more milquetoast and vanilla than I had hoped.
It didn't need to be an episode of "Law & Order," and it didn't need to be a drama-filled, over-the-top, overdone piece on the Gators. But I can tell you from first-hand experience that the four-part series brushed over a lot - a lot! - of juicy storylines that made the Gators program what it was - for good or for bad.
The reason I know is because I covered the team from 2007 to 2010, and while it wasn't the Wild West or a complete bunch of outlaws, there was a ton going on that got - let's say - taken care of.
Local attorney Huntley Johnson was very busy during those days, and everybody knew it. The docuseries glossed over all of that, and I understand why: To get access to Urban Meyer, he wasn't going to go through the litany of arrested players and wild scenes going on in Gainesville.
He wanted to remember the good times, paint his own picture, tell the story the way he wanted it told and the production team went along for the ride. Meyer had a Circle of Trust for his high-end players. It was more of a Circle Of Do Whatever The Hell You Want. It was an incredible time. Cell phones were not yet everywhere. Not every indiscretion was posted on social media.
*****
FINAL 2023 TEAM RANKINGS: Comprehensive (overall) ranking | High school/JUCO ranking | Transfer portal ranking
CLASS OF 2024 RANKINGS: Rivals250 | Team | Position | State
CLASS OF 2025 RANKINGS: Rivals250 | Team | Position | State
TRANSFER PORTAL: Latest news | Transfer portal player ranking | Transfer portal team ranking | Transfer Tracker | Message board
*****
College football had never really seen anything like Tim Tebow, and even more than a decade later Tebow's intensity and seriousness was palpable in "Swamp Kings." He willed himself to be a great college football player, a Heisman Trophy winner, a national champion and arguably the best college football player ever.
Among a cast of characters that certainly came from different backgrounds and behaved much differently, Tebow was the leader of that program, loved by teammates and respected by everybody. That's an impressive feat for a locker room full of big egos. But things got so out of control by 2009 even Tebow got sick of all the autograph requests and oftentimes was driven in a golf cart into practice so he wouldn't be inundated.
Since I was there during that time and at a lot of those games, it was great reminiscing and going down memory lane, whether during highlights in The Swamp or the SEC championship games or the national title game against Oklahoma. I clearly remember the seafood buffets and open bar for the media all week in South Florida. It was sensory overload - and I was in my 20s and I took advantage.
For someone who lived it, who had a sliver of that experience and that program, it was an enticing documentary to watch. But if I was a college football fan who wanted to accurately and honestly see what it was like during the Urban Meyer era in Gainesville it was a pretty big miss.
The story Meyer tells about first learning about a guy named Tim Tebow from some airport baggage handler? Cue eye-roll. Yeah, maybe the best recruiter in college football history, certainly one of the most active and aggressive, never heard of a superstar quarterback 90 minutes away? That one was hard to believe.
The documentary brushed completely over Aaron Hernandez, who ended up being a convicted murderer and committed suicide in jail. There were always stories that Tebow spent time with Hernandez to keep an eye on him because Meyer and the coaching staff knew there might be some trouble there, that he was immature and he needed to be kept in line.
But he was also a major part of the offense during those years, and the documentary hardly mentioned him at all except for one story where Hernandez was brought drinks by a waitress at a local restaurant/bar across from campus and then was asked to pay for them by a manager who Hernandez punched, causing a burst ear drum. Tebow acted as peacemaker and said racial slurs were being hurled.
That was the extent of the Aaron Hernandez story in Gainesville, according to this documentary. That was very weak.
The series showed Tony Joiner was arrested on a burglary charge for breaking into a towing company's impound yard to get his girlfriend's car out (and that issue might have been overblown from the beginning), but it didn't mention after getting out Joiner went right to the airport to fly to the LSU game. It also didn't mention Joiner pleaded no contest to a second-degree murder charge and will spend at least 25 years in jail in the death of his girlfriend.
It wasn't brought up that star defensive end Carlos Dunlap was arrested for DUI the week of the SEC Championship Game in 2009 as he was slumped over in an idling car at a red light. The story going around those days was that Dunlap had one foot on the gas and the other on the brake - although that's never been confirmed.
Brandon Spikes was a featured player in the documentary, but it was never mentioned that he was suspended a game for gouging at a Georgia player's eyes.
Or that backup quarterback Cam Newton was arrested for stealing another student's laptop, painting it black with his name in white letters on top (not exactly the move of a savvy criminal), and that when the cops came to his dorm room to retrieve it Newton had thrown the computer out of his window.
Or all the stories (and incredible rumors) about Percy Harvin. From sitting out conditioning drills and then having them basically changed the next day to playing basketball instead of running stadium stairs, according to reporter Matt Hayes. Or the well-traveled stories of Harvin basically choke-slamming position coach Billy Gonzales to the ground, a story Gonzales has denied but that many people still believe.
Chris Rainey talked a lot in the docuseries, which included a heartwarming story about Rainey's difficult upbringing and how he'd go over to Meyer's house for spaghetti dinners and to watch cartoons with Meyer's son, Nate. But there was no mention that in 2010 Rainey was arrested for stalking and allegedly sending a "Time to die" text to his then-girlfriend. Those charges were later dismissed.
College kids do dumb things. I sure did. But was this docuseries journalism or an Urban Meyer/Florida public relations video?
Toward the end of the docuseries, Meyer talked about after winning the 2008 national title and then immediately texting recruits from the locker room instead of enjoying the moment. That was absolutely true.
Meyer was a phenomenal recruiter, maybe the best ever. He once told Matt Elam (who was thinking about flipping) that he had a dream about coaching Elam, who bought the tall tale. The five-star safety signed with Florida.
But Meyer complained about losing weight and needing two Ambien chased with a beer to get four hours of sleep. That he would sweat and shake like he was having a panic attack. That he was in a "deep depression" and couldn't get out of bed and had no energy and thought he was going to die. It took a lot of courage for Meyer to discuss those issues.
However, one of the biggest stories in Meyer's life - and especially noteworthy for a documentary like this - was omitted and it was the early-morning hours after Florida lost to Alabama in the SEC Championship Game in 2009.
At around 4:30 a.m., Meyer's wife, Shelley, called 911 and Meyer was taken to the hospital by ambulance complaining of chest pains and a tingling sensation on his side. Shelley Meyer told the dispatch that Meyer would not wake up and that he had been using Ambien.
To have a documentary about Meyer's career at Florida and to not mention this episode - which was breaking news on ESPN and especially all over the Florida region - is irresponsible at best.
For college football fans, for Gators fans, for me since I covered the team during those years and would hang out at fellow reporter Andy Staples' house eating BBQ or with Joe Goodman - now of AL.com - watching the NCAA Tournament or going out for drinks quite regularly with the late ESPN reporter Edward Aschoff, it was a fun documentary to relive the good ole days.
But was it an accurate representation of Florida football in those years? It hardly touched the surface, because as Meyer said in the preview to "Swamp Kings," the story was "un-f*****-believable."