Super Bowl LV: How Chiefs, Bucs starters ranked in high school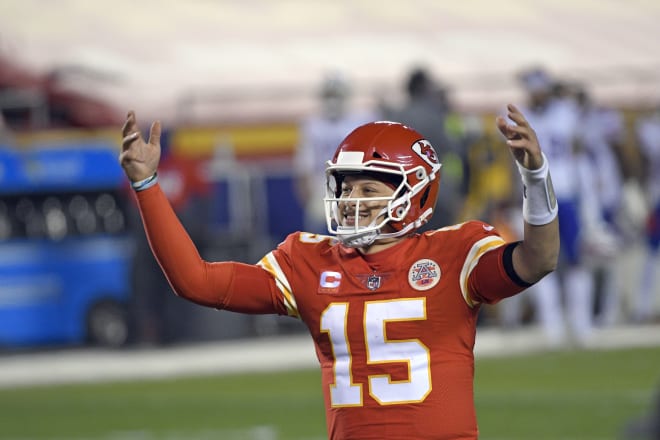 The Super Bowl is Sunday but before the players from the Kansas City Chiefs and Tampa Bay Buccaneers were playing for all the marbles, almost all of them were rated during the Rivals era dating back to 2002. Here is a look at the rankings of the starters for both Super Bowl teams - as there were hits but also misses.
KANSAS CITY OFFENSE
The famous - or infamous - ranking of quarterback Patrick Mahomes as a three-star prospect certainly looks like a miss in hindsight but at the time Texas Tech, Houston and Rice were Mahomes' only offers and he was far from a finished product coming out of Whitehouse, Texas.
Clyde Edwards-Helaire, another three-star prospect who did not have an extensive offer sheet, is Kansas City's starting running back. He committed to LSU early but planned to back off that pledge because coach Ed Orgeron and his staff had slowed down communication. When LSU showed more involvement, Edwards-Helaire stuck but he had no other SEC offers.
The wide receiving corps is loaded and well-represented in the rankings. Sammy Watkins and Mecole Hardman were both five-star prospects and Tyreek Hill was a mid-level four-star JUCO athlete out of Garden City (Kan.) C.C. Tight end Travis Kelce was a two-star athlete coming out of Cleveland Heights, Ohio, who is now arguably the best tight end in football.
Kansas City's offensive line is filled with under-ranked prospects across the board. Eric Fisher, the No. 1 overall pick in the 2013 NFL Draft out of Central Michigan, was a two-star. Center Austin Reiter and guard Andrew Wylie were also two-stars. Tackle Mike Remmers was unranked and guard Nick Allegretti was a three-star prospect.
KANSAS CITY DEFENSE
Up the middle, the Chiefs are well-represented from a star-ranking perspective as Chris Jones was a five-star and Derrick Nnadi was a mid-level four. Defensive end Frank Clark was a three-star prospect and Tanoh Kpassagnon, a freak athlete who starred at Villanova before becoming a second-round pick, was unranked.
At linebacker, Willie Gay was a four-star prospect and had a productive career at Mississippi State before being a second-round pick in the 2020 NFL Draft. But more two-stars abound as Damien Wilson was a two-star JUCO recruit that played at Minnesota and two-star running back recruit Anthony Hitchens out of Iowa are also starting for the Chiefs.
It's a mix at defensive back. Cornerback Charvarius Ward was a two-star and then Bashaud Breeland was a three-star athlete. At safety, Tyrann Mathieu was a four-star recruit and Juan Thornill was a three-star.
TAMPA BAY OFFENSE
The miracle that is Tom Brady came through the high school ranks before the Rivals era but he would have clearly been a five-star prospect and no other ranking would have ever been considered. Joking, of course, but Brady has transcended the game and is arguably the greatest player in NFL history.
At running back, Ronald Jones was a high four-star who was the eighth-best running back in the 2015 class that had some hits and misses along the way.
At receiver, Antonio Brown was a walk-on at Central Michigan so he was not ranked, Mike Evans was a three-star athlete and Scotty Miller was a two-star who picked Bowling Green over his only other offers from North Dakota State and South Dakota State. Tight end Rob Gronkowski was a four-star recruit out of Pittsburgh (Pa.) Woodland Hills.
Tampa's offensive line has to be one of the most interesting in the NFL. Tackles Donovan Smith and Tristan Wirfs were four-star recruits and Smith was just outside the Rivals100. The interior is intriguing, though, as guards Ali Marpet and Alex Cappa played at Hobart College and Humboldt State, respectively, and center Ryan Jensen starred at Colorado State-Pueblo.
TAMPA BAY DEFENSE
In Tampa's 3-4 front, William Gholston was a five-star prospect in the 2010 class and Ndamukong Suh was a high four-star and the sixth-best defensive tackle in 2005. Two-star Steve McLendon played at Troy and now starts in the middle for the Bucs.
Linebacker is an interesting group for Tampa as Jason Pierre-Paul was a high four-star and Lavonte David was a four as well. Devin White was a four-star, too, but as a fullback coming out of high school before moving to linebacker at LSU. Shaquil Barrett was unranked and went to Nebraska-Omaha but when the school shut down the football program he transferred to Colorado State before going undrafted.
Two-stars and four-stars round out Tampa's defensive backs. Carlton Davis and Jordan Whitehead, who played at Auburn and Pitt, respectively, were four-star recruits. Antoine Winfield, who had only a few Power Five offers, was a two-star out of The Woodlands, Texas, and Sean Bunting was ranked as a two-star receiver whose only offer came from Central Michigan.