Super Bowl LIII: Nebraska ties bind Rams' Suh, Pats' Burkhead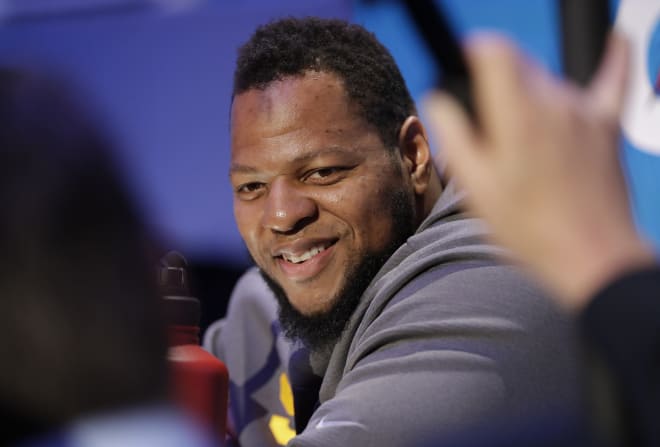 ATLANTA -- The bonds that tie former Nebraska players to their alma mater and each other are some of the strongest in all of college football. A perfect example is the hero's welcome that former Huskers quarterback Scott Frost received when he returned home to take over the Huskers' program last year.
So when reporters at the Super Bowl asked Los Angeles Rams defensive tackle Ndamukong Suh about squaring off against his former Huskers teammate, New England running back Rex Burkhead, most expected to get a cordial answer about Nebraska bond between the two.
But as is his nature, Suh let it be known that his former teammate won't receive any special treatment in Sunday's game.
"We have not talked at all," Suh said during Monday's media night. "We'll talk on the football field when I'm hopefully taking him down behind the line of scrimmage."
The surly remarks by Suh won't take Nebraska fans by surprise, as his trademark edge is part of the reason he's one of the best defensive players in program history. Despite saying he and Burkhead have a "super cordial" relationship when they see each other off the field, Suh might be holding a minor grudge dating back to their days in Lincoln.
"He was obviously an all-star running back, so I didn't get to touch him too much," Suh said of their battles on the practice field at Nebraska. "Even though I was a vet."
Burkhead took Suh's comments in stride and said he and the Patriots know that they will have their hands full with Suh and the entire Rams defensive front on Sunday.
"He's a great player," Burkhead said. "He goes out there and he's passionate and he's physical. He's a defensive, physical guy and he just goes out there and plays his tail off. Maybe sometimes emotions get him, but he's a great player."
But while they are enemies this week, all will be settled on the field Sunday and the two will go back to being Huskers first and foremost, according to Burkhead.
"I know him personally and he's a great guy, "Burkhead said. "He's someone I learned a lot from during my time at Nebraska."