Sting Factor: Rueben Owens' decommitment from Texas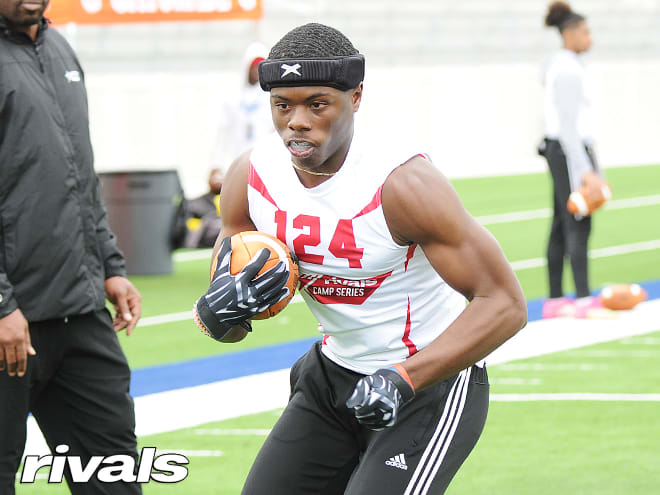 When a major program loses a key recruit, Rivals.com takes a look at how big of a blow it is to the respective school, analyzing it from a local and national level. To quantify the "sting" of each decommitment, we assign a score from 1-10, with one being no big deal and 10 being a catastrophic hit.
THE STORYLINE
Texas is left with no commitments for its 2023 class after high four-star all-purpose back Rueben Owens II backed off his pledge on Thursday.
The El Campo, Texas, standout was committed since late February and recently said only positive things about the Longhorns. But things did get a little curious when Owens started taking visits all over the country in recent weeks.
Alabama, LSU, Ohio State and Texas A&M are some of the programs that have been involved with Owens and after he backed off his pledge Miami was the newest program to offer the 2023 prospect.
What's surprising about this move is that despite taking other important visits, Owens was in Austin for the big recruiting weekend when 2023 five-star quarterback Arch Manning and many other elite prospects were there.
Texas will still be a major contender in Owens' recruitment. But a big, early recruiting victory for coach Steve Sarkisian in the 2023 class is no longer and the entire staff will have to win Owens over again.
*****  
LOCAL REACTION
"I'd put this one at an eight. It could even be argued that the sting factor could be a nine but it sounds like the Longhorns still have a legitimate chance of getting him back on their commitment list.
"Owens is extremely talented so that stings in itself, but when you factor in the public perception of a marquee player decommitting and Owens' friendships with guys like Arch Manning and Johntay Cook, it makes it an even tougher pill to swallow for the Longhorns." - Jason Suchomel, Orangebloods.com
Sting factor: 8
*****
NATIONAL REACTION
"This is definitely not good news but I don't think it's completely devastating either because Owens is still going to seriously consider Texas. Once he sees how Steve Sarkisian runs the offense in Austin that he's going to seriously think about wanting to be a part of it again. Owens wants to have some of that recruiting process back and I'm sure some of these recent visits opened his eyes and his curiosity to what else is out there.
"If it ends up that the El Campo prospect heads elsewhere it will hurt pretty badly for the Longhorns because Owens is a very talented back who can do multiple things in that offense. But I have a sneaking suspicion that Texas is still very much in the picture here." - Adam Gorney, Rivals National Recruiting Director
Sting factor: 6