Sting Factor: Mathias Barnwell decommits from Penn State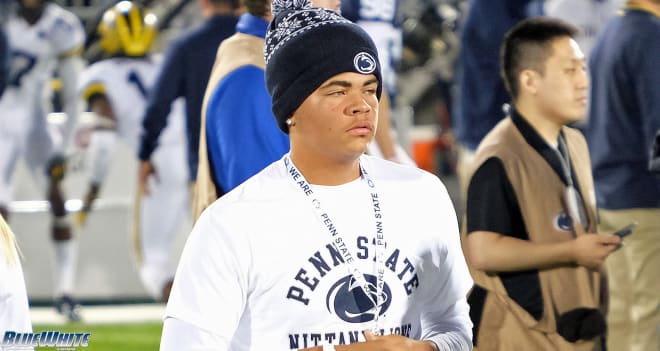 *****
THE STORYLINE 
When Mathias Barnwell committed to Penn State in June, the 2023 tight end was the youngest player to ever commit to the Nittany Lions.
The Spotsylvania, Va., standout was one of the first handful of 2023 prospects to commit nationally and it was a big win for Penn State since Barnwell could be one of the top tight ends in the class.
Already with 15 offers, Barnwell is firmly on the radar of many programs and now he's back on the market as he decommitted from Penn State in recent days.
The pledge to Penn State was early, but it didn't seem like a major surprise since Barnwell said everything there was "perfect" and that he loved so much about the place, from the fans, to the coaches, to playing in the Big Ten and so much more.
With so much appreciation of the program, Penn State is going to stay high on the list for Barnwell throughout his recruitment, but he's open again and the Nittany Lions have to start from square one with him again. Others will also push hard.
Losing almost any 2023 prospect is unfortunate, but probably not a major blow. Still, Barnwell is a talented tight end who could have been a nice jumpstart to that recruiting class for the Nittany Lions.
*****
LOCAL REACTION
"Barnwell is expected to be a very good player, but he is also the youngest player to ever commit to Penn State's football program. With nearly two full years to go before he can sign many expected him to at least listen to other schools and take visits when they're allowed again, so this doesn't come as a major surprise. James Franklin and his staff would've loved to have kept him on board, but I still expect Penn State to be a serious player with Barnwell." - Ryan Snyder, BlueWhiteIllustrated.com
Sting Factor: 3
*****
NATIONAL REACTION 
"As a 2023 kid this isn't a huge loss. Big-bodied receivers are out there and Penn State still has plenty of time to continue to pursue him or find someone else. Based on the 2022 start, 2023 will be fine and this won't matter much." - Mike Farrell, national recruiting director, Rivals.com
Sting Factor: 2