Sting Factor: Keithian Alexander's decommitment from Georgia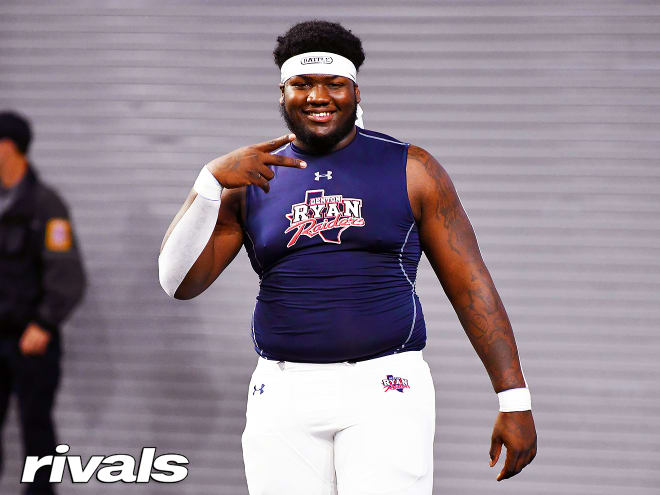 When a major program loses a key recruit, Rivals.com takes a look at how big of a blow it is to the respective school, analyzing it from a local and national level. To quantify the "sting" of each decommitment we assign a score from 1 to 10, with one being no big deal and 10 being a catastrophic hit.
THE STORYLINE
Georgia scored a big commitment last National Signing Day for the 2022 class when five-star defensive tackle Keithian Alexander committed to the Bulldogs.
Alexander had developed an outstanding relationship with position coach Tray Scott and that looked to be a major factor as to why Georgia won out in his recruitment.
Kirby Smart was also instrumental in landing Alexander, a big coup for the Bulldogs who showed their national recruiting muscle by going into Texas and landing one of the state's top players.
But after visiting Texas A&M over the weekend, Alexander is back on the market and has backed off his pledge to the Bulldogs.
Before his commitment to Georgia, the Fort Worth (Texas) Brewer five-star prospect had Texas A&M and Texas on his list and many believed he would end up staying closer to home so the Bulldogs' pledge was a surprise.
It now looks like the Aggies and the Longhorns will have a real shot at landing him and Texas A&M has to have the edge. Alexander just visited College Station and defensive analyst Nick Williams will be a big connection for the Aggies although many others will be involved, too.
*****
LOCAL REACTION
The loss of Keithian "Big Bear" Alexander is a huge blow for the Class of 2022 for UGA. Georgia is going to be losing Jordan Davis and Devonte Wyatt on the interior defensive line after the 2021 season and Alexander was a major part of the plans to fortify the position and lessen the void. It was well known that former Georgia defensive graduate assistant Nick Williams taking a job as a defensive analyst would have an impact on Alexander's recruitment. The fact that after the move made by Williams, Texas A&M got an official visit and then Alexander subsequently and immediately decommits from Georgia is quite telling. Georgia will continue to recruit Alexander intently, but UGA is also heavily pursuing Walter Nolen and Travis Shaw. Given the uncertainty of those recruitments at this time, this is a big sting. - Blayne Gilmer, UGASports.com
Sting factor: 8
*****
NATIONAL REACTION
Alexander is one of the top prospects in the entire 2022 class, arguably the best defensive tackle in the class and he's been committed to Georgia for a long time so this one definitely hurts. It is also a major statement that Texas A&M coach Jimbo Fisher and the Aggies are not holding back and they're trying to flip anybody they want, committed or not. Georgia is on the cusp of playing for a national title but so are the Aggies as both teams try to emerge as that second power in the SEC behind Alabama. It was always going to be a challenge to keep Alexander in Georgia's class with A&M also doing great in recruiting, a new staff at Texas and other programs not backing down. This is a big loss at a position of need but Smart and his staff don't back down to anybody and they might be looking to make some big news of their own. Knowing how Georgia operates, that coaching staff is certainly not going to take this Alexander news lying down. - Adam Gorney, Rivals National Recruiting Director
Sting factor: 7