Sting Factor: Jeremiah Caldwell backs off pledge to Kentucky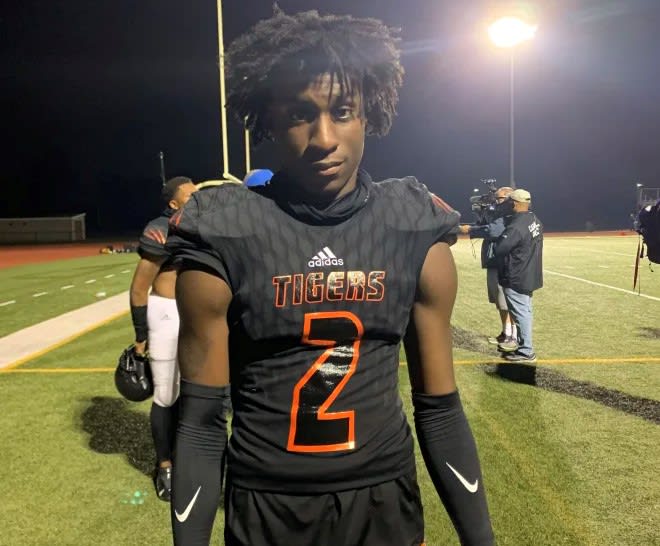 THE STORYLINE  
Jeremiah Caldwell had been committed to Kentucky since January, but he was also recruited by former assistant coach Steve Clinkscale, who's now at Michigan, and so the writing started to go on the wall that a decommitment could be coming.
That happened in recent days and now the Belleville, Mich., four-star cornerback is back on the market with Michigan State showing interest and a new offer from Tennessee.
Kentucky is looking to load up with cornerbacks in this class and the Wildcats still have pledges from four-star Alex Afari and three-star Andre Stewart, but probably a few others will be needed. Caldwell would have been a nice addition to the class if he stayed in the mix.
But the four-star has reopened his recruitment and this one could especially sting if he ends up in Knoxville.
LOCAL REACTION  
"The Sting Factor score here might seem low for a four-star prospect, but there have been some concerns about Caldwell's ability to cover for someone who could end up being a cornerback in college. While Clinkscale was his recruiter at Kentucky before he left for Michigan, he does not appear to be aggressively pursuing Caldwell at Michigan. I'd expect him to end up at Michigan State and it will be a solid addition for the Spartans if it happens, but this was not a surprise for Kentucky and I sense they feel like they'll be able to replace him.
"The one issue is Kentucky needs at least four or five defensive backs this year. They have a new corners coach and an unsettled board that's still in progress. The situation will be interesting to follow." - Justin Rowland, CatsIllustrated.com
Sting Factor: 5
*****
NATIONAL REACTION
"I like Caldwell on tape. He's fast, explosive, he can diagram plays and react to them, he hits and he goads the quarterback sometimes to make a throw that Caldwell can pick off. At receiver, the four-star is electric and athletic, so Kentucky would have been well-served if it could have kept him in the class.
"If Michigan State lands Caldwell it is still a decent-sized miss for the Wildcats, but if the four-star ends up in Tennessee's class then the sting is pretty significant because then Kentucky will have to face him as both SEC schools look to keep climbing up the division ranks. The Vols could be in good shape for him." - Adam Gorney, Rivals National Recruiting Director
Sting Factor: 7