Sting Factor: Isaiah Sategna's decommitment from Texas A&M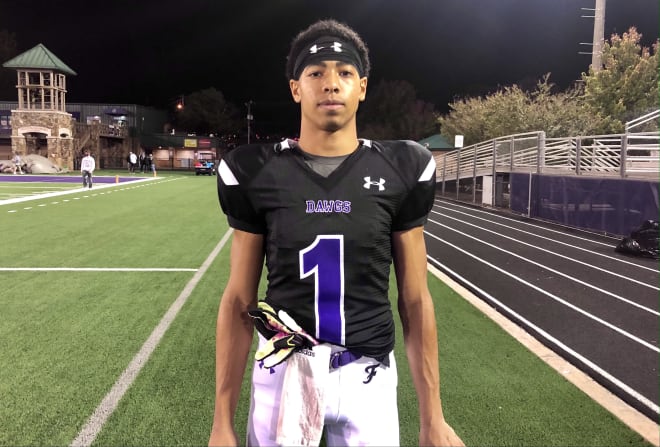 Every time a major program loses a key recruit, Rivals.com takes a look at how big of a blow it is to the respective school, analyzing it from a local and national level.
To quantify the "sting" of each decommitment, we assign a score from 1-10, with one being no big deal and 10 being a catastrophic hit.
THE SITUATION
Isaiah Sategna gave Texas A&M another speedy weapon in its offense when the four-star from Fayetteville, Ark., committed in March.
It was another big recruiting statement for coach Jimbo Fisher, who has continued to show he can recruit anywhere for anybody. Sategna was a big piece of that puzzle as Fisher can never have too many weapons in his offense.
But over the last few days, Sategna reopened his recruitment.
Oklahoma State could become a bigger contender. USC has been involved. Arkansas will be in the picture since he lives in Fayetteville (his father recently resigned as an assistant track coach at Arkansas).
There is also a feeling around Sategna's recruitment right now that it could continue to change as time moves forward.
*****
LOCAL REACTION
"This is a surprising turn of events, certainly, considering there had been no indication Sategna was looking elsewhere. How bad it hurts A&M really depends on the next few weeks. The Aggies are in a good position with Rivals250 wideouts Chris Marshall and Kojo Antwi and continue to look at other possibilities at wideout.
"The fact that A&M is hoping to make this a wideout-heavy class may have played a role in Sategna's decision to decommit." -- Mark Passwaters, AggieYell.com
Sting factor: 6
*****
NATIONAL REACTION
"From my understanding, Sategna's decision to decommit from Texas A&M was a complete surprise and even those close to him were not sure it was going to happen. I don't think there is a solid plan right now like Sategna is definitely going to flip to another school so that isn't terrible news for A&M if the Aggies continue to recruit him hard.
"The four-star is going to look at a lot of programs but with his speed and playmaking ability he's going to be really coveted by a lot of programs and he would have been a nice addition to the Texas A&M offense. Going back there is possible but not probable as others jump in the ring.
"The Aggies are looking for receivers in this class and while I like Chris Marshall, he's more of an outside threat, and I like Sategna a little more than Kojo Antwi. A player with his skills and playmaking ability would have been very nice in the A&M offense but it doesn't look like it will happen now." – Adam Gorney, Rivals National Recruiting Director
Sting factor: 7