Sting Factor: Greg Crippen decommits from Notre Dame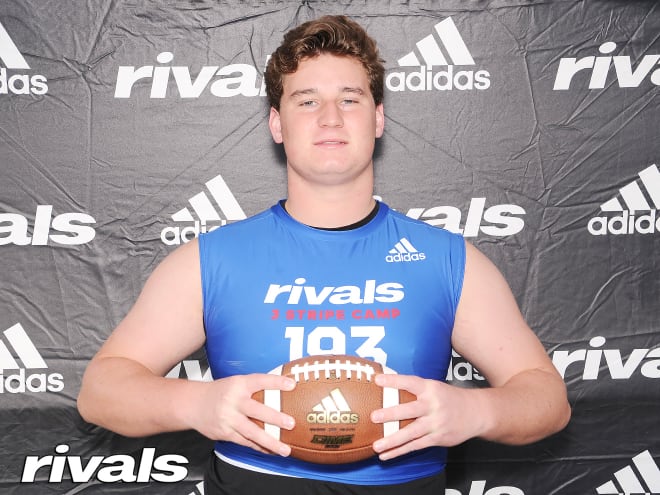 THE SITUATION
Greg Crippen visited Notre Dame last March, landed an offer from the Irish and quickly committed.
He said the offer made him speechless. He said there was no better place for offensive linemen. But the Bradenton (Fla.) IMG Academy standout who's originally from Milton (Mass.) Milton Academy backed off his Notre Dame pledge in recent days.
It was not surprising at all. Notre Dame had slowly moved to other top priorities in the 2021 recruiting class and a recent social media graphic of all the ND commits that read "Family: Who's Joining Us?" did not include Crippen. That was a sign that both sides were going in another direction.
Throughout the last year, though, the headlines read that Crippen seemed perfectly happy with his choice. One read: "Nothing Comes Close to Notre Dame." Another read: "Crippen Fits Perfectly at Notre Dame."
However, his last visit to Notre Dame's campus was reportedly last June and since that time he's taken other visits, so the writing was on the wall that something curious was up.
Alabama, Michigan, Ohio State, USC and others have offered Crippen, who's rated as the fifth-best offensive guard and No. 129 overall in the 2021 class.
LOCAL REACTION
"Crippen's decommitment from Notre Dame was really just a matter of time. He committed to the Fighting Irish last March and was solid in that pledge, but intel we gathered was that Notre Dame essentially cooled on Crippen. The four-star prospect visited a few schools last fall, which did not include Notre Dame. And after the Notre Dame recruiting department created a graphic that pictured all of the commits except Crippen, the writing was publicly on the wall.
"Notre Dame will be just fine in offensive line recruiting and have some big-time prospects on the board, many of whom will visit for the March 20-22 weekend. This decommitment has been expected since last August, so there is very little sting factor at all." - Mike Singer, BlueandGold.com
Sting Factor: 1
NATIONAL REACTION
"If Notre Dame cooled on him, then this is no loss at all, but I like Crippen as a player who can fill out and be an aggressive guard for some pro-style offense. I'm giving this a slightly higher sting factor than a normal kid who was dropped, simply because of his potential and talent. But it's still not a huge loss as ND recruits offensive linemen very well."
Sting Factor: 4