Sting Factor: Alex VanSumeren's decommitment from Michigan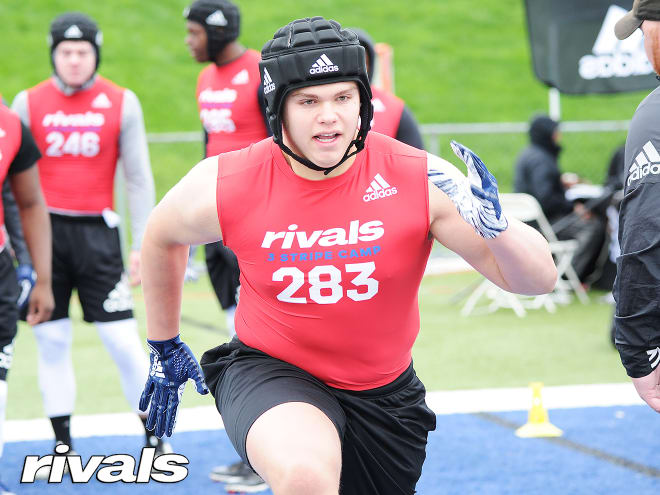 When a major program loses a key recruit, Rivals.com takes a look at how big of a blow it is to the respective school, analyzing it from a local and national level. To quantify the "sting" of each decommitment, we assign a score from 1-10, with one being no big deal and 10 being a catastrophic hit.
THE STORYLINE
Alex VanSumeren was the first commit in Michigan's 2022 class. He had been pledged to the Wolverines for more than a year.
But in recent days, Michigan lost two VanSumerens as he decommitted from the program and his brother, Ben, has decided to enter the transfer portal after playing on both sides of the ball in a reserve role in Ann Arbor.
Since VanSumeren's decommitment, teams have flooded the four-star defensive tackle from Essexville (Mich.) Garber with offers.
Clemson, Wisconsin, Texas A&M and Oregon have all come through with new offers, he attended a virtual junior day with Stanford and Indiana, Virginia, Arizona, Boston College and others have offered as well.
Losing VanSumeren could hurt on multiple fronts. It's never good to lose an in-state kid and especially one coveted by elite programs nationally.
Plus, it's oftentimes hard to get them back in the fold especially now with his brother in the portal as well. And defensive tackle could be a position of need in this class for coach Jim Harbaugh, who's still trying to turn the Wolverines back into a national threat.
LOCAL REACTION
"Michigan had an excellent close to the 2021 recruiting cycle and landed a trio of defensive tackle prospects. That definitely softens the blow here. Still, true defensive tackle prospects are tough to find, especially in the Midwest, and the position remains a need this cycle. Losing VanSumeren was indeed a blow. He's a solid top-250 if not top-150 prospect with a mean attitude and non-stop motor and also happens to be an in-state kid. His brother, Ben, entering the portal factored into Alex parting ways with the Wolverines, which makes it sting a little more. Michigan was completely fine losing Ben. Having Alex leave because of it was far from ideal." — EJ Holland, TheWolverine.com
Sting factor: 7
NATIONAL REACTION
"With Alabama already having offered and now Clemson, it's clear that Alex is a national recruit coveted for his size and power. With his brother Ben transferring from Michigan and the charge in the defensive coaching staff it appears Michigan is out. This stings as Alex is a legit star in the 2022 class and an in-state prospect. It would hurt even more if he ends up at Michigan State with his brother, which could happen." — Mike Farrell, National Recruiting Director
Sting factor: 8