Stanford strong for Long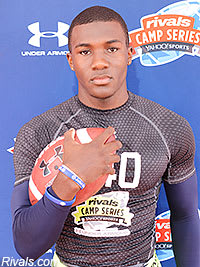 Stanford
still looks really strong for
David Long
but the four-star cornerback still wants to take some visits before making a decision.
The Los Angeles Loyola standout recently took a trip to Stanford and it really went well. It's no secret the Cardinal look strong at this point in his recruitment.
"Stanford is in great condition right now," Long said. "I love Stanford. I went up there and saw everything I needed to see. I looked at the coaches and they were just genuine people. I went over film with coach (Duane) Akina for about 30-45 minutes and it was all just great."
Long recently spent time at
USC
and
UCLA
and liked both stops. Former Loyola teammate Christian Rector is with the Trojans so he spent time with him and the coaches just trying to further that relationship.
"My visit with SC went well," Long said. "I spoke with coach (Keith) Heyward and a little bit with coach (Steve Sarkisian) but he had some things to do. I also talked with coach (Peter) Sirmon and the defensive line coach. We just talked about football and I'm just trying to build a relationship with them.
"They talked about how they came in late but how they see me as a guy who can come in. Other schools I've built better relationships but I'm open to getting back around, it's really close to my school and I know a lot of guys there. I was hanging out with Christian Rector for five-six hours after so it was really cool."
On Saturday, Long spent time at UCLA's 7on7 event. He has a good bond with position coach Demetrice Martin and others and the Bruins seem like a serious contender.
"I love it at UCLA," Long said. "I have a great relationship with coach Martin and also (Kennedy Polamalu), a former guy on our staff at Loyola. I've been around here a lot, probably a little more than USC. They were on me a lot earlier so it's been a good deal."
Long said he's not sure about a decision timetable but that he would like to visit Washington again along with stops at Notre Dame and Michigan before making a commitment.