Spence visits Maryland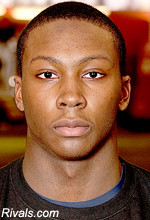 Five-star defensive end
Noah Spence
took an unofficial visit this past weekend. Where did the 6-foot-4, 245-pounder out of Harrisburg (Pa.) Bishop McDevitt go?
"I went to Maryland," he said. "It went well.
"I just toured the campus and talked to the coaches. I went to practice. I liked the flow and the way they run their defense."
Spence had spent time before with Randy Edsall, but got more of it this time around.
"I met with him and all of their coaches, they are all really good guys," he said. "Coach Edsall is always nice and down-to-earth."
Spence confirmed that at this time only one other visit is on tap for the spring.
"I may go to Penn State for the Blue and White game."
Spence noted he is working on summer trips, which include a potential visit to see Virginia and Virginia Tech.
In the meantime, does anyone lead?
"No, I don't have any favorites yet."