Spearman picks home-state school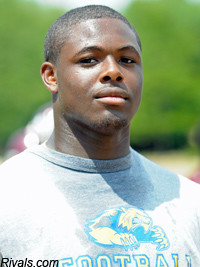 Chicago Simeon linebacker
Reggie Spearman
is set to start his senior season after an exhaustive off-season of recruiting and camps, but before the three-star linebacker starts his final prep campaign he had one piece of business to take care of.
"I went out to Illinois, watched the team practice, got to talk to the coaches, talk to my position coach and it was a no-brainer after that," Spearman said. "I told them before I left that I was announcing my commitment and they were fine with that."
Spearman becomes commitment No. 17 for the Illini in the class of 2013 and the seventh from the state of Illinois. Representing his home-state school was an attractive opportunity for the Chicago native.
"It is definitely big to be able to represent the home-state school because everybody already knows you and everybody hopes you go there," Spearman said. "The fact that I did go there makes everybody happy and it is just a good feeling.
"Illinois is a great place. There are former Simeon players that go there. I'm definitely loving the coaching staff, I think
Tim Beckman
is going to change the program around for the better and it is definitely a good fit for me."
The 6-foot-2, 220-pound Spearman is ranked as the nation's No. 29 outside linebacker prospect, but Illinois could also look at him for the middle linebacker role.
"I could fit outside or I could fit inside," Spearman said. "We'll have to find out when I get there."
Spearman's commitment comes six months before National Signing Day, and there is still more recruiting to be done before he inks a letter of intent. Programs like Houston, Indiana, Minnesota, New Mexico, Northern Illinois and Western Kentucky had also offered the three-star and he's not ready to completely forget about those schools.
"I'm going to let this recruiting process play out like I wasn't committed," Spearman said. "I'm still going to take some unofficials and I'm going to take all five of my official visits. I haven't even visited Minnesota or Houston yet, so I am definitely going to visit those places as soon as possible."