South Central Spotlight: Nine likely to decide before visits resume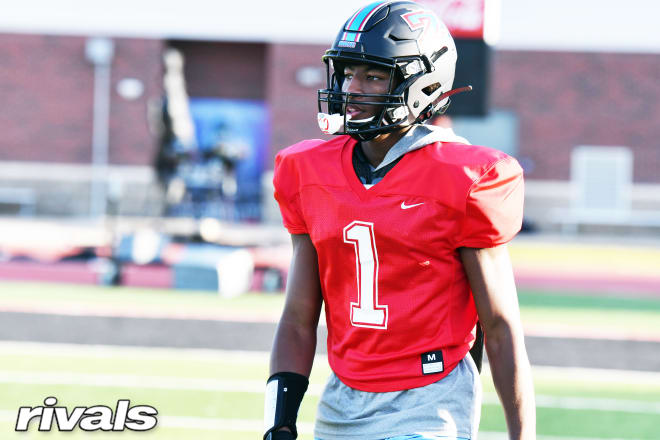 Last week, the NCAA confirmed that the dead period for college football recruiting will last until at least Aug. 31, meaning the earliest college visits can take place will be September. In the South Central, 20 out of 50 prospects rated four-stars or higher are currently committed to a college program, and more are expected to announce this summer. Here is a look at 10 prospects in the South Central Region who are likely to make commitments before visits resume.
THIS SERIES: Midwest prospects who will commit during dead period | Florida | East Coast | West
CLASS OF 2021 RANKINGS: Rivals250 | Position | Team | State
CLASS OF 2022: Top 100
MORE: Rivals Transfer Tracker
*****
Like Hilton, Thomas - another Rivals100 wide receiver from Louisiana - is down to four schools: LSU, Alabama, Texas A&M and Georgia. And like Hilton, Thomas has only been to half of those schools thus far.
Sources close to Thomas have hinted a decision could come at any moment and he's largely expected to make up his mind before the start of his senior season. However, Thomas' camp is now weighing making official visits to Georgia and A&M before giving a commitment. That decision has yet to be made, but our best bet is that he decides between LSU and Alabama before then.
*****
Blackshire flirted with committing dating back to this time last summer. The Rivals250 linebacker was down to LSU and Alabama and could have picked either of the SEC West powers. Since then, he's made visits to Texas A&M and Oklahoma and released a final six that also includes Baylor and Illinois.
While Blackshire has kept everything close to the vest, do not be surprised if the North Texas star announces his decision at some point before the season. He's coming off an injury-riddled 2019 season and has been leaning toward one school for several months. Odds are that he goes public with his decision sometime in the very near future.
*****
Guidry narrowed the field down to Texas Tech, Nebraska and Houston early on this season and is expected to make up his mind at some point in July. He has visited both Houston and Texas Tech, the favorites as in-state options, while also weighing Nebraska, which is picking up some momentum in the Lone Star State and was the first school to offer Guidry before his junior year.
For now, Houston is trending with the three-star speedster from Pearland, Texas, and it would be a major get for the Cougars to keep the local product home.
*****
McCutchin is the No. 1 cornerback in Texas for 2021, but he is coming off an injury-plagued 2019 campaign. McCutchin was committed to Alabama at the time of his injury, and while he was adamant in his pledge to the Tide he elected to reopen his recruitment in March while on an unofficial visit to Oklahoma.
The Rivals100 talent has mentioned Georgia, Ohio State, LSU, Florida and Florida State, but this has been a two-team race between the Sooners and the Crimson Tide. Alabama has yet to give up on its pursuit of McCutchin and the same goes for Oklahoma, which has been trending throughout the offseason.
*****
Nabers recently whittled his final schools down to a pair of SEC teams: Georgia and Mississippi State. Mississippi State has been after the Lafayette-area four-star for the longest, and that includes two different head coaches. Georgia offered this spring amid the dead period. Nabers visited Athens last summer.
In a perfect world, Nabers would return to Starkville and Athens for official visits and then make up his mind. However, State is continuing to turn up the heat as it gains some recruiting momentum this summer. In other words, it would not be surprising to see Nabers make up his mind before his senior year.
*****
Marshall recently narrowed his top schools down to five: Louisiana Tech, Houston, Texas Tech, Oklahoma State and Baylor. That's some local flavor for the New Orleans-area outside linebacker and a trio of Big 12 options he's considering.
Upon further review, several of the coaches from the Baylor staff were once at LSU. They're familiar with Marshall and have seen him work out in previous years. That's given the Bears a unique edge and some momentum heading into the summer. He may not be far off from making up his mind.
*****
Grigsby had been considering going forward with his commitment as recently as June 24, but was forced to delay his announcement because of a family issue.
Michigan State, Kansas, Louisiana Tech, Auburn, Louisville, Arizona State and Purdue are among the favorites for the three-star defensive back from Baton Rouge. He's adamant about making a decision this summer and then taking an official visit to that school whenever the NCAA lifts the dead period. Michigan State, Auburn, Purdue and Louisiana Tech should be deemed the favorites.
*****
It's been awfully quiet on the Marcus Burris front with the exception of the news that the Rivals250 defensive lineman will miss his senior season at Texarkana (Texas) Pleasant Grove High. That's disappointing news for one of the country's most athletic, versatile and productive big men.
Texas A&M, Texas, Alabama and Oklahoma were the front-runners for the East Texas standout. His teammate, Landon Jackson, gave a surprise commitment to LSU during the dead period in the spring. Burris, quietly, has been contemplating a decision and with a season-ending injury, he may not be far off from securing a spot early on.
*****
Louisiana-Lafayette, Tulane, SMU, Arizona State and Indiana are all recruiting the Louisiana-based edge rusher the hardest as the calendar flips to July. Texas and Texas A&M are among the bigger schools still keeping tabs on Stansbury despite not yet extending an offer his way.
Stansbury is adamant about declaring his decision prior to his senior season. New schools still have a chance with the three-star defensive end, but he has a ton of familiarity with Louisiana, SMU and Tulane, and is intrigued with the Pac-12 and Big Ten schools courting him. In other words, he will have a lot to figure out before August arrives.