Solomon planning Pac-12 trip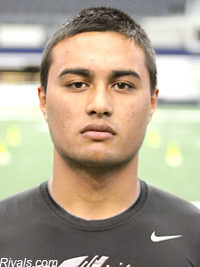 Anu Solomon
was downtrodden about his showing at the Dallas Elite 11 but made up for it Sunday by throwing beautiful passes all day at the New Level Athletics Elite 7on7 in Las Vegas.
Solomon, a four-star quarterback from Las Vegas (Nev.) Bishop Gorman, said he prefers playing in games where he needs to make snap decisions. Camps and combines are fine but he's a gamer and it's showed the last few seasons.
"Dallas was great but it was a humbling experience," Solomon said. "I was disappointed in my performance and I know I could have done better.
"In games you have at least four guys rushing you and you're under pressure and all those kinds of things. You don't have anything like that in workouts."
Rated as the fifth-best dual-threat quarterback and No. 132 prospect in the 2013 class by Rivals.com, Solomon has six offers with Arizona, Arizona State, Colorado, Illinois, UCLA and UNLV on board.
The Wildcats are the latest to offer and he's taking a visit to Tucson this week.
"I've kept in contact with them and they're a really good school," Solomon said. "That's definitely one of the schools I want to check out. Next week I'll be taking a visit over there.
"It's really important visiting there. It's a new program and a new coaching staff and I want to get a good bond with all of them. I have a good bond with the offensive coordinator, he's a good guy and I look forward to meeting him in person."
Solomon, a 6-foot-1, 202-pound prospect, could have his decision made sometime this summer.
Many other schools including Oregon, Mississippi State, Texas, Texas A&M and Alabama are showing interest so Solomon wants to remain patient a while longer to see which others offer.
"I will be taking it slow and maybe commit in the summer sometime but it depends," Solomon said.
In his junior season, Solomon threw for 3,059 yards with 43 touchdowns and three interceptions. As a sophomore, he had 2,412 passing yards with 41 scores and only five picks.