Smith now casts his own shadow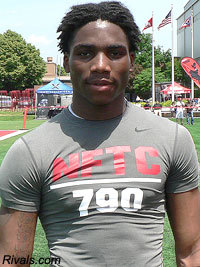 When people talk about the younger Smith today, however, the fact that his older brother plays for a major college program has become an afterthought.
"All my life I've been trying to get out of his shadow," Smith said. "I've done that this past year."
Smith furthered his own reputation on Monday, taking home MVP honors at the Best of the Midwest camp in Indianapolis. Smith's performance was nearly flawless, and featured two 40-yard dash times in the 4.4-second range. For the nation's No. 34 prospect, however, it was just another day at the office.
"Everybody has weaknesses, so really I just have to go back to work, keep training, work on my agility and footwork, and my overall IQ of the game has to get better in all aspects," Smith said following the combine.
Making Smith's performance even more impressive is the fact that he has spent most of his time the last two months on the basketball court, not the football field.
"Once a football player, always a football player," Smith remarked. "[Basketball] really doesn't mess me up. You just have to come out here and compete."
When his schedule allows, Smith does make it down to AWP - a local workout facility that stands for "Athletes with a purpose." The purpose, according to Smith, is not only to develop athletically, but also spiritually and mentally.
Being well-rounded off the field as well as on it is important to the Fort Wayne-area standout. It was one of the factors that contributed to him being an early selection to play in the U.S. Army All-American Bowl next January.
"It was a great honor," Smith said of his Army Bowl selection. "I can't wait for it. I'm going to live it up and I'm going to do my best during the season just to stay healthy and keep competing."
Besides being a multi-sport student-athlete, Smith is also juggling a constantly expanding recruiting process. He now holds 17 scholarship offers after adding three more last week.
"I'm just going to keep my options open and get as many offers as I can," Smith said. "I'm in no rush to make a decision. Growing up I didn't watch college, so I didn't have a favorite team. I just want to go where I am going to get a chance to do my thing."
Ohio State has offered Smith a chance to do his thing. The question now is whether he will follow the path his brother took to Columbus, or carve a path of his own. But now that he has made his own name, Smith does not see his brother's presence on the Buckeyes' roster as a negative.
Smith is not looking at his recruitment as a choice between joining his brother at Ohio State or making his way somewhere else. He has already paved his own path through his play this past fall, and continues to make his own name with performances such as the one Monday in Indianapolis.

[rl]