Smith anxious to represent East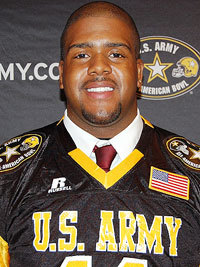 For offensive lineman
Donovan Smith
of Owings Mills ( Md.), the last year has taken him on a hectic road. While hectic, that road has also led him to many special places, including Friday, when he was officially invited to play in the U.S. Army All-American Bowl.
"I was invited last Tuesday and it was a surprise," Smith said. "I came home from school and was going to go to the gym. My uncle told me that we were going to go out to eat instead, which was different because my family usually only goes out to dinner for special occasions. During dinner he told me that I was invited to the game. I couldn't believe it. I think I lit up the entire restaurant. It was exciting."
Since the invite came last Tuesday, Smith has had the time to think about the opportunity to play in the game. He spoke about Friday's official event, when he received his game jersey.
"Today was special," Smith said. "I barely slept last night and I was nervous this morning. As the day went on and I came to school I became less nervous being around all of my friends and teammates."
For Owings Mills coach Steve Lurz, he has been able to watch Smith blossom over the last couple of years.
"He's a real stand-up guy," Lurz said. "He's friendly, humble and respectful to adults. He's just a steady guy who had a very good upbringing by his parents."
During his recruiting process, Smith has become close to several other recruits who will now become his teammates in San Antonio.
"I can't wait for the game and to represent the East," Smith said. "It's definitely going to be fun playing with some of my friends."
Before he got to this point, Smith endured a great deal of hard work. It all started in January at the U.S. Army All-American Combine.
"I started in Texas," Smith said. "I got the invite a little late, but my uncle helped get me signed up and the plane tickets. I was going there not knowing anything, but I finished as one of the top 10 players. About a week after that I got my first offer, I think from
West Virginia
. In February I went up to
Rutgers
for the Premier Showcase and was one of the top three linemen, and then went to FBU and the Top Gun Camp. My uncle took time off, drove me and picked all the right camps for me to go to."
Lurz also commented on the magnitude of his invite for the school and community.
"It's great for the school, but even great for the county," Lurz said. "I think he's only the second player from our county to get invited to this game. Seeing all of his classmates and teammates today, it just leaves a positive impression and gives everyone team spirit. It's also given the school a lot of positive publicity."
As the fall has progressed, so has his recruiting process, which included an official visit to
N.C. State
last weekend, and an upcoming hectic schedule.
"(Saturday) I'm going for an unofficial visit to
Maryland
for the Florida State game," Smith said. "Then I'm going to Rutgers for the Louisville game,
Penn State
for the Michigan State game and on December 3, I'm taking my next official visit to
UCLA
when they play USC."
With his invitation to the U.S. Army All-American now official, he also knows when and where he will make his final decision.
"I want to cut my list of schools to about five or six by mid-December and then pick my school at the Army game in January," he said.
With a decision date now set, Smith mentioned a few things he will be looking for in a school.
"I'm looking for safe surroundings," he said. "Somewhere that I feel safe and secure. Academics obviously, a good coaching staff, and the depth chart. Obviously there will be competition, but I'm still looking at the depth charts. And also the way the players are and the atmosphere of the program and school."
The U.S. Army All-American Bowl is in its 11th year and will be played, Jan. 8, 2011, at the Alamodome, and televised by NBC.‬
[rl]