Six standouts punch their ticket to Rivals Camp Series in Dallas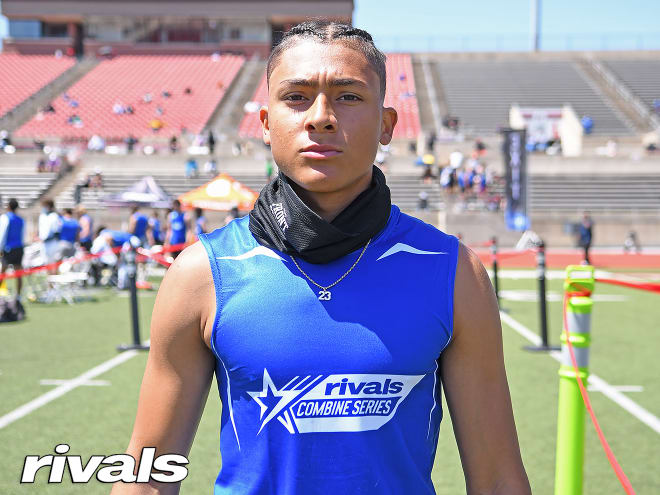 COPPELL, Texas — Athletes from multiple states across the South tested in an array of different combine events at the Rivals Combine Series stop in the Dallas/Fort Worth Metroplex. Six high school prospects punched their ticket to Sunday's stop of the Rivals Camp Series.
Here's who earned a camp invite.
Gibson, out of Monroe (La.) Neville High School, showed out. The 6-foot-3, 155-pounder clocked a 4.65-second 40 and a 7.5 three-cone drill. He also had a 30-inch vertical. Both ULM and Grambling are keeping tabs on the soon-to-be senior from The Boot.
*****
Burns, a 6-foot-6, 321-pound offensive lineman out of local Plano (Texas) Senior High, also earned an invite to Sunday's event. The big man had a 105-inch broad jump along with a 4.85 5-10-5 shuttle time. Notre Dame, Kentucky and several other SEC pograms are all in contact with Burns.
*****
Inesta-Rodriguez clocked the fastest 40 at the Combine on Saturday. The San Antonio (Texas) Brandeis speedster — who plays receiver and defensive back — recorded a 4.39-second 40. The 5-foot-6, 150-pounder also registered a 4.1-second 5-10-5 shuttle with a 108-inch broad and 27-inch vertical. TCU, Texas, Sam Houston State, UTPB and Air Force are all talking to Inesta-Rodriguez.
*****
Jones is so big he stood out above the crowd and at 6-foot-6 and nearly 270 pounds, the 2023 offensive tackle from New Orleans (La.) De La Salle can move surprisingly well. It's going to be a big test for him against some elite defensive ends during Sunday's camp but this will be a major opportunity for Jones to prove himself and land his first offer. He said Florida State and Oregon have reached out so far.
*****
Coleman looks like he could be a track star too with length, ranginess and he can run so it will be interesting to see how he performs at Sunday's camp in the secondary. One of the more athletic-looking prospects at Saturday's combine, Coleman said he's not hearing from any schools yet but the Mesquite (Texas) Horn prospect definitely has athletic ability that college coaches covet.
*****
Combest was an early standout at the combine, has a great build for either a defensive end or a linebacker and looks to be one of those hybrid players where you can plug-and-play him all over the field. No offers have come yet for the Prospect, Texas, recruit but he has an impressive frame and moves well so Combest could be one of the sleepers heading into Sunday's camp who performs really well.