Six earn five-star status in final 2012 rankings
They are the best of the best, the head of the class, a cut above and any other cliche you can think of.
They are the Rivals.com five-star prospects, the players our team of recruiting analysts think have the best chance of succeeding in college and beyond. After making thorough evaluations of hundreds of recruits, 32 players have earned this distinction in our final rankings for the class of 2012. Rivals.com will release the final Rivals100 for the 2012 class on Tuesday and final Rivals250 on Wednesday.
In the latest go-around, six new players earned a fifth star while one prospect lost his.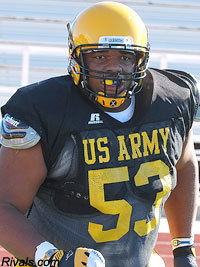 First, let's start with the newbies.
"Pipkins was a guy we had all loved in camp settings but we had never seen him in pads," said Southwest Analyst Brian Perroni. "He was dinged up when I went to Kansas City this year so the Army week was my first time to see him in pads in person. He was a force all week and proved almost impossible for the interior linemen to stop on the pass-rush. His motor is probably most impressive, though, and he made a spectacular hit on the quarterback all the way by the sideline in the actual game itself. That was an example of what we saw from him all week. As a big body already that should have no trouble plugging the middle against the run, he could certainly have a very early impact at Michigan."
"Banner really impressed us all week at the Army game playing left tackle with his competitiveness and his improvement from this past summer," said West Coast Analyst Adam Gorney. "There is no question Banner has made marked improvements in his game and his upside is just incredible. For someone to move so well at his size and to see him getting better -- and having the desire to keep improving -- we're talking about a player with a long-term, successful career if he keeps working so hard."
"Washington had the single most dominant performance of anyone I covered this fall, and was close to earning his fifth star in our last rankings update," Midwest Analyst Josh Helmholdt said. "But the competition he played was pretty weak in that game, and we just wanted to make sure he could do it against D-I offensive tackles as well. Once he got adjusted to the difference in talent at the Army Bowl, Washington became a force off the edge and capped an impressive week with a 1.5-sack performance in the Army Bowl game."
The 6-3, 232-pound Fowler is unique to this group because he began the season as a five-star prospect, had it taken away, and now is getting it back following a stellar showing during the entire week at the Under Armour All-America Game.
"Fowler was previously ranked a five-star based largely off his junior season, but after a very disappointing senior season that involved a suspension that ranking came into question," Florida Analyst Chris Nee said. "Fowler, though, showed that he is every bit as good as his junior season showed during the Under Armour All-America Game week, when he performed at a very high level during the practices and game. Fowler is a versatile defensive end who is capable of using his size or athleticism to beat offensive tackles and get into the backfield. Plain and simple, he is a great playmaker that is capable of making a major impact on every snap."

"Johnson is considered the best high school player in the Sunshine State and that is hard to argue," Nee said. He helped to lead his team to a state championship while accumulating more than 2,000 yards on the ground. A common knock on Johnson is his size, and he doesn't have great size, but he has shown time and time again that he is willing to take a hit and bounce back up. His size is not an issue. He is a playmaker both on offense and special teams that can change a game in a single touch. He should be an immediate impact player in college. "
"While Jones, who is tall and relatively well-built, did some good things during the Under Armour All-America Game week, it was determined that he was probably rated just a tad too high in our previous ratings," Niebuhr said. "In our opinion, he just didn't distinguish himself as a five-star competing with a crop of receivers of similar talent. Nonetheless, this is still a very talented player who displays very good athleticism, runs solid routes and has nice hands. He also is capable of doing good things after the catch."
[rl]