Simmons Road Show: Whose stock is up?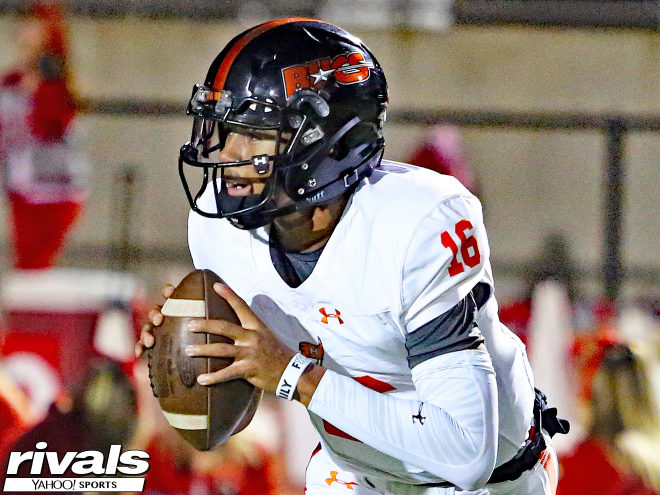 Most of the high school teams from the south are at the halfway point in their seasons. In the two dozen games recruiting analyst Chad Simmons has scouted in Alabama, Georgia and Louisiana, these 10 players have raised their stock.
Watching Davis Allen fly around at the linebacker position was impressive. He is a jumbo-athlete with some real upside. He is committed to Clemson as a tight end, but he could play defense for the Tigers, too. His father John Allen played at Georgia, so football is in his blood and the Tigers quietly swooped in got this one. He is a young senior at Calhoun (Ga.), so he still has developing to do physically and we could look back in a few years and be talking about this one.

I saw Robby Ashford early in the season and he did not disappoint. It was his first start and the 2020 quarterback made the most of it. Ashford, who also plays baseball at Hoover (Ala.) threw for over 300 yards and four touchdowns on ESPN against Pinson Valley. He has great size, the arm strength and if he plays this season like he did in game one, Ashford will find himself in the Rivals100. Auburn, Clemson (no offer), Georgia and Mississippi State are high on his list. He grew up in a family of Alabama fans and the Crimson Tide are evaluating him.
Tyrion Davis was impressive. His team fell to University Lab, but he carried his team, keeping them in the game much of the night. I really like the balance and toughness of Davis. He runs hard, he makes quick, decisive cuts and he can catch the ball out of the backfield. The LSU commit is a strong, durable and productive running back. His best days are ahead of him too. He committed early, so he does not get the talk many others do, but he is one of the top backs in the country.
There is not much John Emery has to work on heading into college. It was an odd game when I saw him against Marrero (La.) John Ehret because he fumbled three times. That is not like him. He rushed for over 100 yards, he had two big receptions on screen passes and he is a back who runs with power, speed and authority.

He also showed he can pick up the blitz, and blocking is key to seeing the field early as a running back on the next level. The Georgia commit was impressive. There were not a lot of big holes in this contest, so he had to run hard, through tackles and stay tough four quarters in this contest. Could be a back that enters that five-star discussion.

NC State commit Jamious Griffin has already ran for over 1,100 yards this season and he has not always played all four quarters for the Rome (Ga.) Wolves. Griffin is a slippery back with jump cuts, that quick burst and he is tough to get the big hit on. I have seen him numerous times over the years and he continues to get better. He is getting more carries this season as the featured back and he is producing at a very high level. He is stronger than some may think, he is a great receiver out of the backfield and the Wolfpack could have a future star on their commitment list.

Auburn commit Ja'Varrius Johnson is off to a great start in 2018. He has already surpassed 500 yards receiving and he has shown he can be a real weapon for Auburn in their offense. Johnson is a perfect fit for the slot position with his size, quickness, elusiveness and ability to make plays in space. I saw him play against Cedar Grove (Ga.) in game one, where he had well over 100 yards and showed what he can do on the big stage. Auburn looks to be a great fit for him.
In the season opener, Marietta (Ga.) WR Ramel Keyton had four touchdown receptions. He has been a star this season. The Tennessee commit has always had good length, but he has gotten strong, he looks a tad faster, he is catching the ball very well and he has taken his game to the next level. He is just a more complete wide receiver this season. It has really all come together for Keyton. He has always been the king in jump-ball situations, but he is running better routes and getting better separation down field this season. Look for him to make an impact early on the next level.

A wide receiver not many know much about yet is Justin Robinson of McDonough (Ga.) Eagles Landing Christian Academy. He missed his freshman year with an injury, then transferred schools last year, so this year, his junior season is his coming out party.

He is off to a strong start. With ELCA putting teams away in the first half at times, his stats may be not be elite, but he has a lot of ability. The 6-foot-4, 200 pound playmaker is explosive and strong. I saw him play recently against Norcross (Ga.) Wesleyan and he was impressive. Not only did he score a touchdown, but he was a strong blocker in the run game and he had a nice game at cornerback too. Boston College, Georgia and Virginia have offered. Expect that list to grow soon.
Donte Starks flew around the field when I saw him in Louisiana last month. He went up against Destrehan and he was active from start to finish. Once he diagnosed the play, he was in attack mode and got to the ball quickly. The LSU commit showed his ability to play sideline to sideline and to rush the passer. He is an explosive linebacker and he was strong at the point of attack. He played with confidence, he was in on a lot of plays and he looks like one who could play his way onto the field early when he gets to Baton Rouge.

Not too many have been as impressive to me this season as Alabaster (Ala.) Thompson quarterback Taulia Tagovailoa was against Madison (Ala.) James Clemens. He had a very impressive performance. He finished with over 300 yards passing and four touchdowns. He showed a very strong arm, a very quick release and he can extend a play with his legs. The Alabama commit may not have elite size, but he checks about every other box. His ability to make any throw and to improvise when plays break down continue to stand out. The ball comes out hot when it needs to, but he can put touch on the ball as well.

Warren Easton is big up front and they have their share of Power 5 talent, but Sedric Van Pran really stood out to me in the game against New Orleans (La.) Brother Martin. He has played tackle and guard before, but in this game, he played center. And he played the position well. He had a handful of pancake blocks, he held his blocks and he showed good agility getting to the second level. Schools like Florida, Georgia, Missouri and Tennessee have offered the 2020 four-star.