Simmons' Mailbag: Tide's finish, Scott Frost, Chad Morris and UGA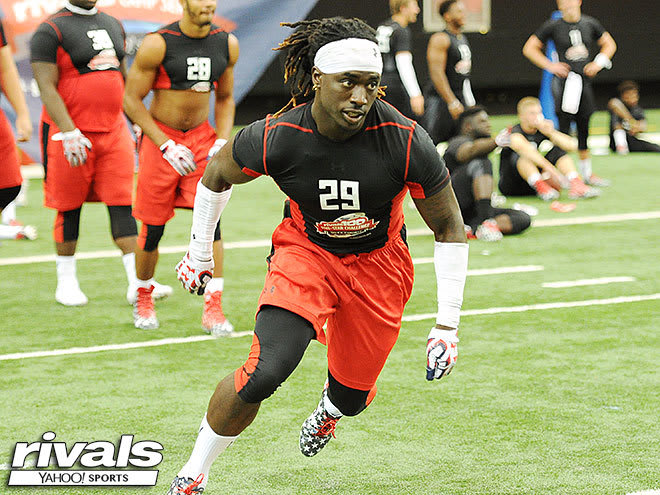 You never know when a prospect could pop, but based on what I am hearing right now, DJ Daniels looks to be the one. The junior college cornerback plans to announce his decision Aug. 16, and it is basically between Georgia and South Carolina. The Gamecocks have not made this easy on the Bulldogs, but Kirby Smart, Mel Tucker and that staff seem to have some real momentum. They worked Daniels out in June and loved him. He immediately became a big target for UGA.
Times have really changed. I got into this business in 2003 — yes, 2003 (I am getting old). But the good thing is, I love my job today just as much as I did then — maybe more. Over time, colleges started offering prospects at a younger age, so that really changed the way I covered recruiting. At the beginning, I covered one class at a time, and maybe a few elite juniors. Then it went to covering all four high school classes equally in a snap of the fingers.
Dylan Moses really changed recruiting. Then you had Owen Pappoe and the rest is history. When Alabama, LSU, Texas and some other programs offered Moses in 2013, while he was still in middle school, it really changed the industry. It is now fairly common for freshmen to receive offers, so we cover that.
That leads us to evaluating players at a younger age, too. I am not dipping into the middle schools yet, but trust me, I hear about them. I saw Trevor Lawrence in middle school and he lived up to the hype.

I start looking for talent and start following it when they get into high school.
Huge shout-out to Sean Callahan, Nate Clouse and the entire staff at HuskerOnline.com first. They are a machine, and the Husker fan base in our industry is really second to none to me when it comes to the passion for recruiting. The message board on that site has to be one of the most active, fluid boards I have ever seen. They always have questions, they comment on articles I link to their board and it is just a great community there.

Now back to the question.
Scott Frost and his staff have really tried to become much more active in my area (Alabama, Georgia, Louisiana and Mississippi). They have extended a lot of offers to Georgia prospects since Frost took over. The Huskers surprised many on National Signing Day when they landed four-star linebacker Caleb Tannor over Auburn. They just picked up a commitment from Quinton Newsome. Ronald Thompkins committed to them in the spring, too. That is two in the 2019 class out of Georgia. There could be more in the South taking a harder look at the Huskers this fall, too.
MORE: Newsome's father saw something different in Lincoln
As far as potential five-star commitments, it will happen under Frost. Many will have their eyes on the product he puts on the field this fall, and if things go well, it will only help on the recruiting trail.

In short — impressive. Chad Morris and his staff already have 18 commitments for the 2019 class. They are off to a great start, and he has yet to coach a game in Fayetteville. He has really brought some energy and positivity to that community and the Arkansas program. Morris is a totally different coach than Bret Bielema — in a good way when it comes to recruiting and just overall energy of the program.
MORE: Arkansas Commitment List
Morris has gotten commitments from prospects in seven different states. He has been active in Texas; which is a must for the Razorbacks. He has also dipped into Florida and Georgia, two of the top states in football recruiting. I really like what he has done so far. Now he needs to compete in the tough SEC West this fall and close strong to build for the future there. He is off to a very good start.

One thing that jumps out immediately is the quality of this class. The Hogs signed two four-stars in 2018 and they already have seven four-stars committed in 2019.

I do not see it being as active as it was in the 2018 cycle, but you can't ever count Kirby Smart and his staff out. You saw it last year and you saw it with guys like Quay Walker and Otis Reese. The one most talked about this cycle is Owen Pappoe. I was talking about Auburn with Pappoe much more than many before he committed to the Tigers, and I feel he is pretty strong. Will he visit Athens? I would expect him there once or twice between now and December, when he signs. But for now, I like Auburn's chances of hanging on to him.
Georgia wanted Andrew Booth. Clemson got him. CJ Clark was a huge target for the Dawgs on the defensive line, but he chose NC State, an in-state school. I expect Georgia to continue to recruit Clark, but he will be a tough pull. Some of the Bulldogs' top remaining targets are uncommitted at this time, so we will see if a new name or two pop up in the coming months.

Rankings are far from complete. We will continue to evaluate each prospect in the 2019 class through early to mid-January. Those guys are not from my area, so I cannot speak about them too much.
There are multiple rankings updates still to come, and we will have our eye on the best of the best in the All-American games, too. There is still a lot of movement in this class in terms of rankings. Texas A&M looks to be on pace to sign an elite class. I am not sure if it will finish as high as No. 2, but a top five class looks like a real possibility at this time.

The word out of Tallahassee is Xavier Peters could start his career as a Seminole any day now. There have been questions about him being qualified, but the latest word is that he is likely to make it and be in Tallahassee very soon. It seems to be something that could happen any day now. Stay tuned to Warchant.com to keep you updated there.
If I had to name a couple of programs to watch, I would say Louisiana-Lafayette and Georgia Southern. I always like how Appalachian State recruits, but they are No. 2 in the league in our Team Rankings already, so not a lot of room for them to improve. Billy Napier and Chad Lunsford are two active head coaches when it comes to recruiting in the Sun Belt Conference.
Napier already has nine commits at Lafayette, with five being three-stars and that is the most of any team to date in the conference. Georgia Southern only has six commits and they sit at No. 5 in the conference, and I expect them to finish strong. I really like the staffs at each school and I could see both ending up in the top three when we wrap things up in February.
I am not sure we don't see some turnover with a current commit or two as well. It looks like the Crimson Tide will sign over 25 this cycle, and there are some big targets still in there. I can't start with anyone other than Clay Webb, the No. 1 prospect in the state. Alabama has been viewed as the favorite for some time, but Auburn, Clemson, Georgia, LSU and Tennessee are schools he continues to look at. Top offensive tackle Darnell Wright is one to keep an eye on. Tennessee may be trending a bit here, but Alabama is in this, too.

Alabama is also trending for five-star running back Trey Sanders. Florida may be the biggest competition here right now. Nakobe Dean took his official visit to Alabama over the summer and he said Alabama is recruiting him as hard as anyone. Defensive tackle Ishmael Sopsher and defensive back Daxton Hill are two five-stars that the Crimson Tide have high on their board. The feelings appear to be mutual. Hill is considered an Alabama lean, too.
All I know for certain is, Alabama is going to sign an elite class — again. Will they take that No. 1 spot back from Georgia this cycle? It wouldn't surprise me to see the two SEC programs that played for the National Championship last season battling it out again come February.
There are so many good high school football players out there that coaches are looking for more details than ever these days. It was all about size and measurables at one time, but now it is much more about scheme, character and the fit. Years ago, coaches were not recruiting hybrids, nickel backs, slot receivers and positions like that. It is so much more detailed now. New positions show up on recruiting boards, coaches want to see prospects in their camps more to see how they fit and it is more of a total package than just being a big young man. Speed is so important, too, and coaches love multi-sport athletes.

Academics have always been important. That will never change. Prospects are monitored on social media by every college, too. That has become a much bigger part of the recruitment process.
It is a long list now. Coaches look for size, athleticism, speed, fit, potential, attitude, maturity and, of course, academics to name a few things. There are so many for them to choose from that a top-end recruit has to stand out in many more ways than one or two to be on the boards of the best in the country.