Simmons leads strong group at B2G camp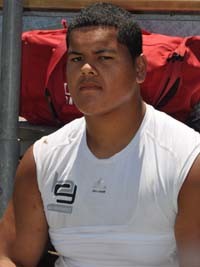 Checking in at 6 feet 5 and 342 pounds, Simmons ran the 40-yard dash in 5.2 seconds - and one B2G coach said it could have been faster if the rising junior didn't look back in the final 10 yards.
With early offers from Southern Cal, Washington, UCLA, San Diego State and New Mexico, it's clear Simmons will not only be one of the top prospects in California next recruiting cycle but could vie for a top spot nationally.
Lopez, who has an early offer from UCLA, is a 6-foot-5, 328-pounder in the 2013 class who was in the same league as Simmons, one coach said, and the B2G staff loved Tufunga, a fierce and tough 6-foot-3, 300-pound recruit.
Barr, a four-star from Lakewood, Calif., is expected to visit Florida and Miami in early August and he's excited about seeing what the Gators and Hurricanes have to offer. Burks could play linebacker but would prefer to be a defensive end in college. Stanford is his biggest offer.
The 6-foot, 175-pound prospect is super competitive and catches everything thrown his way even if he's undersized.
Leading the way with Marks was Santa Monica, Calif., recruit Brandon Taylor, who's hearing from Iowa State and San Diego State but could easily see his recruitment blow up soon. More than anyone at camp, Taylor made big plays and probably had the most receiving yards during the 7-on-7 session.
Nembot said he broke his hand when he hit it on a player's helmet during drills at the USC Camp and stayed in for a while longer because he didn't want the Trojans' coaching staff to think he was soft.