Simmons is states lone representative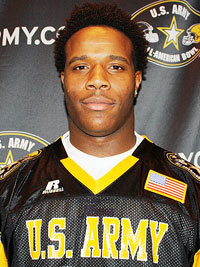 McKeesport (Pa.) defensive tackle
Delvon Simmons
knows a bit about the tradition of Western Pennsylvania stars in the U.S. Army All-American Bowl. However, at his jersey presentation on Monday at his school, the businesslike Simmons certainly wasn't awed by his selection to the game.
"I know it's a big deal," said Simmons, a 6-foot-5, 265-pounder who is one of the fastest-rising prospects in the country as a senior. "I remember
Terrelle Pryor
being in it and
Dorian Bell
from Gateway (in Monroeville). And I think
Corey Brown
from Gateway was also in it, so I know there have been a lot of top guys from my area to make the game. To be in that group is an honor and it's great."
Simmons, ranked as the No. 14 defensive tackle in the country and No. 165 overall, is the only player from the Keystone State selected for the bowl this year. While everyone knows it's a down year in the state, Simmons is ready to represent.
"I will represent the best I can and try to show how we can play football in Pennsylvania," he said. "It's a big deal to be selected as the only player from my state so it makes me want to work harder and do better."
Simmons was selected based on the improvement he showed from his junior year to his senior year. The improvement was noticed by major programs.
Florida
and
Penn State
recently offered, while
Iowa
,
North Carolina
,
Oregon
,
Rutgers
and others have him high on their boards. For Simmons, the improvement isn't a big deal.
"Yes, I feel like I'm playing better and I'm faster and stronger," he said. "I notice I'm running more plays down from the backside and I'm able to get into the backfield a bit faster and take on blockers better, so I can tell the difference a bit. But I think that's just natural for someone to get better as they become more experienced.
"The offseason is for hard work and to work on things you need to improve. One of the biggest things for me was to get stronger in my lower body and I did that. I still need a lot of work on that and on other things, but I just keep working."
Simmons' coach, Jim Ward, spent some time in the NFL and sees the potential of his prize player.
"Delvon has all the skills and it's the combination of all of them that really makes his special," Ward said. "His get-off is elite, the use of his hands is well beyond most at this level, his size and speed combination is impressive, and he's a guy who can rush the passer from the defensive tackle position and split double teams. He's just so athletic and he's also smart. He's going to impress in San Antonio."
For Simmons, Ward has taught him many things.
"He really worked on making my get-off quicker and how to use my hands right and a lot of positioning," he said. "A lot of little things have made me better and he always says you never want to get on anyone's highlight tape, which means make sure you're going hard every play so you don't get embarrassed."
No one has embarrassed Simmons yet this year but there will be a different level of competition in San Antonio. For Simmons, he'd rather not know.
"I'm not a guy who's on websites and watching highlight films of other defensive tackles or offensive linemen and comparing myself," he explained. "I know how many great players will be down there, but I don't really know what to expect and I like it that way. It's going to be hard but I want to build it up in my mind and not underestimate anyone. Not really knowing who will be there or how good they are will just make me work harder because I'll expect the toughest and prepare for it."
But when it comes to recruiting, Simmons is a bit more prepared. He has already taken official visits to Rutgers, Oregon and Iowa, and will visit Florida the weekend of Dec. 10. His final official is up in the air and he is still waiting to name any favorites.
"I'll probably take my last official to North Carolina," Simmons said. "I was supposed to go down there this weekend … something came up, but I'll reschedule it. If it's not UNC it will be
Illinois
,
Michigan State
or
Miami
. Miami hasn't offered yet but they might, but I'd say it's likely to be North Carolina.
"As far as the visits I've taken, the atmospheres at Iowa and Oregon were both amazing and those stand out a bit, but I don't have any leaders and still need to take all my trips before making my decision."
[rl]