Signing Period preview: Five potential flips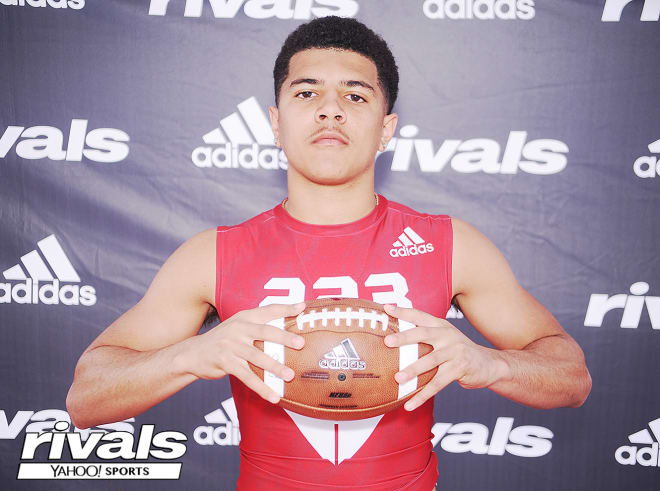 It will happen. It will happen more with more than one prospect. Who will it be? How many will flip from one school to another? The Early Signing Period is right around the corner and around 80% of high school football recruits are expected to sign with the school of their choice.
Some players that are committed to one school now will flip to another school next week. We profile five to keep an eye on come Dec. 18.
MORE: Can Lane Kiffin reel in McKinnley Jackson? | Where does Zach Evans stand?

KHARI COLEMAN
Kansas has been the leader since June, when Coleman committed to Les Miles, but Tennessee has made a big move the last few weeks. After hosting Coleman on an official visit Thanksgiving weekend, the Vols have really been trending. Kansas is working hard to hang on, but Tennessee looks to be the favorite heading into next week despite Coleman still on the Kansas commitment list. Do not sleep on TCU either. The Horned Frogs are in this too.
ROMELLO HEIGHT
Height has been committed to Miami since July 1, but he has quietly visited Auburn since and he could be back on the Plains again this weekend, this time for an official visit. This visit is one to keep a very close eye on.

Manny Diaz and Gus Malzahn have both had in-home visits this week and there has been some rumors behind the scenes that Auburn could flip this one sooner than later. The numbers are tight for the Tigers and there are still some tough decisions for that staff to make in the next few days, but Height is a target, he knows it and Auburn is a true threat to Miami.
JIMMY HOLIDAY
Will Holiday stay with TCU? Will he end up in Texas early next month? Holiday is an early enrollee, so he will be moved into his new home this time next month. Where will it be? Despite the commitment to the Horned Frogs, things have been trending away from TCU in recent weeks.
Tennessee is a major player here. The Vols have been in regular contact lately. Ole Miss was set to receive a visit Monday December 1, but the Rebels fired Matt Luke that Sunday. Could Lane Kiffin make the in-state school a player again?
Florida State was Holiday's dream school growing up and the Seminoles offered Holiday earlier this week. Is Mike Norvell and the Seminoles too late?
Holiday is trying to figure all of this out while he is playing in the Alabama-Mississippi All-Star game this week. TCU is still the school he is committed to, but Tennessee is the one there is the most chatter around at this time.
DONEIKO SLAUGHTER
Recruits love Herm Edwards, and he played a big role in Slaughter committing to Arizona State, but Edwards and his staff will have to work hard to hold on here. The Georgia safety is coming off an official visit to Miami and he is set to visit Tennessee this weekend. The Hurricanes may be third on the list now, but the Vols have made this one interesting. He loves the NFL connection in Tempe, but Tennessee has Derrick Ansley, a former NFL coach too.
MYLES SLUSHER
Since April, the four-star safety has been committed to Oregon, but now it is crunch time and schools have not given up on the Oklahoma star. He visited Nebraska officially in September, but the school with some buzz around right now is UCLA.
He is close to Sevion Morrison, a Nebraska commit and he is teammates with Javian Hester, a Missouri commit. With new head coach Sam Pittman in place, Arkansas is trying to sneak in this race too. Slusher is expected in Fayetteville this weekend, so keep an eye on the Hogs as well.
This one could still go a few different ways, but the odds of Slusher sticking with the Ducks look to be 50-50 at best.