Sherer makes big Big 10 decision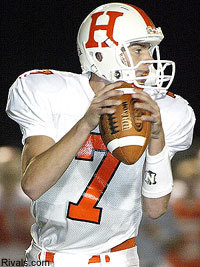 Wisconsin has landed a commitment from the number three overall prospect in the state of Indiana and one of the Midwest's top quarterback prospects,
Dustin Sherer
.
Sherer participated in the Wisconsin Football Camp in June and recently received a scholarship offer from the Badgers.
"I was at my team camp," Sherer said. "An offer from Wisconsin came in the mail. My dad called and told me about it. Then I verbally committed to Wisconsin."
"I went to a one day camp there and took the tour and everything, and really liked it. It's a good college. The coaching staff is firm there. Even when coach Alvarez retires, I think an assistant will take over. I just felt real good about it."
"Indiana, Illinois, Iowa, Wisconsin, Cincinnati, Bowling Green, Western Michigan, and Ball State offered. I think that's it."
The 6-foot-2 and 205 pounder from Westfield, Ind., completed 55% of his passes for 2216 yards during his junior season. Sherer connected for 17 touchdowns, rushed for five, and was intercepted six times.
Sherer also camped at Ohio State, Purdue, Michigan, Michigan State, and Notre Dame. Sherer had said near the end of June that his top three were Ohio State, Michigan, and Purdue, but things changed once the offer came from the Badgers.