Semper Fi: Stock up from Day 2
FULLERTON, Calif. -- The Semper Fidelis All-American Bowl moved onto Day 2 on Thursday and there were plenty of standout performances at the East team practice. Here is a look at who backed up their ranking and who made a case for a bump up.
RB Amir Rasul, Coral Gables, Fla.; No. 13 RB
Recruiting wrap: Rasul told Rivals.com earlier this week he was 80 percent committed to Florida State, and he has plans to visit USC, Alabama, Miami and North Carolina in January, leaving the window open for a possible flip before National Signing Day.

Performance: The three-star prospect was the fastest player on the field and earned most of the reps at running back as he picked up chunks of yardage during live periods. Rasul is small in stature, yet agile enough to wiggle through even the smallest holes between blockers. When he went outside, he was just as lethal, beating helpless linebackers in open space and making quick cuts after catching the football.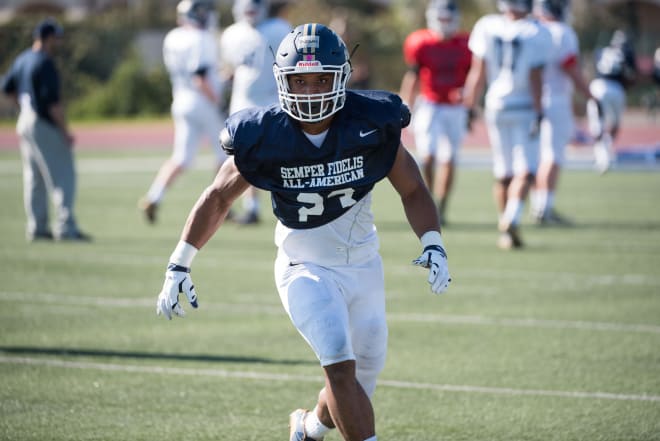 ATH Khaleke Hudson, McKeesport, Pa., No. 14 in state rankings
Recruiting wrap: Hudson took an official visit to UCLA just before the dead period and has trips to Michigan (Jan. 15), Penn State (Jan. 22) and Pittsburgh (Jan. 29) remaining.
Performance: The three-star prospect was not only versatile for the East, but also effective in those roles. As a safety, Hudson intercepted a pass up the middle after jumping a comeback route and had a good showing in run support, too. On the offensive side, he took reps at running back and looked more than capable there. On one carry he cut back for a touchdown and showed remarkable vision in hitting the correct lanes.
TE Jamal Pettigrew, New Orleans (La.) St. Augustine, No. 12 TE
Recruiting wrap: Pettigrew is committed to LSU, but told Rivals.com this week that official visits to Florida and Ole Miss are likely after he stops by Baton Rouge the weekend of Jan. 15.
Performance: The three-star tight end might have been the most physically impressive player on the roster, and he backed it up on the field. Though he had a big drop late, he made a couple other nice receptions in traffic but also in the flat before turning up field. Pettigrew seemed to have a good feel for coverages and managed to box out linebackers for possession.
WR Brad Hawkins Jr., Camden, N.J., No. 231 in Rivals250
Recruiting wrap: Hawkins is committed to Michigan but told Rivals.com he would talk to head coach Jim Harbaugh about possible visits to North Carolina and South Carolina.
Performance: The four-star prospect made several nice grabs near the sideline, showing a high comfort level on the edge and in tight spaces with defenders around him. Hawkins also had a spectacular diving catch where he adjusted well to a poorly thrown ball and later had a big gain on a reverse carry.
DE Caleb Roddy, Denham Springs, La., No. 24 SDE
Recruiting wrap: Despite advances from the likes of Tennessee and Texas, Roddy told Rivals.com he is completely committed to LSU and won't be making any other stops before National Signing Day.
Performance: No one was more dominant in the trenches than the 6-foot-5, 248-pound Roddy. The three-star prospect got into the backfield with ease and, once he was there, made great decisions against zone-read plays. He was disruptive in the middle and didn't allow plays to develop on the interior. And on one play when he couldn't get to the quarterback, Roddy leaped to knock away an attempted jump pass near the goal line.
WR T.J. Chase, Plant City, Fla.; No. 44 in Rivals100
Recruiting wrap: Chase is committed to Clemson.

Performance: The four-star receiver had the best catch of the day on a deep route that went for a touchdown. He got past the opposing cornerback down the sideline and then beat him to the football in the end zone, going up for the catch rather than allowing it to come to him. Chase also looked explosive as the No. 1 kick returner and on short routes.
DE Khalid Kareem, Farmington Hills (Mich.) Harrison, No. 18 SDE
Recruiting wrap: Kareem has committed to Notre Dame and told Rivals.com he doesn't intend to take any other visits.
Performance: The 6-foot-4, 257-pound lineman was a matchup nightmare off the edge. After beating an offensive tackle with a solid move to the outside, Kareem got to the quarterback and forced a fumble by stripping him from behind. He also contained the edge well against the zone-read.