SEC Spotlight: Comparing 2018 recruits to current stars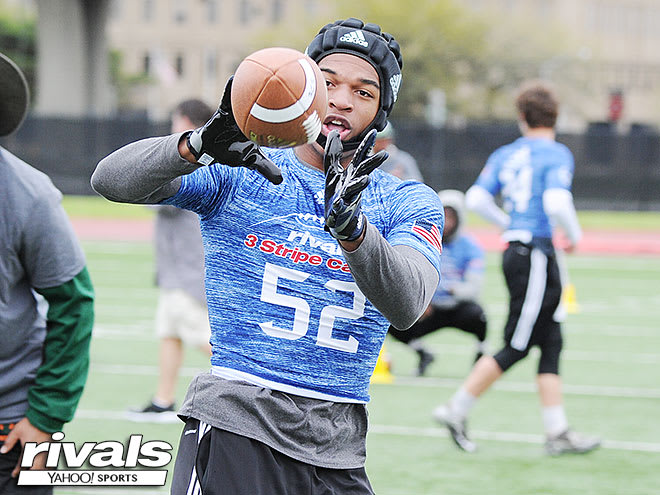 Finding the right kind of players who will succeed in your offensive and defensive schemes is one of recruiting's challenges, but one way to predict that success is with players resembling those who have succeeded in the past. This week we look at SEC rosters and recruiting classes to see which 2018 recruits most closely resemble current starters.
RELATED: Comparing Big Ten stars to recruits
ALABAMA
Player: Minkah Fitzpatrick
Recruit: Patrick Surtain
Comparison: Fitzpatrick is a do-it-all defensive back for Alabama and he can line up anywhere in the secondary and play at a high level. That could be said for Surtain too. Surtain is a little longer, while Fitzpatrick is stronger, but both are elite defensive backs who can line up anywhere. Like the Crimson Tide did with Fitzpatrick, they hope they can convince Surtain to move to Tuscaloosa.

ARKANSAS
Player: Bijhon Jackson
Recruit: Emmitt Gooden
Comparison: Jackson is a strong force in the middle of the Arkansas defensive line. He is powerful at the point of attack and Gooden is very similar. Jackson plays nose guard in the Razorback defense, but he could be a three-technique as well. The same could be said about Gooden. He could be moved around up front once he arrives in Fayetteville.

AUBURN
Player: Kerryon Johnson
Recruit: Asa Martin
Comparison: Johnson has really turned into a star at Auburn over the past year and a half. Johnson is a great athlete who was recruited to play offense and defense coming out of high school, and the same can be said about Martin. As a running back, Martin and Johnson are slashers who can run up the middle, get to the perimeter and catch the ball out of the backfield.

FLORIDA
Player: Tyrie Cleveland
Recruit: Ja'Marr Chase
Comparison: Things haven't gone as a planned for Florida this season on the field but when healthy, Cleveland has been one of the brighter spots on the offense. He worked his way onto the field as a freshman as his height and route-running ability have given defenses issues since he arrived in Gainesville. Chase is a little more muscular than Cleveland was coming out of high school and may be readier to step in and play Day 1. Either way, there's a reason Chase is still being pursued by so many other programs and why he will be a top priority for the next Gators coach.
GEORGIA
Player: Lorenzo Carter
Recruit: Azeez Ojulari
Comparison: Carter came out of high school with a lot of hype. Ojulari does not have as much surrounding him at this stage, but their games are very similar. Both are great athletes who love to get up the field and pressure the quarterback off the edge. It is about speed, length, quickness and frames when comparing these two. They look very similar.

KENTUCKY
Player: Stephen Johnson
Recruit: Jarren Williams
Comparison: Johnson was a virtual unknown coming out of high school and even again as a junior college recruit but he's been the right guy at the right time to help Mark Stoops and Kentucky get to respectability in the SEC. The comparison between the two comes in their ability to use their legs to extend plays as well as the X-factor to make big plays in the big moment. There's no question that Williams is more developed as a passer than Williams and if he continues to make the same type of strides from this year to next year that he made last year to this year then he could step right in and replace Johnson in 2018.

LSU
Player: Arden Key
Recruit: Travez Moore
Comparison: It's tough to compare any recruit to Key, one of the nation's best pass rushers and a key cog in LSU's defense. But much like Key, who needed to bulk up and add weight before he became a force early in his college career, Moore has added nearly 25 pounds to his frame from his high school days. The junior college prospect has been on LSU's radar since before his senior year of high school and it if weren't for academics, he might be playing alongside Key on the field this season. With Key likely headed to the NFL after this season there will be plenty of competition to fill his shoes but expect Moore to be heavily involved.
OLE MISS
Player: Jordan Wilkins
Recruit: Jarveon Howard
Comparison: Ole Miss loves to spread the offense, and when you think that, you think smaller, quicker backs that play in space. They have Wilkins, who has had a strong career in Oxford, and Howard is a target for the Rebels. Their styles are similar: They are bigger backs who run with power and who can move the chains. Howard would be a great replacement of Wilkins.

MISSISSIPPI STATE
Player: Nick Fitzgerald
Recruit: Jalen Mayden
Comparison: Fitzgerald only had two offers when he chose Mississippi State, so Mayden is a little different there since he had many more choices. They are similar in styles though as signal callers. Both are athletic, both cause defenses to prepare for their legs and both have the ability to drive the ball downfield. Mayden is coming into Starkville with a lot more hype around him, but he could be a very similar player for the Bulldogs.
MISSOURI
Player: Terry Beckner Jr.
Recruit: Michael Thompson
Comparison: Beckner Jr. was a defensive tackle with a 6.0 rivals rating in 2015 and Thompson has that same rating coming out in 2018. They have a very similar build, very similar games and both are Rivals100 talents. They also both come from St. Louis and Missouri hopes to keep Thompson home as it did with Beckner.
SOUTH CAROLINA
Player: Deebo Samuel
Recruit: Josh Vann
Comparison: While Samuel is now listed at an impressive 6-foot, 215 pounds, coming out of high school he was just 5-foot-11, 183 pounds. His transformation into one of the SEC's top receivers has been pretty remarkable. But high school Samuel is very similar to high school Vann (5-11, 188). Samuel had a great close to his high school career and Vann has turned into quite the weapon over his high school career. With Samuel recently announcing that he will be back in 2018, it's likely that he will get the chance to tutor and mentor Vann personally, a notion that should excite South Carolina fans about the future.

TENNESSEE
Player: Rashaan Gaulden
Recruit: Trey Dean
Comparison: It could be argued that Gaulden has been Tennessee's best defensive player this season and his versatility has allowed him to bounce around to several different roles in the Vols' secondary. Dean, who is ranked as a four-star safety much like Gaulden was as a recruit, is also capable of playing cornerback or safety and also operates with the same type of edge as Gaulden. Dean is slightly bigger than Gaulden was as a recruit and is also ranked slightly higher, but with playing time up for grabs it wouldn't be a shock to see the two playing alongside one another if Gaulden elects to return for his senior season.

TEXAS A&M
Player: Armani Watts
Recruit: Leon O'Neal
Comparison: Watts has made a name for himself in College Station by making the big play at the right time. The same can be said for O'Neal at the high school level, as he's often seen patrolling the secondary and finding a way to be in the right place at the right time for his high school team. In terms of their physical built, O'Neal is a little taller and longer and might not carry as big of a punch as Watts does as a tackler, but by the time he's had an offseason in the weight program he could be playing at 6-foot-2, 200-plus pounds. That's a scary thought for his future opponents.

VANDERBILT
Player: Oren Burks
Recruit: Alston Orji
Comparison: Derek Mason has done a nice job developing linebacker talent in his time in Nashville and Burks is just the latest linebacker to thrive and likely have a chance at an NFL future. Coming out of high school he was listed at 6-foot-4, 205 pounds but now he plays as 230 pounds. Most are expecting the same type of growth out of Orji, who is listed at 6-foot-2, 216 pounds, and is one of the more physically impressive prospects in Vandy's class. Burks has been a tackling machine this season and also done a nice job getting after the quarterback. With Orji's athleticism, it wouldn't be a surprise to see him fill the same type of role down the line.