SEC hasnt made inroads in Texas yet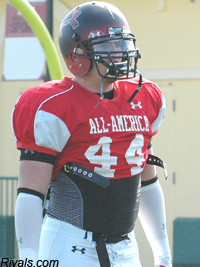 That door appears to be only slightly ajar.
SEC schools venturing into Texas could always try to sell prospects on the caliber of competition, quality of coaching, maniacal support from fans, development for the NFL and a streak of national champions that has now reached six consecutive years.
But this was the first year the SEC programs could offer conference games being played in the Lone Star State.
Still, SEC programs weren't much more successful in the Lone Star State than in previous years.
SEC programs (excluding A&M) signed 11 players from the state of Texas and only three who were ranked among the state's top 40 prospects by Rivals.com.
In fact, this year may be known as the time Missouri did poorly in Texas as five recruits who had once verbally committed to Missouri ended up elsewhere.
Perhaps the SEC's pull isn't as great as some thought.
Cole is staying home to play at Texas.
"Competition is competition," he said. "The Big 12 has good competition, so why switch? The grass isn't always greener on the other side."
"Once I got an offer from OU, I wanted to go to OU," he said. "I'm not worried about the SEC. Some guys go there and I'm proud for them. But OU was the place for me."
For McGee, the school means more than the conference.

"It's smart to go to a successful program, not just because it's a school in a new conference," he said. "Personally, I don't think those teams (A&M and Missouri) are going to do well in the SEC. Guys are still going to go to OU and Texas and places like that."
Perhaps the move to the SEC boosted the Aggies' recruiting efforts. Despite the coaching change and some defections because of it, A&M's class is ranked 14th in the country by Rivals.com, its highest ranking since a No. 8 finish in 2005.
Sumlin certainly felt like the move to the SEC helped.
"There's a certain level of player that has embraced the SEC," he said. "Texas A&M is a very special place; tremendous traditions and pageant at football games, but a tremendous amount of pride of fans and parents also, particularly on game day. Now, with the game day experience, the academics and now moving into the SEC, the game day experience is every day.
"There have been a lot of players who have embraced that and want to be a part of it."
The other SEC teams can only hope more will feel that way in the future.

[rl]