SEC Championship: Five key players for Georgia, Auburn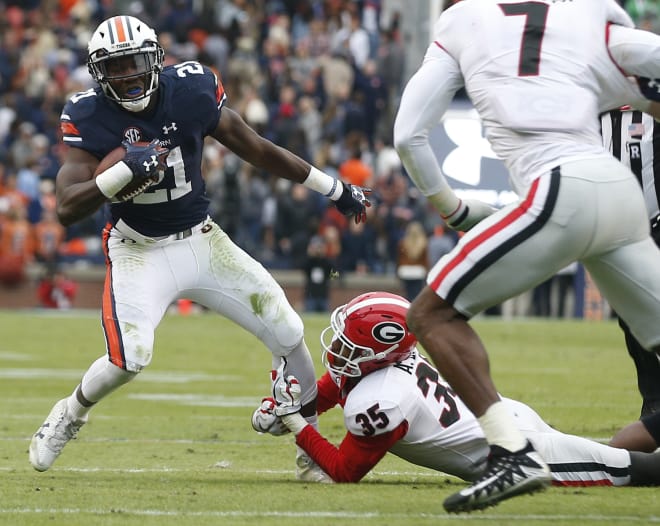 Mark Pszonak contributed to this report.
With the Power Five title games approaching, we thought we'd take a look at five key players from each team. Today we look at the SEC Championship, which will kickoff Saturday at 4 p.m. on CBS from Mercedes Benz Stadium in Atlanta.
GEORGIA
The skinny: Fromm initially committed to Alabama, but then flipped to the Bulldogs in early March. He was thought to be the back-up to Jacob Eason this fall, but an injury to Eason in the opener quickly put Fromm in the spotlight. Despite Eason being healthy now, Fromm has remained the starter throughout the season and performed like an upperclassman. Passing for 1,990 yards and 19 touchdowns while throwing only five interceptions, Fromm will need to raise his game to an even higher level in order to lead the Bulldogs to the SEC title.
Farrell's take: Fromm became a five-star late in the process, earning that fifth star after a great week at the U.S. Army All-American Bowl, and was a huge flip for Kirby Smart. He was a kid we felt was a "gamer" who might not have as many natural skills as some other five-star quarterbacks but had more of the intangibles. Fromm has been limited in his passing attempts this season compared to what Eason had to deal with last season, but his efficiency and maturity has been off the charts and they are putting more on him each week and he's handling it well.
The skinny: Chubb committed to Georgia over a group of finalists that included Auburn and South Carolina. After a huge true freshman season in 2014 with 1,547 yards and 14 scores, Chubb's 2015 season was derailed by a knee injury. He returned last fall with 1,130 yards and eight touchdowns on the ground, but didn't reach the levels he did back as a true freshman. Now fully healthy, Chubb has rushed for 1,098 yards and 13 touchdowns, as he also shared carries with Sony Michel and true freshman D'Andre Swift.
Farrell's take: Chubb was only two spots away from a fifth star as a recruit. Based on the way he has played in Athens, despite the scary injury a couple of years ago, Chubb has played a bit above that ranking and he's been excellent this year despite splitting time. He ran low to the ground, was hard to tackle and had great speed for a 220-pound back in high school. In the end, his ranking might look perfect after looking too low after that freshman year, but he's clearly an elite back and could be a second-rounder.
The skinny: Michel committed to Georgia over Miami and Notre Dame in the spring. Florida and Florida State were also considered contenders at the time of his decision. Sharing carries with Chubb throughout his time in Athens, Michel has still been able to showcase his abilities. This season he has rushed for 903 yards and 13 touchdowns, while averaging 7.3 yards per carry. A dynamic offensive weapon, look for Michel to get his fair share of carries against Alabama on Saturday.
Farrell's take: Michel, in the same class as Chubb, is the more well-rounded back of the two and that was the case out of high school. He can run inside, bounce it outside and he is a more natural pass-catcher and better blocker. A star since he was in the eighth grade, Michel has a chance to be an amazing NFL player and is having a great year this season for the Dawgs. He was part of an incredible group of backs at our Rivals100 Five-Star Challenge in Chicago, along with Leonard Fournette, Joe Mixon and Elijah Hood, all five-stars. I like Michel's pro potential even more than Chubb's.
The skinny: Smith, who took official visits to Georgia, Michigan, UCLA, Texas A&M and USC, initially committed to the Bruins on Signing Day, but never faxed his letter of intent. Upon finding out that his recruiting coach, Jeff Ulbrich, was leaving the Bruins, Smith decided to take a step back and finally committed to the Bulldogs almost two weeks after Signing Day. This fall, Smith has become the leader of the defensive unit with 100 tackles, 5.5 tackles for a loss, 4.5 sacks and one forced fumble.
Farrell's take: When Smith decided not to head west and delayed his process, I didn't think a ton of it because while I thought he was good and was a Rivals100 prospect, he was undersized and I wasn't sold on how effective he would be at the next level. Man, was I wrong. He's an absolute terror, and you could argue that no linebacker in the country arrives to the football faster. He's a quick-twitch kid, has added good size and someone will covet him as a terrorizing outside linebacker at the NFL level. He's the heart and soul of the Georgia defense.
The skinny: Carter took official visits to Georgia, LSU, Florida State and Florida before committing to the home state Bulldogs on National Signing Day. Carter had a huge true freshman season in 2014 and has continued to make an impact on the field since then. Now a senior, he has totaled 42 tackles, 7.5 tackles for a loss, 4.5 sacks and two forced fumbles for a Georgia defensive unit that has established itself as one of the best in the country.
Farrell's take: Carter was a one-time five-star who lost that status after a very average senior season. However, he shot back up the rankings a bit when he was very effective during the Under Armour Game week. He was a bit of a one-trick pony as a pass rusher, an outside loop guy who either beat you with speed or was stonewalled when linemen got their hands on him. There was a debate whether he should be an outside linebacker or a defensive end but, as with most potential hybrids, we kept him at end. He is finally having his breakout season and has been a terror off the edge.

AUBURN
The skinny: Stidham initially committed to Texas Tech, before re-opening his process in December and then committing to Baylor a few days later. After passing for 1,265 yards and 12 touchdowns in 2015 due to a season-ending injury to Seth Russell, Stidham decided to transfer in the off-season due to the growing sex abuse scandal in Waco. After spending a year at a junior college, where he didn't play football, Stidham transferred to Auburn. In his first season as a starter with the Tigers, Stidham has shown everyone why he was a four-star recruit coming out of high school. Throwing for 2,682 yards and 16 touchdowns, while completing 68.5 percent of his passes and throwing only four interceptions, he has performed like a veteran throughout the season.
Farrell's take: We liked Stidham out of high school quite a bit, especially his mobility along with his pocket presence. His efficiency his senior year was off the charts and he's always been good at taking care of the football. He was a Rivals100 prospect but never pushed that hard for a fifth star because he was always a bit inconsistent with his decision-making, mechanics and feel for the game during in-person evaluations. Were we putting too much emphasis on camps and not enough on game action? Perhaps, as he's really developed this season and has become key to Auburn's run.
The skinny: There wasn't a great deal of drama in Johnson's recruiting process, as he committed to the Tigers during the spring after his junior season. While he contemplated taking official visits to Alabama and Florida State, they never materialized and he signed with Auburn on National Signing Day. Johnson has improved his level of play from year-to-year with the Tigers, with his best so far coming in 2017. Rushing for 1,276 yards and 17 touchdowns, while also adding two more scores through the air, Johnson has become one of the more reliable backs in the SEC and the country.
Farrell's take: Johnson was a terrific athlete, as evidenced by playing defensive back during Under Armour All-America week and that versatility and athleticism have made him a dangerous weapon at Auburn. He can play receiver, running back and a hybrid combo position of both and he's the most important non-quarterback to any team in the country. He's also shown his toughness and ability to handle fourth quarter carries, a question mark out of high school.
The skinny: Holland chose Auburn on Signing Day after many considered Florida to be his long-time leader. He chose the Tigers over the Gators, Florida State, Alabama, Ohio State and others, but it was the move of Will Muschamp to Auburn after he was fired at Florida that sealed the deal. Holland made a minimal contribution during his first two seasons at Auburn, but has taken his game to a new level in 2017. Currently with 41 tackles, 11.5 tackles for a loss, 8.5 sacks and four forced fumbles, he has quickly become one of the unquestioned leaders of the Tigers' defense.
Farrell's take: Holland was a talented and aggressive prospect out of Jacksonville as a high school player who had good size and the potential to play with his hand in the dirt or standing up. He was a big hitter, was very cocky and knew how talented he was and made a ton of tackles in space. We had some questions regarding his attitude and how he'd adjust to college, but he has done a great job waiting his turn and is one of the keys to the Auburn defense. He's arguably the best pure pass rusher in the country.
The skinny: Davis was originally committed to Ohio State, but de-committed after taking an official visit to Auburn in late January. This eventually led to his commitment to the Tigers on National Signing Day. He made an immediate impact at Auburn as a true freshman and has continued to play at a high level ever since. Currently one of the top cornerbacks in the SEC, Davis finished the regular season with 30 tackles, 10 pass break-ups, one interception and one forced fumble.
Farrell's take: Davis was tall, angular and covered a lot of space as a cornerback. He had good instincts although his technique was slightly awkward as he was growing into his tall frame. Davis was a guy I could see growing into a free safety or staying at cornerback. He needed to work on his run support, but made up a lot of ground in the passing game by being so long. He dominated the Semper Fi All-American Bowl week and it would have been interesting to see him in one of the two big all-star games. He's a risk-taker and still raw in some aspects of coverage, but he's got NFL scouts very excited.
The skinny: Brown took official visits to Auburn, Tennessee, Mississippi State, Georgia and Alabama before committing to the Tigers on National Signing Day. As a true freshman, it took some time for Brown to hit his stride, but a strong close to the 2016 season created high expectations for him this fall. He has lived up to those expectations in 2017, with 46 tackles, 8.5 tackles for a loss, three sacks and two forced fumbles, as he has helped to anchor the interior defensive line for the Tigers.
Farrell's take: With Montravius Adams gone, Brown moved inside full time to take over the role of dominator at defensive tackle and has done a great job. He has the power, the quickness and ability to crush the pocket to get the job done and always did out of high school. In high school evaluations, he was always a bit up and down. He was inconsistent, but his ceiling was too high to keep him from that fifth star and he's showing us that potential.