{{ timeAgo('2022-09-14 14:16:35 -0500') }}
football
Edit
Scouting Spotlight: Best Florida receivers evaluated this season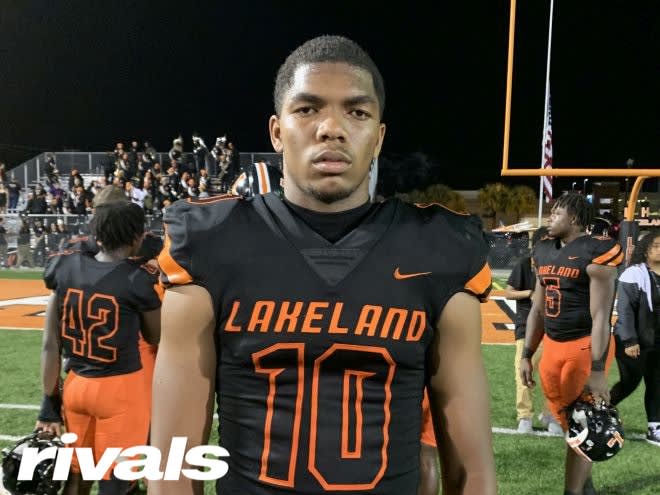 Camp and 7-on-7 evaluations are one thing, but the competitive nature of the game heats up with the pads on and fans in the stands. National recruiting analyst Ryan Wright and Osceola.com recruiting writer Charles Fishbein breakdown the three best receivers they've seen in the early goings of the 2022 season.
*****
CHARLES FISHBEIN'S TAKE
Glades Central has produced some great receivers over the years. They had Santino Holmes (Ohio State), Deonte Thompson (Florida), Kelvin Benjamin (FSU), Travis Benjamin (Miami), Greg Dent (FSU), Jessie Hester (FSU) and Reidel Anthony (Florida). Luckas is next in line to make his mark. He has great size. You will see him go up and get the football. Robert is also not afraid to go across the middle of the field to catch the ball. He is much underrated, and we expect him to have a very good college career.
*****
Smith is one of the best receivers to ever come out of South Florida. He is big and physical. When Smith wants the ball, he will go and snatch it away from any defensive back. Smith is big and can run. He is a prospect that is already elite, and Smith can still get much better. He has all the physical tools to be one of the very best in college football.
*****
Trader reminds us of Rashaad Green who played and starred at FSU. He is so smooth. You are looking at a very good route runner. He is tough to jam off the line of scrimmage. You will see him get into and out of his breaks quickly. Trader catches any pass you throw his way. Get him in space and Trader can do some damage. If not for Smith, it would be Trader who would get all the attention from college recruiters. It is not often that a high school team has one elite receiver, Chaminade has two of them in Smith and Trader.
*****
RYAN WRIGHT'S TAKE
If a 2023 high school receiver was able to make the jump to the NFL skipping college, Hykeem Williams would be the player that could make the transition. Williams is gifted with size and speed. Coupled with the physical attributes, Williams has great hands and a winning mentality on 50-50 balls. Because he is so big and physical, corners can't jam him and can only try to knock him off his route by bodying him up risking a pass interference penalty.
Watching Williams against Plantation, he had two receiving touchdowns with a pair of receptions to help move the chains. He has a similar game to Mike Evans (Texas A&M/Buccaneers).
*****
Having seen Tate play twice already this season, the thing that sticks out the most is his speed and burst. If the five-star has any sort of spacing from a defender when he secures the ball, he's gone. In the preseason exhibition game against Venice, Tate took the opening kickoff back some 97 yards. He broke a tackle and used his field vision and speed to leave all way-way behind. Against Miami Central, he helped move the chains keeping IMG's offense on the field.
With IMG, Tate runs different variation of routes, the 10-yard comeback, slants, and flies – you name it. Because he can take the top off a defense with his speed, it'll be interesting to see if Ohio State will drag him across the middle creating mismatches and extra space for him to show his explosiveness.
*****
Of the three top 2023 Florida receivers I've seen this season so far, Tyler Williams was the most impressive overall per a single-game performance. Williams took the opening kickoff against Winter Haven back for a score, returned a punt some 70 yards for a touchdown, and was a yard shy of a 50-yard touchdown. On the dynamic special teams plays, when Williams turned the jets on, the 4.4 speed showed. Like Hykeem, Tyler is a big receiver that will continue to give secondaries fits as he continues to level up.