Rocking Receivers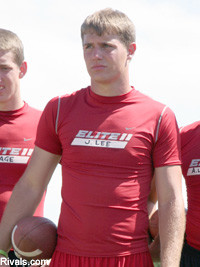 COLLEGE STATION, Texas – Texans take pride in a lot of things, but receivers are one thing on the gridiron the Lone Star State has never been famous for.
But a talented group of Texas receivers stole the show at Saturday's NIKE Training Camp at Texas A&M University. Led by Hempstead, Texas, blue-chip receiver
Terrance Toliver
, the loaded group of pass catchers took turns burning defensive backs and impressing coaches from more than 20 different colleges on hand to watch the workouts.
"This is the most impressive collection of receiver talent, I've ever seen at one of these camps in Texas and other places all over the nation," one college coach said. "These guys were special."
No were more special than Toliver, who measured in at 6-foot-4 and 184 pounds and clocked in the 4.4-second range in the 40-yard dash. With a top group and offers from of Nebraska, LSU, Texas A&M, Arizona, Oklahoma and Texas Tech, Toliver was dominant the entire day. He was fluid running routes and with his long arms and jumping ability he was next to impossible to cover.
"I made a statement today," Toliver said. "I proved to everybody I can catch and run good routes. Plus, with my quickness I'm going to be really tough to cover. I think I'm the best receiver in the nation, and I hope to keep proving it to people.
"I can get better. I can improve my route running, and I just want to improve on everything. Hard work is the biggest thing I learned today. You have to keep working hard because there is somebody always right there trying to get to the same level you're at."
The thing is, even though Toliver probably was the best, he wasn't the only receiver at a truly elite level.
Round Rock, Texas, receiver
James Kirkendoll
was another one of the headliners and he came away impressing a lot of people with his great route running and soft hands. He also clocked in the 4.4-second range in the 40-yard dash, proving that his scholarship offers from Clemson, Kansas State, Miami, Nebraska, Oklahoma, Oklahoma State and Texas Tech are worthy.
"I really did well in the one-on-ones," Kirkendoll said.
"I felt I was one of the better guys getting off the line off the press. I think my route running skills were also right up there. This was an amazing receiver group, and I know if I was one of the best ones in this group, then I have a chance to be right up there."
He does.
But so do other receivers that stood out at the camp like
Jack Freeman
of Cypress (Texas) Falls,
Robert Perry
of Humble, Texas,
Gil Roberts
of Oklahoma City (Okla.) Millwoood,
Nick Trice
of Killeen (Texas) Harker Heights,
Stacy Williams
of Houston Yates,
Romie Blaylock
of Cedar Hill, Texas,
William Cole
of Cedar Hill, Texas,
Detron Lewis
of College Station (Texas) A&M Consolidated and
Brandon Collins
of Brenham, Texas.
Trice and Collins were especially impressive out of that group. Trice ran in the 4.5-second range and did enough to prompt an offer from Texas A&M. Collins caught everything that was thrown his direction and with TCU on the verge of getting his commitment on Tuesday of next week it looks like the Horned Frogs are going to get one of the state's best.
DON'T FORGET ABOUT THE D
On the defensive side of the ball, everybody was raving about
Jacody Coleman
of Beaumont (Texas) Westbrook. While teammates
Joe Chaisson
and
Billy Chavis
have deservedly so received major attention early in the recruiting process, Coleman is about to blow up after a strong performance on Saturday.
"I think I did kind of good," Coleman, who is around 6-2 and 230 pounds, said. "I came out here and tried to get a 4.7 in the 40 and then I bust a 4.61. I thought I did well in the one-on-one drills. They put me against the best lineman and I got him. In all the different drills I was doing with the defensive linemen, I did real well.
"I had only one offer coming into today, and I think I raised my stock quite a bit. It was definitely worth coming. The college coaches were bumping into me after the camp telling me I did real well and they're going to be by the school to see me next week."
That one offer is from Iowa State, but other schools like LSU, TCU, Oklahoma State, Oklahoma, Tennessee and Baylor are showing serious interest and with his play on Saturday that offer list is sure to grow.
"Coleman without question was the best defensive linemen in the camp," NIKE Camp defensive line coach Marty Spalding said.
Cornerback
Ryan Broyles
of Norman, Okla., was another major surprise at the camp – even though he was ranked as a pre-evaluation period Rivals100 prospect. The past few months more and more top talent had been discovered in Oklahoma and Broyles name had seemingly slipped down the list, but after Saturday's performance it catapults right back toward the top.
With offers on the table already from Kansas, Mississippi State, Oklahoma State and Texas Tech, Broyles impressed a lot of people on Saturday and was one of the few players that gave Toliver a tough time in one-on-one. He also ran a 4.5-second 40-yard dash and his three-cone time of 7.0 seconds was the fastest in the camp by more than two tenths of a second.
"Broyles is something else," Toliver said. "I liked how he stood up to me when I called him out in one-on-ones. He rose up to the challenge. I got him once, but he hung right there with me. He's really fast and more physical than you think."
Von Miller
of DeSoto, Texas, is listed as an outside linebacker, but he worked out with the defensive ends in the camp and put on quite a show in the one-on-ones. After schooling several other linemen, Miller went head-to-head against John Jones of Cedar Hill and beat him with an explosive first step off the line of scrimmage.
ALL-STAR SHOWING AT QB
Heading into Saturday, it was hyped to be a battle of the quarterbacks and the event definitely lived up to that.
Gunslingers like
Jarrett Lee
of Brenham, Texas,
G.J. Kinne
of Gilmer, Texas,
Nathan Dick
of Allen, Texas, Chaisson of Beamount Westbrook, and
Joe Kemp
Richland (Texas) North Richland Hills were just a few signal-callers that competed heavily from start to finish.
Lee, who is rumored to be a Nebraska lean, truly was the complete package.
Lee showed not only a solid arm and solid accuracy but good feet throughout most of the rollout drills. During one-on-ones, Lee hooked up with wide receivers like Blaylock and Lewis several times. His controlled release also was impressive in position drills.
Dick was a prospect that did a lot considering his season was cut short this past year with an injury. There were several nice balls thrown, and it was easy to see he had something to prove.
"I feel like I've made a lot of progress with my composure, and I have a lot more confidence in the balls I throw now," Dick, who has an SMU offer on the table, said. "I've improved a lot, and I think I showed that today."
Chaisson, a 6-foot-2, 172-pound dual-threat quarterback, showed he's dangerous with his feet and very solid with his arm. He did a lot today to show people he can make plays through the air during rollout drills with pressure.
Kemp, a 6-foot-3, 217-pounder, was the biggest surprise.
Not only did Kemp put the ball on the money, but he got it there in a hurry. His strong arm had receivers making sure to break on their route quickly in order to catch the missile. Kemp definitely improved his stock throughout the day.
Highly regarded 2008 prospect
Riley Dodge
is not the biggest prospect that walked the practice field, but he definitely has a huge upside. Even though he's was a year younger than others on the field, he showed a lot of maturity.
At the EA Sports Elite 11 regional workout following the NIKE Camp, blue-chip quarterback
Ryan Mallett
showed up and had a nice outing. He displayed his cannon arm and good fundamentals, but did have a few slips and mishaps in footwork and bag drills.
After the workout, Mallett admitted he didn't have his A-game with him on Saturday, but he still proved why he's considered one of the nation's top five quarterbacks.
Rivals.com recruiting analyst John Talman contributed to this story.