Rob's Rankings: Surprising verbal commits in 2019 cycle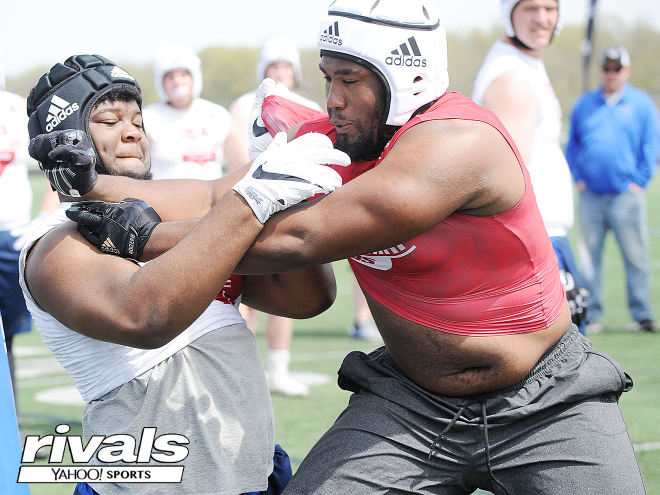 Recruiting carries the reputation of unpredictability, but that tag is true only to certain extent. A healthy chunk of verbal commitments fail to surprise, as media coverage of the process is more widespread than ever. Still, some prospects manage to change course in a hurry and create a semblance of shock among fans and college coaches alike. And while it's still early in the 2019 recruitment cycle, this week, we rank the year's most surprising decisions.

MORE: Biggest commits of the week | Teams with 2020 QB commits in fold

1. JOWON BRIGGS TO VIRGINIA
WHY IT SURPRISED: Most knew that Briggs would land at a school with an impressive academic reputation. They just assumed that school would be Notre Dame or the like. Briggs always said his decision would be about more than football and proved his words carried weight when he chose Virginia over Michigan, Tennessee, Wisconsin, Notre Dame and others. Landing the four-star prospect is UVA's biggest recruiting victory in years and took reporters and fans alike off guard. The timing of said commitment also seemed to come out of the blue, which added to the shock.

CHANCES IT STICKS: This one may stand the test of time. If Briggs' decision was not about football, a poor 2018 performance by the Cavilers shouldn't erase his commitment. A coaching shakeup may have some effect, but even that isn't a certainty. Recruiting is a wild world full of late-game twists, so nothing is impossible, but Virginia should feel pretty good about signing Briggs at this juncture.

2. MARQUEZ BEASON TO ILLINOIS
WHY IT SURPRISED: Pick a reason. Illinois is not only 5-19 under current head coach Lovie Smith, but the entire coaching staff could find itself on the hot seat should the upcoming season be anything like the previous two. Add in the fact that Beason had schools like LSU and Texas A&M in pursuit, and you get a head-scratcher of a commitment. The Illinois staff did a tremendous job landing Beason's pledge and should be lauded for its work to pry him away from more successful programs located closer to home. Still, that doesn't make the pledge any less shocking.
CHANCES IT STICKS: Who knows what will happen here? Things seem fine for now, but another miserable season from the Illini could put this one in jeopardy. A failure to improve on last year's 2-10 mark could cost Illinois Beason. It could also cost coaches their jobs. Things are quiet for now, but Illinois fans probably shouldn't get too comfortable. Things could go south in a hurry.

3. JOHN DUNMORE TO PENN STATE
WHY IT SURPRISED: At one point, Dunmore seemed like a lock to remain in the Sunshine State for college. He was originally committed to Florida and then looked to be a heavy Florida State lean. A particularly memorable official visit to Penn State not long before his decision pushed the Nittany Lions into the mix, but most thought FSU would still eek out the receiver's pledge. That all changed in the week headed into Dunmore's commitment, however. Penn State assistant Ja'Juan Seider, to whom Dunmore committed in his previous job as a Gators' assistant, closed on the in-demand star down the stretch, leaving Seminole fans disappointed and befuddled.
CHANCES IT STICKS: This could go either way. Dunmore's bond with Seider is real. So is his love of Penn State, which grew exponentially during his campus visit. The case against it sticking, on the other hand, is the fact that all three in-state schools will continue to recruit Dunmore down the stretch. Holding off Miami, FSU and Florida is a tall task for a program located roughly 1,000 miles away from Dunmore's South Florida home.

4. OWEN PAPPOE TO AUBURN
WHY IT SURPRISED: The way Georgia head coach Kirby Smart is recruiting as of late, it's a mild upset whenever he loses an in-state star like Pappoe, who ranks 26th overall in the 2019 class. When the four-star linebacker picked Auburn, it was a massive victory for the Tigers and a blow to Georgia fans, which planned on landing him for the better part of a year. Auburn's ability to defeat a program coming off of a College Football Playoff appearance and national recruiting title shouldn't be undersold, as Gus Malzahn and company now seem to be building a mountain of momentum of their own.
CHANCES IT STICKS: The outlook remains positive for Auburn. According to Pappoe, his recruitment is over. He wasn't shy about his intentions to shut things down during a brief interview at the Ray Lewis Linebacker Academy a few weeks back and has stuck to his word thus far. That could change in the fall, however, as things in the recruiting world have a way of finding chaos down the stretch.

5. CAM'RON KELLY TO VIRGINIA TECH
WHY IT SURPRISED: Kelly waited a bit too long to make a decision and saw some spots fill at other schools. Clemson and Penn State were once thought to be players in his recruitment and it seems the four-star athlete may have chosen one of the two if he was given the ability to when it came time to commit. Instead, he found himself in a bit of a scramble that benefited Virginia Tech when push came to shove. Whatever the case, the Hokies welcomed in the touted prospect, who certainly has the tools to be an impact player in Blacksburg.

CHANCES IT STICKS: So far so good for the Hokies. There's no telling what the month leading into Signing Day may hold as teams begin to try to fill last-minute needs, so it would behoove the Hokies to get Kelly to sign in December. Even still, there's no immediate threat to flip the touted prospect.

6. HANK BACHMEIER TO BOISE STATE
WHY IT SURPRISED: Bachmeier seemed to be trending toward Minnesota for a time before Boise State took the lead in the months leading into his May commitment. Choosing the Broncos over a host of Power Five offers isn't a massive shock, as the program has a proud history of winning and also developing quarterbacks. What makes this a small surprise is the fact that Bachmeier chose Boise based purely on his relationship with the coaching staff. The rare quarterback that cares not about name-brand programs, the Rivals250 prospect was always a threat to make an off-the-board commitment and did so when he left a number of Power Five offers on the table.
CHANCES IT STICKS: The outlook is positive for the Broncos, as Bachmeier's decision was based on the Broncos' coaching staff, which seems to be firmly entrenched at the school. Head coach Bryan Harsin is coming off an 11-win season and isn't going anywhere unless he bolts for a major Power Five job, which shouldn't be counted on at this point.
OVERTIME
Most times, the overtime section of this column is tied to a news story or the fringes of college football. Other times, it's a random ranking of car insurance companies based on their respective spokespeople. This week, we explore the latter, which can be found below.
1. PROGRESSIVE
The supreme ruler of car insurance, Flo's act may be a bit tired at this juncture and she's certainly in the twilight of her run, but it's hard to argue with her staying power. At this point, she's an advertising icon to be mentioned in the same breath as Ronald McDonald, the Energizer Bunny and the Pillsbury Doughboy. Respect.
2. ALLSTATE
This used to be Pedro Serrano from Major League, but these days it's simply the disembodied voice of Pedro Serrano from Major League, which … ok. To be honest, his ranking is probably inflated because of his power bat. Turns out, home runs go a long way in influencing insurance rankings.
3. GEICO
A CGI gecko with a British accent. Because the word 'gecko' kinda sounds like the company name? Sorta lazy but fine. Nothing more. Nothing less. Points for longevity.
4. THE GENERAL
An animated and undersized general speaking to people who watch bad daytime television and have a history of crashing their car into things. Not only is this lame, but also maybe think twice about getting into a car with somebody insured by The General. In fact, maybe think about cutting ties with said person completely, as there's a better than average chance that they're leading you down a bad life path.