Rob's Rankings: Eight QBs to build a team around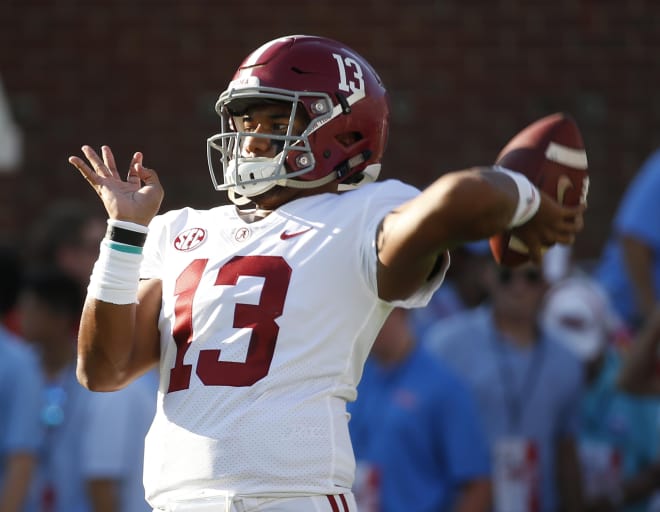 This year's Heisman Trophy race is stocked with quarterbacks for good reason, but the award isn't always an accurate measure of the best college player. So much of the award rests on the performance of a player's supporting cast and win-loss record. And while the NFL Draft casts such factors aside, the best college quarterbacks don't always translate to the next level. This week in Rob's Rankings, we list and rank the top eight college quarterbacks we'd like to build a team around - the quarterback you'd want if you had just one college game to win.
Again, this is not a ranking of the best NFL prospects or the players with the most future upside. It's a ranking of the quarterbacks you'd want leading your favorite college team right now, today.
MORE: Five SEC teams with recruiting buzz | Five Big Ten teams with recruiting buzz
1. Tua Tagovailoa – Alabama 
The fact that Tagovailoa, a sophomore, has already led a second-half comeback in a national title game helps make him the only option to top the list. And while he has the best supporting cast, his poise can't be denied, nor should his numbers be downplayed. Tagovailoa has the Crimson Tide offense running in a way it hasn't in some time, and that's no coincidence. Give me Nick Saban's quarterback over everyone else, even more seasoned, draft-ready options. The fact that Tagovailoa has yet to throw an interception this season says plenty about his poise, even if the Tide haven't played the toughest schedule.

2.  Trevor Lawrence – Clemson 
Yes, Lawrence has started just one college game. Yes, he was injured in that game and didn't play particularly well before being hurt, but I'll almost always take talent over seasoning. Lawrence boasts more ability than anyone on this list and can make throws most of the others simply cannot. Proving it on the field be damned, there's a reason Lawrence will almost certainly find himself taken in the first round of the NFL Draft down the road. The Clemson freshman is a rare talent. So rare, in fact, that it makes it easy to cast aside the fact that he really hasn't accomplished anything on the college level. A lot of veterans on this list simply aren't as good at football as Lawrence, which, it turns out, will hurt you in a football game.

3. McKenzie Milton – UCF
Milton hasn't lost a game since "The Last Jedi" hit theaters. And while wins aren't exactly an important statistic for evaluating quarterback talent, 17 wins in a row means something.

Milton may not excite NFL scouts in the way others on this list do, but that matters not to this exercise. A dynamic and exciting quarterback, it's hard to argue that adding Milton wouldn't improve most Power Five teams, especially ones that employ the quarterback run game. Milton has shown an ability to shine under two separate coaching staffs, which is a quality that shouldn't be taken for granted. Just ask Arizona's Khalil Tate.
4. Will Grier - West Virginia    
Grier ranks No. 7 nationally in passing yards, but it's easy to dismiss him as a system quarterback. That's probably true to a certain extent, but his passer ranking is the third-highest in country, so it's not as though West Virginia's high-powered offense has totally inflated his worth.

Keep in mind that Grier did lead Florida to a 6-0 start before transferring to WVU. Grier extends plays and makes ambitious throws that seem to pay off more often than not. Accuracy goes a long way at the college level, and Grier boasts plenty of that.

5. Kyler Murray – Oklahoma 
The Big 12 is a quarterback-friendly league and the confines of Lincoln Riley's offense are even friendlier. So while Murray ranks second in quarterback rating and 10th in passing yards, he doesn't have Lawrence's arm or Grier's longstanding track record of accuracy.

Murray could easily rank higher on this list, should we decide to re-draft it following the season, as he's still settling into his role as Oklahoma's starter. Murray is one of the front-runners to win the Heisman Trophy for a reason, after all, and could make me look extremely stupid by ranking him behind Milton and Grier as the sample size expands. I'm OK with that. I've looked dumb before. It's a role in which I'm comfortable.

6. Trace McSorley – Penn State    
McSorley accounted for 461 yards of total offense against Ohio State on Saturday. Penn State ultimately lost the game, but by no means because of McSorley, who is living up to the preseason hype. Penn State's star quarterback looks superhuman at times despite not having quite the level of supporting cast of Tagovailoa. McSorley's athleticism adds to the package, as he can gain yards in a number of ways. His versatility is his best attribute, which makes him an attractive option for a hypothetical exercise such as this.

7. Jake Fromm – Georgia 
Placing Fromm seventh on this list seems a bit disrespectful, considering his impressive record as a starter and the fact that he nearly won the national title a year ago. Alas, here we are. It's hard to argue with the results, but Fromm's numbers, while above average, don't jump off the page. It's why, despite his success, he's found himself in a bit of a two-quarterback rotation with true freshman Justin Fields. Still, being No. 7 on this list is no insult, even if it seems like one.

8. Dwayne Haskins – Ohio State
Haskins has guided Ohio State through a difficult schedule and has the Buckeyes undefeated. He should get mountains of points for that, but it's not as though his season has been mistake-free.

Still, the Buckeyes starter's stats measure up to the rest of this list. Haskins has attempted more passes than all the players ranked above him and still boasts the No. 5 quarterback rating in the country. The sample size on Haskins remains small and his supporting casts certainly helps him shine, but leaving him off the list wasn't an option.

OVERTIME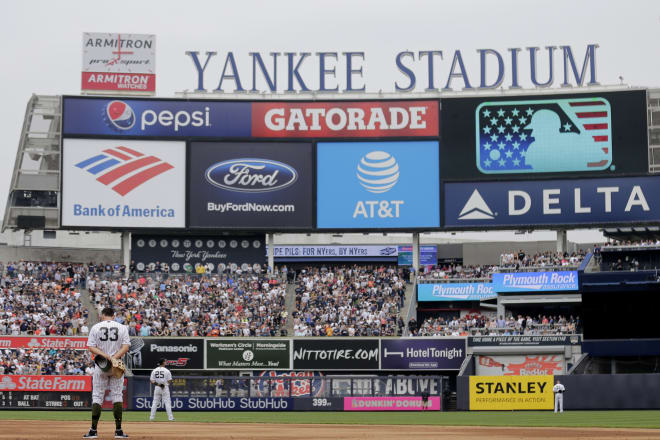 With the MLB postseason underway, the overtime section crosses sport lines to rank the remaining playoff teams in order of likability. Were these rankings done with my extreme and aggressive biases in mind? They sure were, but it's my column. Don't like it? Get your own.
1. A'S: The A's could end the Yankees' stay in the postseason with one victory and that's enough to garner my support.
2. BREWERS: A harmless, non-threatening organization named after booze, the Brewers have my permission to win a title despite the existence of Ryan Braun.
3. DODGERS: I can't think of a reason to dislike the Dodgers as an organization. Clayton Kershaw deserves a ring.
4. ROCKIES: As a longtime pun hater, I'm still annoyed by the Rocktober thing. But, hey, at least they aren't the teams below them on this list.
5. INDIANS: Chief Wahoo is problematic, but Francisco Lindor is manna from heaven. Also, the pitching staff rules.
6. ASTROS: I'm against teams winning back-to-back titles - unless that teams is the Mets, which … yeah, right. Anyway, my apologies to obviously still-inured Carlos Correa and company.
7. RED SOX: Red Sox fans hate Yankee fans so much that they don't realize they've become the same people.
8. YANKEES: I can admit that I'd love this roster if it played its games in different laundry. And we, as a society, don't deserve Aaron Judge or Giancarlo Stanton. Andrew McCutchen is also about a likeable a guy as there is in the game. Still, Yankee success is always gonna be a no from me.
9. BRAVES: There are plenty of reasons to like the Braves, most of which are fun young players. Ronald Acuña, Jr. and Ozzie Albies are two of the most exciting players in the postseason. It's just that there are more reasons to root against them … mostly their obnoxious fans. Will they sell out their suburban playoff games? Who knows? Tune in to find out. Or don't.