Roadies: SMSB and Rutgers Passing Camp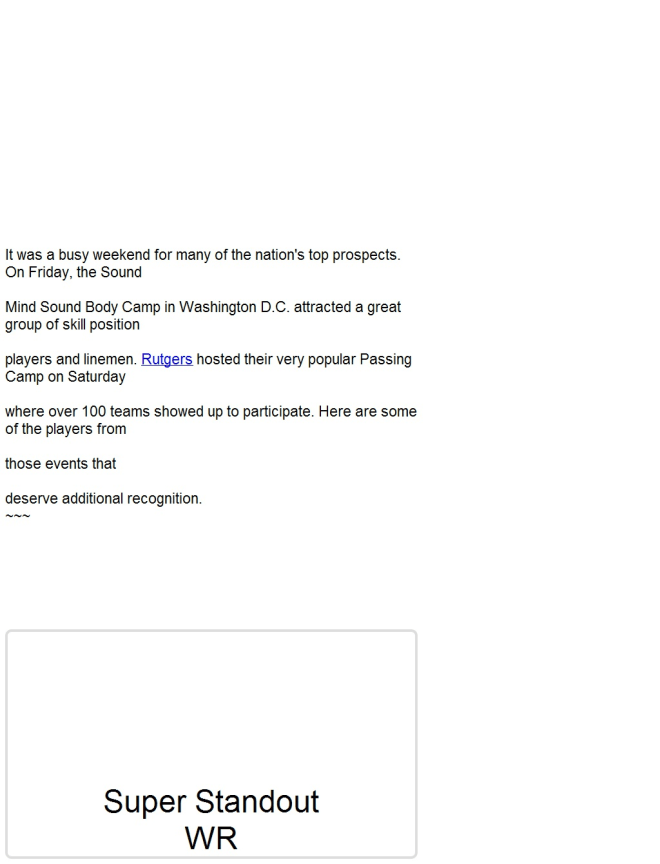 The last time we saw Wolfolk he looked more like a safety than a cornerback.
Since then, he has lost some weight and is much more explosive. Wolfolk was
still very physical and broke up a lot of passes because he threw off the timing
between quarterbacks and wide receivers. He was good at anticipating routes and
passes and was able to rack up the PBUs as a result.
Buzzworthy
(Md.) Calvert Hall
Fogg has been generating a lot of hype over the last few months but only has
seven offers. His performance at Rutgers on Saturday was very impressive and it
is a good bet that he will have 20 or 30 offers before all is said and done.
Fogg's combination of size and speed is something colleges covet and,
judging by his body of work, his skill set is further along than many other players
with more offers.
Most Accurate
Forestville (Md.) Bishop McNamara
Williams is a 7-on-7 superstar. He has guided his team very far in multiple
tournaments this offseason and it's because he is very good at finding open
receivers and delivering the ball on time. Williams is listed as a dual-threat
and is able to use his mobility to his advantage to move the defense and create
different throwing windows, even in a 7-on-7 setting.
Young Gun
Old Bridge, N.J.
Remember this name, everyone. Sitkowski is destined to be one of the top-rated
quarterbacks in the country. He is a legitimate 6-foot-5 and has an excellent
over the top throwing motion. The ball jumps off Sitkowski's hand and he knows
how to put touch on the ball. It was impressive to see him fit the ball into
tight windows and throw receivers open.
Tough Guy
Hyattsville (Md.) DeMatha
DeMatha has had a nice run of talented offensive linemen and Minor is going to
carry on that tradition. He has a great frame and moves very well for a guy that
size (6-foot-4, 285 pounds). The thing that many people like about Minor is his physicality.
Once he gets his hands on the defensive lineman, he is putting everything he has
into driving the defender backwards or trying to throw them out of the play.
Underclassman Achievement
Hyattsville (Md.) DeMatha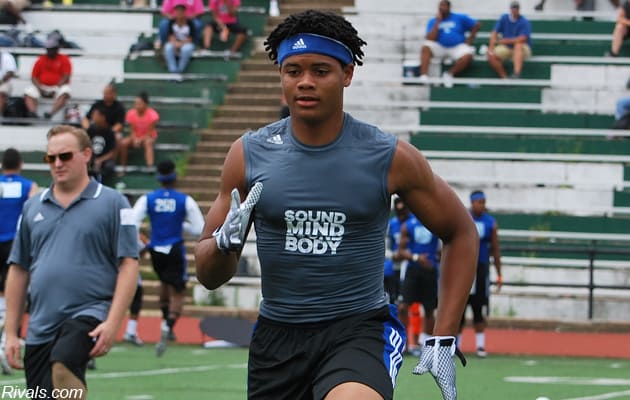 In a surprisingly deep group of pass rushers, Young was easily the best of the
group at Sound Mind Sound Body. He has a great frame and moves effortlessly as he glides past opponents. Young's arsenal of pass-rushing moves isn't very big right now, but his
inside and outside rip moves are very effective because he does a great job of
getting low and keeping his balance.
Hello World
Monmouth Junction (N.J.) South Brunswick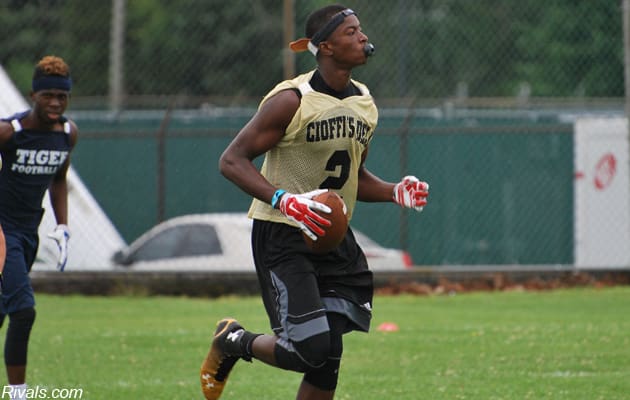 As a rising sophomore, Shorter is one of the most talented receivers out there.
He has great size (6-3, 195) and was running past defensive backs with ease.
Shorter's quarterback left a lot to be desired, but Shorter made some great
leaping catches and showed a lot of heart diving after errant passes. Look for this
kid to blow up on the national scene.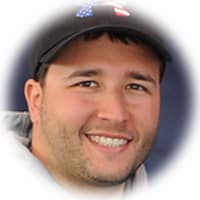 Adam Friedman
Mid-Atlantic Recruiting Analyst