Road Revelations: Midwest Region

The
Michigan State
one-day elite camp on June 13 was our first time seeing Bachie since junior film, and the 6-foot-2, 215-pound linebacker looked like a different player. It is obvious he has spent time in the weight room and redeveloped his body. An additional benefit is that he was moving with more explosion and quickness than we saw on junior film.
Bachie had mid-major offers until about mid-spring and that is the level we saw him projecting to off of junior film. Michigan State was his first Big Ten offer and he accepted it pretty much on the spot. Based on what we saw from Bachie at the Spartans' camp, additional Power Five offers were likely on the way, but Michigan State's early diligence here landed him before his stock took off.
Now on the radar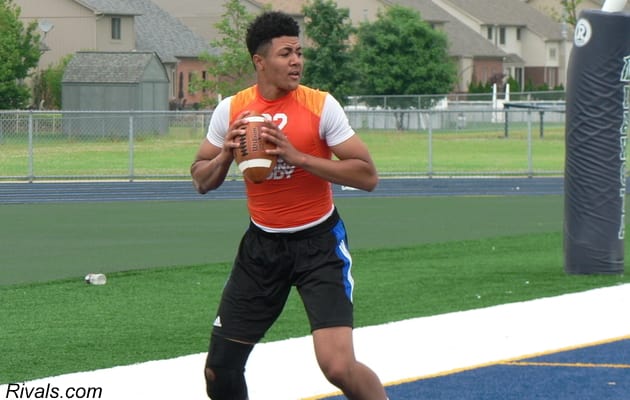 Domonic Johnson
In a camp of 1,600 kids, as we saw at Sound Mind Sound Body in southeast Michigan in mid-June, there are going to be prospects who come out of nowhere and catch your attention. Such was the case with
Domonic Johnson
, a 6-foot-6, 205-pound class of 2017 quarterback from Catholic Central High School in Windsor, Ontario.
Johnson's size was what originally caught our attention at Sound Mind Sound Body, but as we watched him more it became obvious that this kid had plenty of game to go with a great football frame. The rising junior has a cannon for an arm and he has athleticism to go with his size. No doubt he is still developing, but all quarterbacks his age are and, from a mechanical standpoint, he was in-line with the curve. Johnson's physical abilities and skill set will undoubtedly generate plenty of attention moving forward.
Analyst's take
When I started covering college football recruiting more than 12 years ago, college coaches were allowed to attend events during the off-season such as today's Rivals Camp Series Presented by Under Armour - and they did. Every quality spring camp and combine in the early years I covered recruiting had dozens of college coaches in attendance. The NCAA eventually ended that under the pressure of coaches who did not want to put in the work, and against the objections of those coaches who did.
The popular topic this year has been about satellite camps and whether they create a disadvantage for coaches in the SEC -- a conference that does not allow its member schools to coach a camp off their own campus. This is going to go one of two ways: Either the NCAA eliminates satellite camps, or the SEC eliminates their restrictions for member institutions.
If the NCAA is truly interested in not just current student-athletes, but future student-athletes, then it needs to get serious about obvious solutions to the ridiculous amount of money and time it takes for players to be recruited these days. "Grinding" is a popular buzzword in college athletics, so let those college coaches who are willing to travel the country and evaluate prospects do so. Don't just put those expectations on the 15-, 16- and 17-year-old kids with limited budgets.
Josh Helmholdt
Midwest Recruiting Analyst

Click
Here
to view this Link.