Rivals250 WR Chris Marshall commits to Texas A&M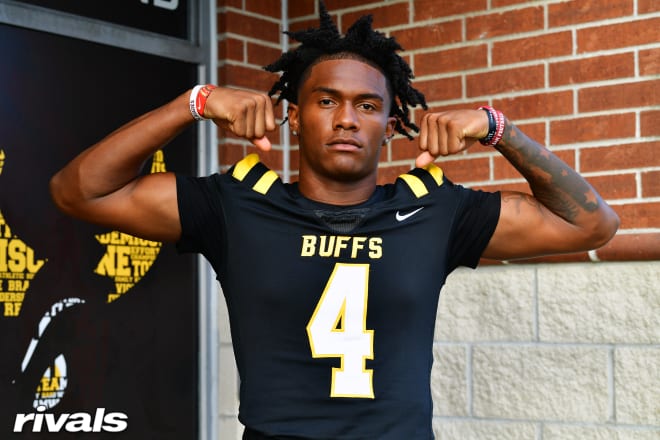 THE SITUATION
Rivals250 wide receiver Chris Marshall just wrapped up his second full regular season not only playing football, but emerging as one of the best at his position in the nation.
Marshall, tabbed as a top-20 wide receiver and a top-20 recruit in the state of Texas, committed to Texas A&M on Saturday, a day after the team secured its playoff game for next weekend. Alabama and USC were other contenders for the No. 136 overall player in America. Marshall officially visited USC over the summer, but didn't make it to his scheduled official visit in Tuscaloosa, Ala., last month.
The Aggies bolster their No. 13-ranked recruiting haul with Marshall, their second big-framed wide receiver in the class. Fellow Houston-area standout Noah Thomas was an early pledge for Jimbo Fisher and Dameyune Craig, with 6-foot-4, 200-pound Marshall as the prized target.
Marshall is the 11th prospect rated as a four-star or better in Texas A&M's class. He's the ninth player from the Greater Houston area. Ten of the Aggies pledges ranked inside the Texas state rankings as top-50 players in-state.
Here's more on Marshall's call.
IN HIS OWN WORDS
"I'm finding that second family outside of Houston where I don't always have to come back home and I can stay there and stay focused."
"I talk a lot with Coach (Dameyune) Craig and Coach Jimbo (Fisher) a lot. I like the way they recruit me and them being just two hours away, it's close to home and nothing but love. They show a lot of love."
"I love Coach Jimbo. He's everything he's told me he'd be. He's real and never been the kind to tell me what I want to hear. He hasn't been that way since I met him. With me, with recruiting, he's telling me real facts and how I could be effective in that offense as early as next year."
"Coach Craig has been building a relationship with me and also he has built relationships with my family, too. It's something I love about him and we're just gonna keep building on that."
"Probably the biggest reason why -- was me finding my second home, a place that fit me the best and it's not where I have to go fit in; it's the place that fit me the best and where my family can see me play."
RIVALS REACTION
A dual-sport athlete with an immense basketball ground, Marshall has surfaced as one of the best playmaking pass-catchers in not only Houston, but nationwide over the past two seasons playing wide receiver for Fort Bend (Texas) Marshall. At 6-foot-4 and 200 pounds, Marshall is a long-strider with the ability to stretch defenses vertically or slice them with a physical running style after the catch.
Marshall packs big-play potential, but also the size and athleticism to break through in situational football -- by the goal line or attacking outside the numbers or creating yardage after the catch. He's a willing blocker who enjoys making contact.
Marshall's background on the hardwood allows him to consistently win jump-balls, making for a major mismatch in the red-zone and attacking downfield. There's no verified track times for the four-star, but he dominates his competition at the high-school level week in and week out, easily creating separation.
As we head into the All-American games, Marshall has the upside to be one of the biggest climbers.