Rivals250 Update: Biggest movers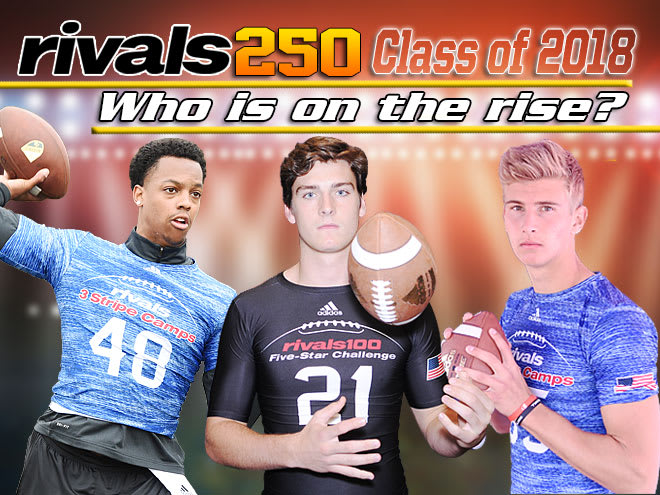 NEW RELEASE: Updated Rivals250 for Class of 2018
The new edition of the Rivals100 was released on Monday and there were no changes among the top two as Cartersville, Ga., quarterback Trevor Lawrence and Kennesaw (Ga.) Harrison quarterback Justin Fields remain highest on the list.
Today the entire Rivals250 has gone public and there was plenty of movement up and down as high school seasons across the country come to a close. There will assuredly be more changes in the coming months leading up to National Signing Day in February after a bunch of important all-star events.
Here is a breakdown of some of the biggest movers both up and down in the new Rivals250.
Related: Class of 2019 Rivals250
RISERS
Movement: +122
"Walker is a linebacker with versatility. He has shown the ability to play the run, rush the passer and to play in space. He has a great frame with length and he could be a guy who could be moved around on the next level. Alabama is the school he is committed to, but they will have to continue to work hard to keep him with Auburn and Georgia not giving up." - Rivals.com Southeast Recruiting Analyst Chad Simmons
Movement: NR to 106
"Not many have progressed the way Williams has over the past year to year and a half. He has really improved as a passer and become much more efficient and consistent. He threw for over 3,100 yards with 28 passing touchdowns to only four interceptions. He is a former Kentucky commitment and Miami is the school trending." - Simmons
Movement: +75
"Brown has taken his game to the next level. The future Tar Heel is bigger, stronger and shown more of a willingness to make the tough catches over the middle. North Carolina fans should be excited about how the wide receiver position is getting replenished." - Rivals.com Mid-Atlantic Recruiting Analyst Adam Friedman
Movement: +66
"Armour-Davis is a technician at cornerback. He has very good footwork, he has shown he can play press and off coverage and he is good in one-on-one tackling situations on the perimeter. He has continued to fill out his frame and he will likely add more weight and strength once he gets to Alabama, the school he is committed to." - Simmons
Movement: +80
"Shough continues to prove he's one of the best quarterbacks in this class and he also has tremendous upside as he continues to develop physically. He makes smart passes, has pinpoint accuracy and a really strong arm as well. The Oregon commit put up big numbers again in his senior season and that should continue once he gets to Eugene." - Rivals.com National Recruiting Analyst Adam Gorney
Movement: +55
"An athletic specimen, Oweh is fairly new to football, which makes his dominance all the more impressive. Penn State, Ohio State and a few others are pushing very hard for Oweh because of his speed and agility off the edge but also because of how quickly he's been able to improve his technique." - Friedman
Movement: +89
"Fitzpatrick continues to move up the list on Rivals.com. With his size, he is one who jumps out immediately, but when you see his inline blocking skills, his agility and how he receives the ball, he impresses that much more. Georgia is a school that loves to feature tight ends in their offense, so we could be seeing highlights from Fitzpatrick in the coming years." - Simmons
Movement: +111
"Mallory continues to get bigger but he's retained his athleticism and speed. So while he still could add some size, the trajectory is good. Mallory's combination of length and accelerations makes him a match up nightmare in the passing game. Mallory is committed to Miami and will likely sign early." - Rivals.com Southeast Recruiting Analyst Rob Cassidy
Movement: NR to 143
"Seeing Peters in-person this fall, the Kentucky commit jumped off the field despite the game being loaded with high Division I prospects. His ability to play linebacker or with his hand in the ground is an asset because he is capable at both. His motor and football IQ are among the best in the class and he is another major steal for Mark Stoops in the state of Ohio." - Rivals.com Midwest Recruiting Analyst Josh Helmholdt
Movement: +44
"Vann does a little bit of everything on the high school. He is a freak athlete with great hands and speed that scare defenses. He is about as consistent as they come with his hands, his ability to get open and he could become the next playmaker the South Carolina Gamecocks feature in their offense." - Simmons
Movement: NR to 154
"Not many in Georgia have raised their games the last three months like Hill. He has always made his share of plays, but he has really elevated his game. He has added some muscle to his frame, he has shown a lot of versatility and he has made big plays from the wide receiver, running back and defensive back positions. Clemson has made a run at him and Georgia offered during the season, but it appears Auburn is in a good spot to hold on here." - Simmons
Movement: +67
"I love how Angilau plays on both sides of the ball. He has a non-stop motor who wants to drive defenders into the dirt at offensive tackle. At defensive tackle, Angilau is relentless and fierce. He's a coach's dream because he takes to coaching and goes out every play to make something happen. Texas is considered the front-runner with Utah, USC and others involved." - Gorney
Movement: NR to 177
"This is another prospect we had not seen all off-season and exceeded our expectations when we turned on senior film. The cornerback position is all about being fast, being fluid and being instinctual and Henderson improved on already high marks in those areas. The Michigan State commit just looked like a more complete and more confident player in 2017." - Helmholdt
Movement: NR to 178
"Ezeike is a 6-foot-5, 210-pound prospect who has the speed and athleticism to play on the outside but who's also physical enough to play in the slot or block as a tight end. The Oregon commit has excellent hands, he can stretch the field with his speed and he's a huge target, so he should be a big-time weapon in the Ducks' offense." - Gorney
Movement: NR to 181
"Redmond is relatively new to the game compared to most on this list, so it should be no surprise that he progressed through the learning curve swiftly. Although he does not play as long as other defensive ends in four-star territory, Redmond compensates by being an outstanding athlete and playing with relentless pressure. He will sign with the home-state Oklahoma Sooners later this month." - Helmholdt
Movement: NR to 193
"Boykin's physical attributes are very attractive to college coaches but the physicality and instincts he plays with helped push him up into the Rivals250. The Maryland commit, who is getting strong interest from Notre Dame, has the ability to shut down No. 1 receivers at the next level." - Friedman
Movement: NR to 195
"Overshown has had his share of highlight reel hits and plays coming into this season, but has taken things up a level this season and showing how freaky of an athlete he is this year. Some have thought he could potentially grow into a linebacker at the next level, but no matter what, he's going to give Texas a major defensive weapon behind the defensive line." - Rivals.com Texas Recruiting Analyst Nick Krueger
Movement: NR to 205
"Jobe is back in the Rivals250 again and for good reason. The Miami commit is a physically dominant player with great ball skills and instincts. It will be interesting to see how he plays at the Army All-American Bowl in January." - Friedman
Movement: NR to 215
"McClain was a machine off the edge this season and he was completely unstoppable racking up 18 sacks. The most impressive thing about that stat is McClain is more of a hybrid defensive end/outside linebacker who can play in space but has also shown the ability to beat offensive tackles regularly. McClain is committed to UCLA but Oklahoma and others continue to pursue him." - Gorney
Movement: NR to 216
"Ingram is a superbly well-rounded talent that can turn a game on its head when he flips the switch. Perhaps he's not the twitchiest runner, but the Texas commit has the dexterity to weave between defenders and the size to finish runs with authority." - Krueger
Movement: NR to 218
"Teague is known for his straight line speed but he's also a very physical runner and plays bigger than his listed height/weight. He suffered an ankle injury midway through the season that hurt him statistically, but the combination of speed and power he showed when healthy made the Ohio State commitment an easy candidate for a move up." - Rivals.com Southeast Recruiting Analyst Woody Wommack
Movement: NR to 219
"Ademilola has really come along as an interior defensive lineman. The Notre Dame commit plays with leverage, uses his hands well and has a consistent presence in the backfield." - Friedman
Movement: NR to 221
"It is all about upside with Jibunor. He is a gifted athlete who can run with length and the frame to add good weight. He has only been playing football for a few years, so his best football is ahead of him. He loves the weight room, he plays tough and he can run. He has played linebacker, rush end, tight end and special teams — he's made plays from each spot. He committed to Auburn over Florida and Tennessee on Thanksgiving day." - Simmons
Movement: NR to 229
"We liked a lot about what Thomas brought to the table after seeing junior film, but there were still some questions about how good of a pure running back he was. Those questions were answered succinctly in Thomas' senior year. The Oklahoma commit showed better vision, ran with better pad level and sharpened even those areas of his game we already were impressed with." - Helmholdt
Movement: NR to 237
"Thornton's main battle is with adding muscle. He has the speed necessary to stretch the field. And while he remains slight, he's getting stronger by the month. Thornton is committed to Florida but could take a look around in the wake of the coaching change." - Cassidy
Movement: NR to 240
"Baskerville has added size but not lost the quickness that allows him to cover a ton of ground in a hurry. Watching him on film shows exactly why LSU, a school known for its linebacker tradition, worked so hard to keep him close to home." - Wommack
SLIDERS
Movement: -54
"Rising remains one of the top quarterbacks in the class, but an adjustment was needed because others had a better season and he struggled at times putting up big numbers. Some of that was because the Texas commit did not have a tremendous amount of weapons. But we do want to see better accuracy." - Gorney
Movement: -84
"Rivals was a bit more bullish on Wright than some others heading into this season, but following a second major knee injury in as many years, Wright's latest ranking is a combination of coming back down to earth in conjunction with significant injury concerns. There is little debate about how imposing of a defensive lineman Wright can be when he's at his best, but not expectations are more tempered as to what his ceiling may be at Texas A&M." - Krueger
Movement: -84
"It was a tough year for Milton, but everyone's known that was a possibility for some time. A Michigan commit, Milton has every physical gift, including a monster arm but he continues to make poor decisions with the football and polish his footwork. Milton could end up being a superstar, but he still needs polishing. The ceiling is high." - Cassidy
Movement: -66
"McClain is a very intriguing prospect for multiple reasons. As a linebacker though, he is on the small side and his frame is a little narrow. It will be interesting to see how he fills out and he how/where he is used on the next level. We know he has speed to the ball and he delivers some pop too. His frame is a concern and just how he will play in the box on the next level. He recently committed to Auburn." - Simmons
Movement: -73
"Fontaine struggled a bit this season and will face a bit of a learning curve once he gets to Maryland. He is a big, powerful defender but consistency was lacking and he will need to reshape his body a bit before becoming a regular contributor in college." - Friedman