Rivals250: Risers and sliders

National Signing Day 2015 has come and gone, so the focus turns to the 2016 class and
updating rankings with the spring evaluation period around the corner.
There were plenty of changes in the newly-updated Rivals100 Presented by Under
Armour that was released Monday, and the same can be said for the Rivals250.
More significant movement is expected through the spring, but even now there is a
lot of player movement as the camp and 7-on-7 season gets underway.
Starting at the top, Folsom, Calif., went undefeated this season and won the
was necessary to move him up drastically in the latest round of rankings.
The Elite 50 Experience in Orlando that coincided with the Under Armour
All-America Game was also a valuable evaluation tool in recent weeks. Many of
the top 2016 prospects in the country competed against each other and that
allowed for another opportunity to see many of them in person.
Like always, there was plenty of volatility both up and down in the Rivals250
-- just like in the Rivals100 -- so here is a look at the major movers in the latest
round of rankings.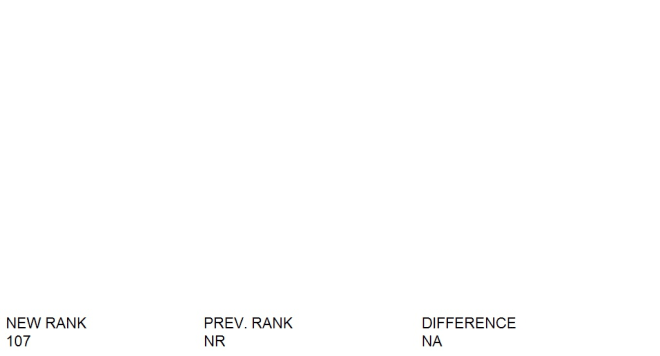 Williams is a tough, hard-nosed offensive tackle who plays through the whistle
and loves to be physical and take control of defensive linemen. The Folsom
prospect has excellent size and it seems the longer the game goes, the stronger
and tougher Williams gets. Folsom runs a super-fast offense, so he doesn't have
to hold his blocks all that long, but when it runs the ball, Williams opens up
huge holes for his team's running backs. -- Adam Gorney, Rivals.com
West Recruiting Analyst
OG
Ponchatoula, La.
NEW RANK
PREV. RANK
DIFFERENCE
112
NR
NA
Campbell is one of the biggest of the bigs. In fact he may be a bit too big.
However, he is light on his feet and he is flexible. He bends really well and he
packs a very big punch at the point of attack. There have been concerns with his
weight, but it was clear to see it did not hold him back as a junior. When he
engages his opponent, there is going to be violence whether its because of
Campbell's quick and powerful punch or because of him driving them into the
dirt. -- Jason Howell, Rivals.com Mid-South Recruiting Analyst
DT
Concord (Calif.) De La Salle
NEW RANK
PREV. RANK
DIFFERENCE
114
153
+39
Tagaloa can be effective both ways on the line, but his best position is
defensive tackle because he's so tough and loves to be physical in the trenches.
Not only does the De La Salle standout take up a lot of space and like to stuff
the run, but he's surprisingly fast into the backfield. In the
state championship game, Tagaloa regularly shed one or two blockers to make
plays. He did that all season and has continued to impress over the years.
-- Gorney
WR
Sachse, Texas
NEW RANK
PREV. RANK
DIFFERENCE
116
169
+53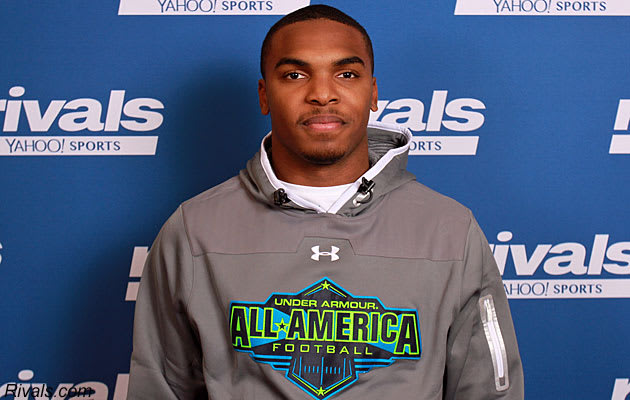 Duvernay was at the Rivals250 Underclassman Challenge last offseason and had a
solid showing. At the Elite 50 Experience presented by Under Armour in Orlando,
multiple times for big plays down the field. Duvernay
excelled at running difficult routes with complex double moves. His great
combination of speed and length make him a difficult matchup. -- Adam Friedman, Rivals.com Mid-Atlantic Recruiting Analyst
SDE
Gardena (Calif.) Serra
NEW RANK
PREV. RANK
DIFFERENCE
123
145
+22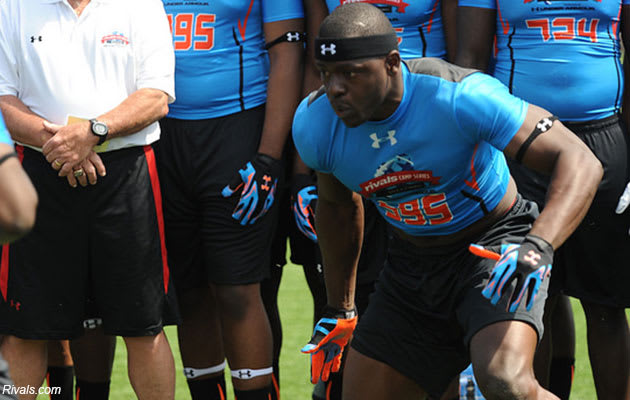 Betiku is just learning the game and already he has had dominant
moments. He is a physical specimen who could play defensive end or outside
linebacker. He's fluid, athletic, fierce and once his game gets refined even
more, he could be something special. Betiku had a good performance at the Elite
50 Experience in Orlando, but what we saw even more out of him is a prospect with
tons of potential who just needs to keep learning how to master his craft.
-- Gorney
OT
Murrieta (Calif.) Mesa
NEW RANK
PREV. RANK
DIFFERENCE
130
NR
NA
Smith was a little off-the-radar during his junior season, but he has loaded up
with major offers in the last few weeks and his junior film is a major reason
why he's gotten so much attention. The first thing that stands out about the
6-foot-7, 276-pound prospect is that he's tough, he loves to seek out defenders
and hit them. He's a good run blocker, but Smith is special because at his size,
he can move downfield and block. It will be interesting to see how he performs
during the off-season circuit. -- Gorney
CB
Sachse, Texas
NEW RANK
PREV. RANK
DIFFERENCE
133
156
+23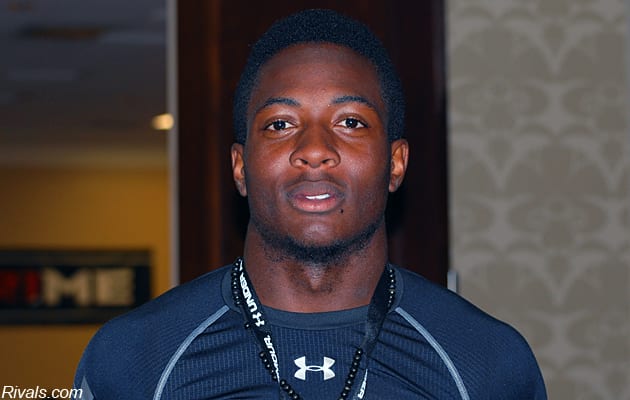 Mayden is one of the better put together defensive backs in the region. He has
shown the ability to play both cornerback and safety and has exceptional
footwork to go along with a big physical presence. -- Howell
ATH
Portland (Ore.) Central Catholic
NEW RANK
PREV. RANK
DIFFERENCE
144
NR
NA
The 6-foot-3, 205-pound prospect is listed as a wide receiver on the opening
graphic of his junior highlight tape, but the first clip shows how truly
versatile he is. On the play, Winston drops back into coverage from the
linebacker position and jumps in front of a pass, proceeding to evade seven
defenders for a 35-yard touchdown return. As a receiver, Winston is just as
impressive. Aside from being a downfield threat, he shows a good feel for middle
routes and the vision to make would-be tacklers miss. -- Blair
Angulo, Rivals.com West Recruiting Analyst
OLB
Miami (Fla.) Norland
NEW RANK
PREV. RANK
DIFFERENCE
145
NR
NA
Rice has tremendous junior film, but his coming out party was Florida Fire
7-on-7 tryouts. He was as physical as any player at the event and also shined in
coverage. Rice can play a number of positions at the college level. Whether or
decides to keep him at free safety is a choice the Seminoles will need to make.
He can certainly run like a defensive back as things stand now and covers
sideline to sideline with tremendous athleticism and aggression. --
Rob Cassidy, Rivals.com Southeast Recruiting Analyst
WR
Chandler, Ariz.
NEW RANK
PREV. RANK
DIFFERENCE
152
NR
NA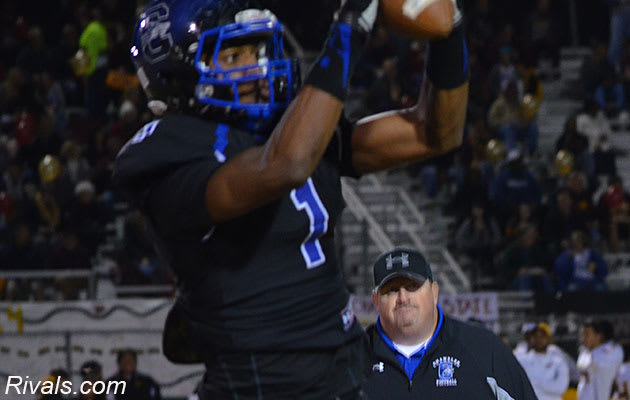 There might not be a prospect whose stock has risen as high as Harry's in recent
weeks. The 6-foot-4, 210-pound wideout is explosive off the line of scrimmage
and elusive enough to make him a threat to score anytime he touches the
football. Harry is also a standout basketball player, and he uses that leaping
ability well near the goal line. He is also a willing blocker in the run game,
too. -- Angulo
OLB
Houston (Texas) Aldine Davis
NEW RANK
PREV. RANK
DIFFERENCE
164
NA
NA
McCulloch has a big frame and can be a versatile linebacker on the college
level. He is comfortable in coverage and he drives through the ball carrier when
he arrives to make a tackle. He has some nice lateral quickness and a long
wingspan which allows him to close throwing lanes. -- Howell
ATH
Santa Ana (Calif.) Mater Dei
NEW RANK
PREV. RANK
DIFFERENCE
168
NR
NA
Robinson is a two-way standout who probably projects as an outside linebacker
but also excelled at wide receiver in his junior season. The Mater Dei standout
is smart, instinctual and does a fantastic job getting to the sideline to stop
the run. Robinson is especially long and athletic for a linebacker and that
allows him to make tons of plays on the edge. He's best at reading what's going
on, diagnosing what to do and then going and making the tackle. --
Gorney
OLB
Charlotte (N.C.) Ardrey Kell
NEW RANK
PREV. RANK
DIFFERENCE
179
NR
NA
Okwara's junior film was very impressive. He is very aggressive, plays with
great explosiveness and can run sideline to sideline. It was hard to tell on
film how big he actually is, but after seeing him in person there is no doubt
his every bit of his listed 6-foot-4, 210 pounds. Being able to do what he did
on film at that size makes him a special prospect. Looking at how much room he
has left in his frame, Okwara has a real chance to make big strides going into
next season. -- Friedman
DT
Destrehan, La.
NEW RANK
PREV. RANK
DIFFERENCE
180
NR
NA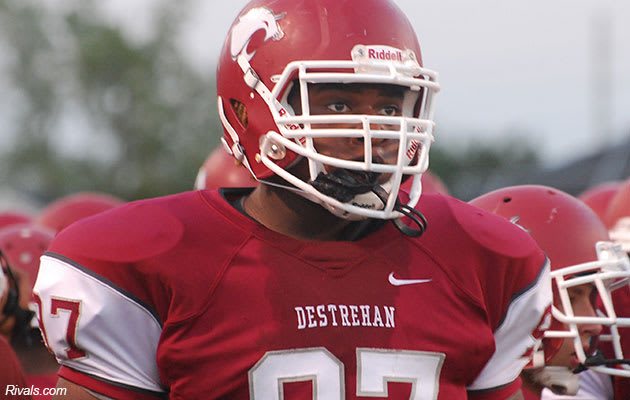 Logan's strength is his strength. He has great upper and lower body strength and
he does not stop. He may not be the quickest off the ball, but he does not stop.
His motor, combined with his strength and hands, allow him to be a constant
disruption at Destrehan. -- Howell
CB
Pittsburg, Calif.
NEW RANK
PREV. RANK
DIFFERENCE
181
NR
NA
Parker is really good at press coverage and giving some space and then coming up
to make the play. What's most impressive about him is
how well he defends the deep pass. Parker has a knack for covering down the field,
out-jumping wide receivers and picking off passes. He also plays wide receiver
so he's not just a corner without good hands. Parker is very good at making
plays and picking off passes, which makes him an even better corner.
-- Gorney
OLB
Oakland (Calif.) Bishop O'Dowd
NEW RANK
PREV. RANK
DIFFERENCE
190
NR
NA
Eifler can move up in the box to stuff the run or drop back and do a great job
playing the pass and picking it off. The Bishop O'Dowd standout is super
physical, so he is comfortable playing near the line, breaking through and
tacking running backs. He looks even better dropping back, reading the
quarterback's eyes and making a play. It also speaks to his athleticism that on
his highlight film when he intercepts a pass he can outrun running backs and
receivers to the end zone. -- Gorney
WR
Viera, Fla.
NEW RANK
PREV. RANK
DIFFERENCE
191
NR
NA
The 6-foot-2 Nixon has been grabbing offers seemingly every day as of late and
his acceleration out of cuts and sure hands are two major reasons why. Nixon
possesses a devastating change of pace that shows on film and he seems to catch
anything thrown his way. He's smooth out of his cuts and able to high-point
balls that are thrown up for grabs. It's not hard to see why colleges have been
lining up to offer him scholarships as of late. -- Cassidy
WDE
Stockbridge, Ga.
NEW RANK
PREV. RANK
DIFFERENCE
203
NR
NA
Wiley was the talk of the Rising Seniors event in Atlanta, mainly because of his
explosive athletic ability. Wiley can play with his hand in the dirt or in
space, and at 6-foot-3, 235 pounds, he looks like he could develop to play either role
at the next level. Several schools jumped on Wiley following the release of his
junior film and he's a guy to watch at big events this offseason, because his
stock may continue to rise. -- Woody Wommack, Rivals.com Southeast
Recruiting Analyst
PQB
Rancho Santa Margarita (Calif.)
Tesoro
NEW RANK
PREV. RANK
DIFFERENCE
219
NR
NA
Modster threw for 2,500 yards and 22 touchdowns and rushed for nearly 700 yards
and another 16 scores as a junior. He's most
comfortable sitting in the pocket and dissecting defenses whether it's zipping
it across the middle or putting some air under it on the deep pass. What makes
Modster even more special is he has the ability to run the read-option, gain
yards on designed runs, or if the pocket breaks down he can escape and make
things happen. -- Gorney
OT
Harbor City (Calif.) Narbonne
NEW RANK
PREV. RANK
DIFFERENCE
238
NR
NA
Akingbulu was originally a basketball player, so he has tremendous athleticism and
he can run down the field surprisingly well for his size. He can block down the
field and is super long, so when he gets his hands on a defender, Akingbulu
usually controls the play. One thing he needs to work on is being more physical.
He needs to learn how to hit people and drive them into the ground instead of
just moving them out of the way at times. -- Gorney
OG
Cranford, N.J.
NEW RANK
PREV. RANK
DIFFERENCE
242
NR
NA
Not much was known about Fries when we updated our rankings last time. Looking
at his film, Fries is a big, strong lineman that could play guard or tackle. He
drives his feet on contact and stays low to maintain his leverage. At only
265 pounds right now, Fries has lots of room to fill out and add strength, which
is kind of scary because he is already a people-mover. -- Friedman
SLIDERS
OT
Mesquite (Texas) North Mesquite
NEW RANK
PREV. RANK
DIFFERENCE
131
61
-70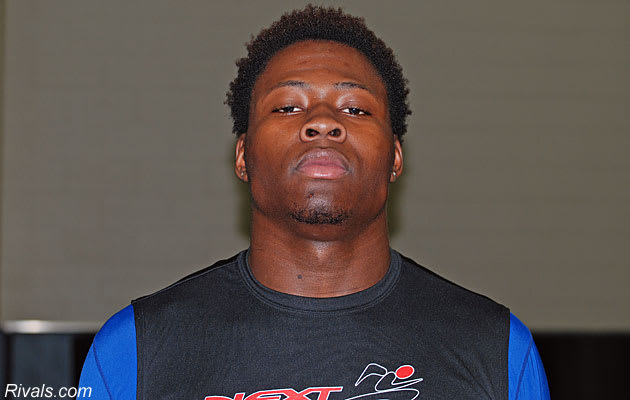 There is no doubt Delance has some great athleticism for an offensive lineman.
He is light on his feet and he has long arms and he does not have a lot bad
weight on his frame. That said, he is going to need to add some weight to his
frame and build on his strength. The potential is definitely there, but he has
some developing to do in the strength and technique department.
-- Howell
DT
Chandler (Ariz.) Hamilton
NEW RANK
PREV. RANK
DIFFERENCE
150
102
-48
Rand had a monster start to his junior season with nearly 40 total tackles
through the first four weeks, but he cooled off toward the end as the
competition got more difficult. Others around the country emerged, so it's only a
minor slide in the Rivals250 for the lineman, whose quick first step and
-- Angulo
CB
Bellevue, Wash.
NEW RANK
PREV. RANK
DIFFERENCE
217
196
-21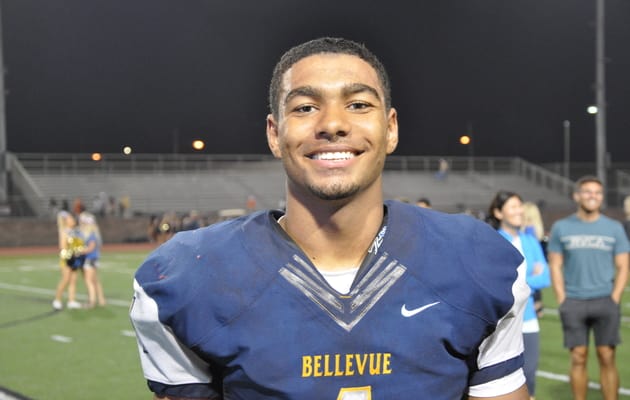 Others in the region ascended in the rankings, causing a ripple that bumped
Gilchrist down a bit. The 5-foot-11, 180-pound prospect is a good tackler in
open space and is tough to beat in coverage. Gilchrist won't raise many eyebrows
from a size standpoint, but the way he's utilized on the offensive side makes
him an intriguing recruit moving forward. -- Angulo



Eason holds, two new five-stars


Video: Linebackers making the climb


contenders for the No. 1 spot
Mike Farrell
National Recruiting Director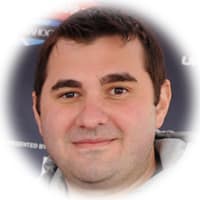 Rob Cassidy
Midlands/Southwest Recruiting Analyst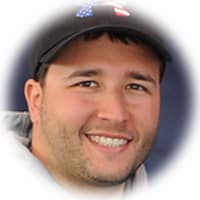 Adam Friedman
Mid-Atlantic Recruiting Analyst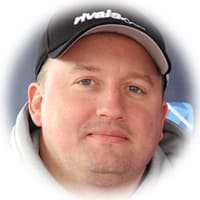 Adam Gorney
West Recruiting Analyst
Josh Helmholdt
Midwest Recruiting Analyst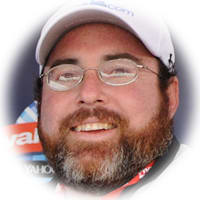 Jason Howell
Mid-South Recruiting Analyst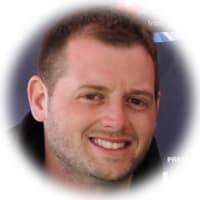 Woody Womack
Southeast Recruiting Analyst