Rivals250: Risers and Sliders
The high school season is all but wrapped up across the country so there is no
better time than to update the rankings.
with a new No. 1 in Paramus (N.J.) Paramus Catholic five-star defensive tackle
Juarez rounded out the top five.
Here are the biggest swings both up and down in the Rivals250 as the
ever-important all-star season looms in the next few weeks.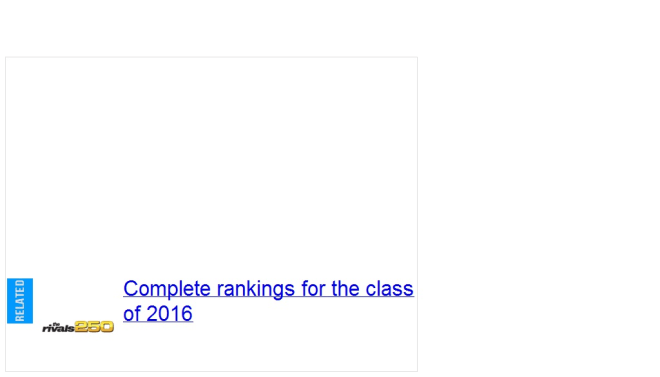 "Chambers, a track star, really improved his route running this season and it
really showed on film. He has more wiggle in his routes and it helps him create
receivers that are big-time deep threats and that's what the Spartans are getting in
Chambers." -- Rivals.com Mid-Atlantic Recruiting Analyst Adam
Friedman
SDE
McKinney (Texas) McKinney North
NEW RANK
PREV. RANK
DIFFERENCE
110
NR
NA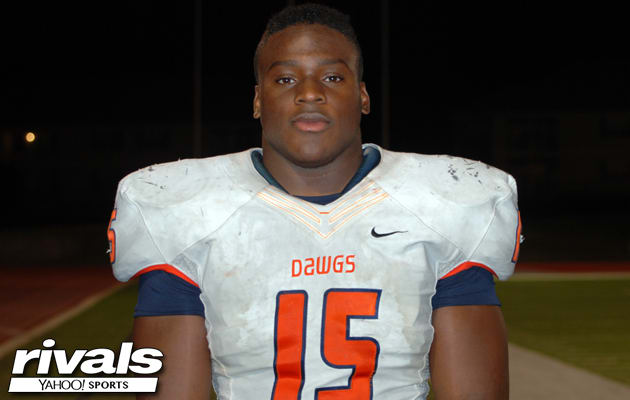 "Madubuike has been a four-star just outside the Rivals250 the last few ranking
for McKinney North and is projected as a defensive end on the college level. As
a senior he added more weight and maintained his quickness, improved his
strength, and he was one of the most disruptive defensive forces in the Texas."
-- Rivals.com Mid-South Recruiting Analyst Jason Howell
DQB
Gardena (Calif.) Serra
NEW RANK
PREV. RANK
DIFFERENCE
112
NR
NA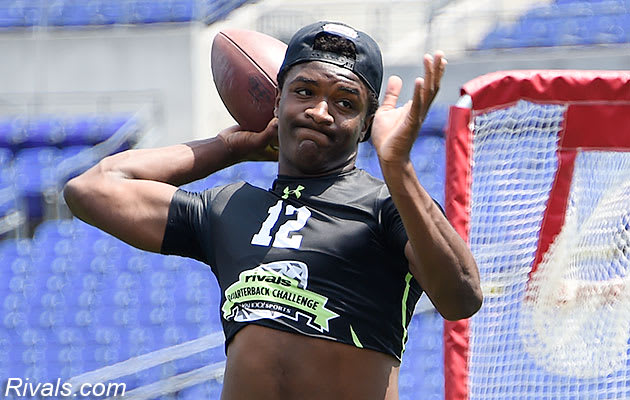 "Tate is such a dynamic, make-or-break kind of quarterback that he's a thrill to
outstanding top-end speed, he escapes the rush like Houdini and he has a strong
arm to deliver the ball down the field. He still needs to work on his accuracy
and sometimes he lives on the edge too much but Tate is a playmaker who should
thrive in the Wildcats' offense." -- Adam Gorney, Rivals.com National
Recruiting Analyst
WR
Fort Wayne (Ind.) Bishop Luers
NEW RANK
PREV. RANK
DIFFERENCE
113
149
+36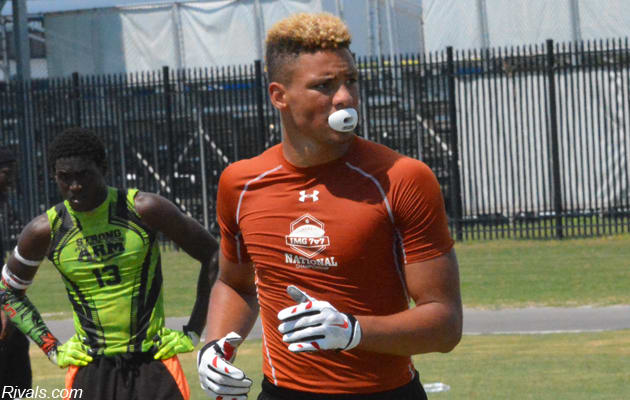 "After missing the majority of the off-season with injury, Mack returned this
commit has always been a sure-handed receiver, but he has added an element of
explosion to his game that was not as pronounced a year ago. He terrorized
northern Indiana football this season from both his wide receiver position and
in the return game." -- Helmholdt
OLB
Eden Prairie, Minn.
NEW RANK
PREV. RANK
DIFFERENCE
116
213
+97
"Coughlin benefits from all the range his 6-foot-4, 212-pound frame affords him
without showing the stiffness taller defenders often times suffer from. This
That is an area he will need to continue developing, but the progression was
definitely noticeable." -- Helmholdt
TE
Charlotte (N.C.) Victory Christian
NEW RANK
PREV. RANK
DIFFERENCE
118
NR
NA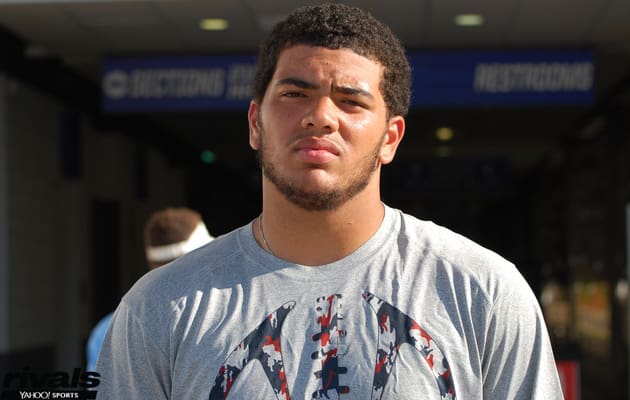 "Early on there were some questions about Moss' overall athleticism but he
really answered all of those questions this season. If he made a short catch he
could make a defender miss in the open field and go for a big gain, showing off
improved speed. Moss also made some great leaping catches this season. He is
RB
New London (N.C.) North Stanly
NEW RANK
PREV. RANK
DIFFERENCE
122
NR
NA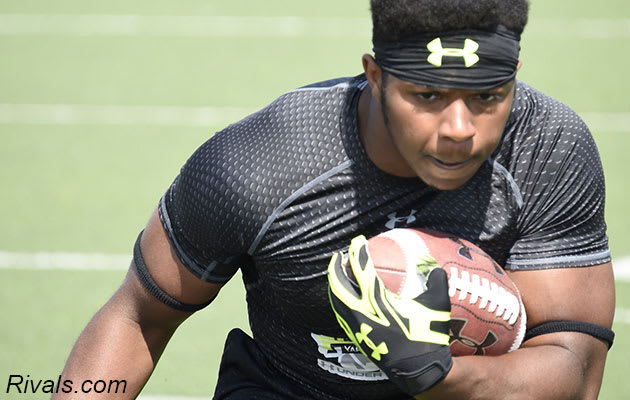 "The major differences in Williams' game this season compared to last season are
year and broke some very long runs. Williams has he ability to run defenders
over or out run them." -- Friedman
WR
Navasota, Texas
NEW RANK
PREV. RANK
DIFFERENCE
126
NR
NA

"Dickson is not the biggest or the fastest, but he has a natural feel for the
position and has some of the surest hands around. He makes quick adjustments and
does so with out losing speed. He runs clean routes, and has been a clutch
CB
Waco (Texas) La Vega
NEW RANK
PREV. RANK
DIFFERENCE
127
NR
NA
a cover corner with length and quick feet, and he attacks the ball like a
receiver. He has been a riser through the rankings throughout the process, and
he continues the rise after a strong senior season." -- Howell
WR
Starkville, Miss.
NEW RANK
PREV. RANK
DIFFERENCE
138
NR
NA
"Brown has quickness and explosiveness that his rare for a player of his size.
There's a reason most of the SEC is involved in his recruitment. He runs
polished routes and is smooth out of his breaks. While he may not be a track star
when it comes to top speed, he gets off the line as quickly as anyone can
Recruiting Analyst Rob Cassidy
PQB
Avon, Ind.
NEW RANK
PREV. RANK
DIFFERENCE
140
242
+102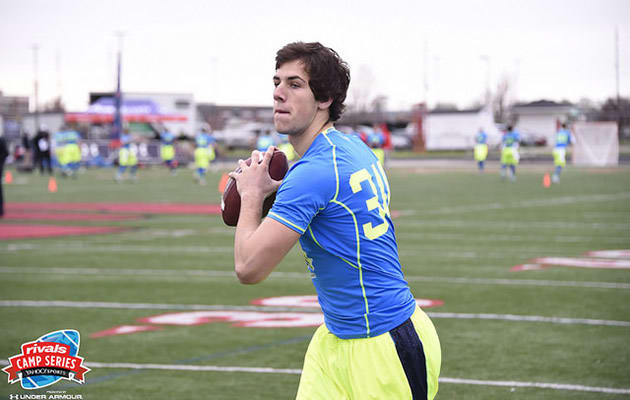 "Peters had a big season en route to being named Mr. Football in Indiana. One area he improved from where we last saw him in the spring was arm
to spray the football. This season his motion was much more consistent and that
resulted in greater accuracy with the football." -- Helmholdt
APB
Bellflower (Calif.) St. John Bosco
NEW RANK
PREV. RANK
DIFFERENCE
160
245
+85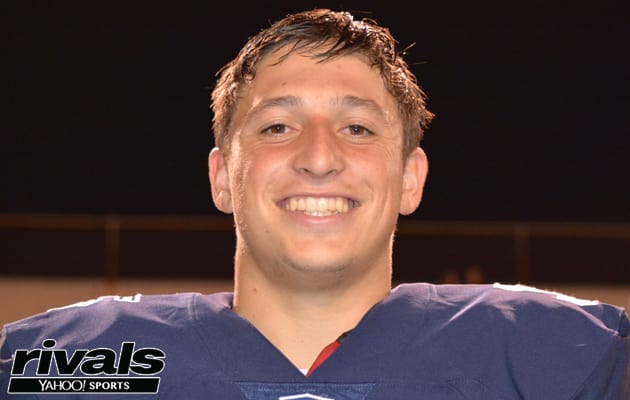 "McGrew is undersized and there's no way around that, but he can hide behind
bigger offensive linemen and then burst through the hole for big gains. The
in the open field and he also has surprising toughness to run between the
tackles, bounce off and keep going." -- Gorney
SDE
Greenwood, Miss.
NEW RANK
PREV. RANK
DIFFERENCE
168
NR
NA
"Spencer was once thought to be a member of the 2017 class but reclassified and
his skill set is every bit as impressive as a senior as it was when people were
are his length and quickness. His 6-foot-5 frame makes him especially dangerous
off the endy where he has a knack for wrapping up quarterbacks and other
ball-carriers in the backfield." -- Cassidy
RB
Beaumont (Texas) West Brook
NEW RANK
PREV. RANK
DIFFERENCE
172
244
+72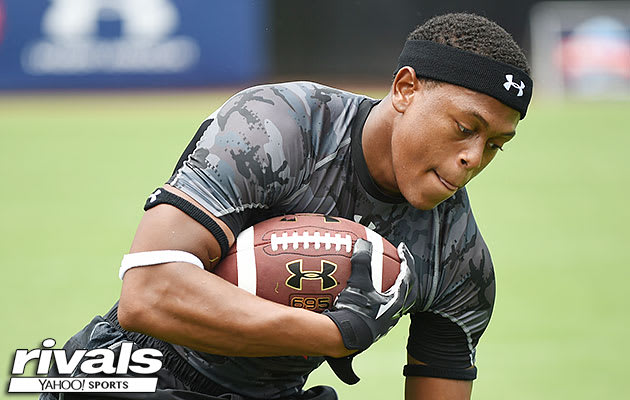 "Whaley's balance, vision, and speed shined bright in 2015. The 6-foot-1,
200-pound back has the size to handle an every down pounding, and he has the
speed to runaway from the pack. Whaley is an every down back with the size and
Howell
DQB
Thousand Oaks, Calif.
NEW RANK
PREV. RANK
DIFFERENCE
173
NR
NA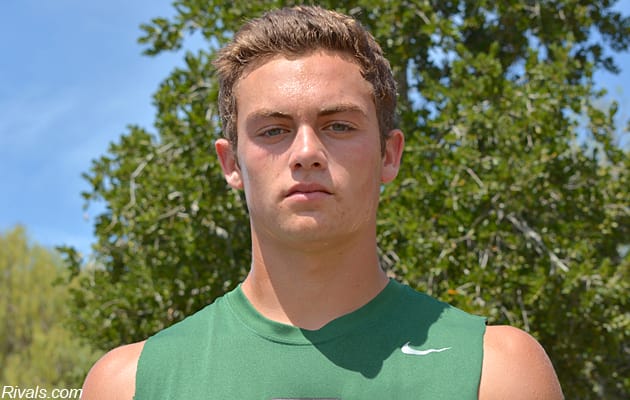 "Gilliam had a great offseason and was on the radar for a move up so after
throwing for 40 touchdowns and running for 10 more this season while completing
Although he's a dual-threat quarterback, Gilliam has tremendous pocket presence
and can stand in there to deliver passes all over the field. His running
capabilities are an added bonus." -- Gorney
S
Detroit (Mich.) Cass Tech
NEW RANK
PREV. RANK
DIFFERENCE
190
250
+60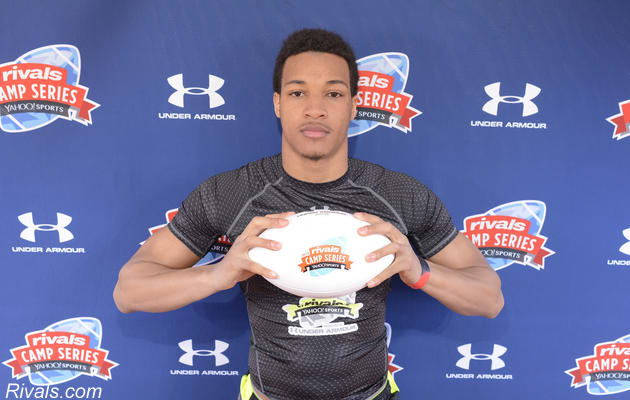 "The 6-foot-3, 196-pound Vance transitioned to safety full-time as a junior,
showing good, raw potential at that position. The question about whether he
would eventually outgrow the position, though, was likely answered this fall.
shown the coverage ability of a cornerback." -- Helmholdt
CB
Jonesboro, Ga.
NEW RANK
PREV. RANK
DIFFERENCE
204
NR
NA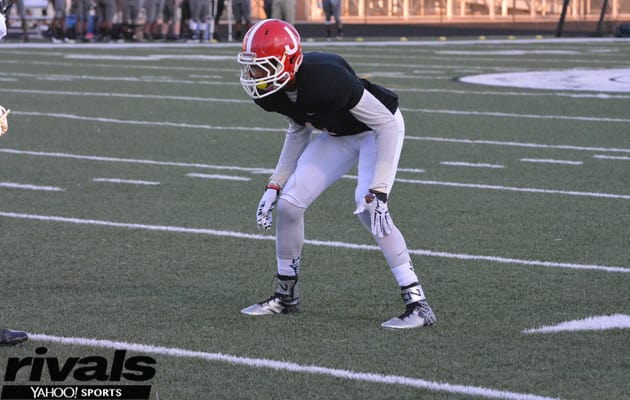 "Griffin was a favorite of NFL star Cam Newton at events over the summer and he
aggressiveness and ability compared to a year ago. Griffin as the size and
length that coaches covet and deserves to be ranked among the country's best."
-- Rivals.com Southeast Recruiting Analyst Woody Wommack
WR
Atlanta (Ga.) Mays
NEW RANK
PREV. RANK
DIFFERENCE
206
NA
NR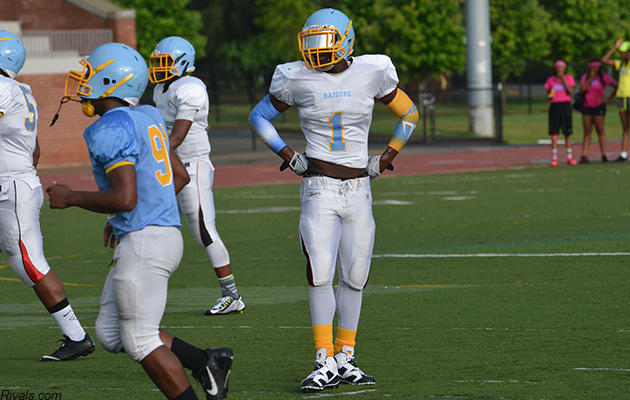 "Davis had a monster senior season and served as his team's go-to weapon on
offense, whether it was on deep balls, direct snaps or passes over the middle.
His hands and toughness make him an ideal candidate to make an impact as a
freshman at Kentucky when he's working out of the slot full-time." -- Wommack
WR
Farmington, Mich.
NEW RANK
PREV. RANK
DIFFERENCE
208
NR
NA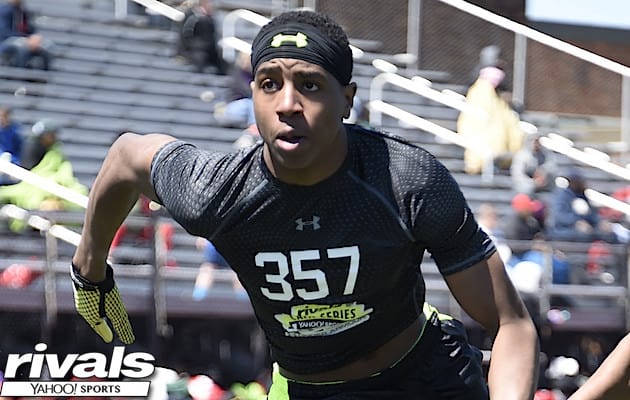 "Fitzpatrick has always had great size to go along with one of the best pair of
hands in the Midwest. This season, though, Fitzpatrick has displayed greater
suddenness off the line of scrimmage and greater ability to separate down the
field. His combination of size, hands and now increased explosiveness earned him
OG
North Charleston (S.C.) Fort
Dorchester
NEW RANK
PREV. RANK
DIFFERENCE
216
NR
NA

"Simpson has always been a four-star so his move up shouldn't come as a
surprise, especially after an impressive senior season. He's a true guard so his
WR
Lima (Ohio) Lima Senior
NEW RANK
PREV. RANK
DIFFERENCE
221
NR
NA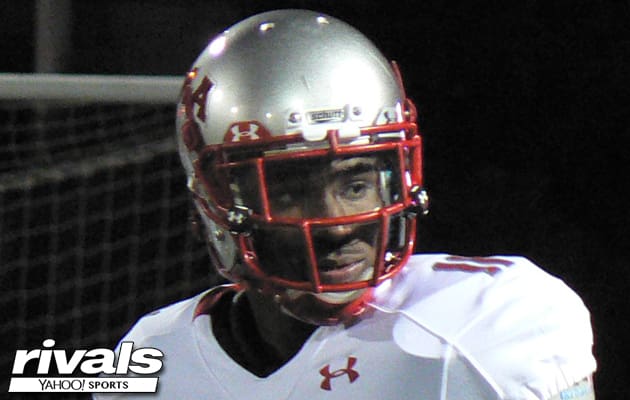 "Flowers showed us his high-flying, playmaking ability at the Cleveland stop of
outstanding body control, making him a valuable red zone weapon. Getting out to
see him live this fall, we were treated to a more well-rounded game than we were
expecting and also came away with a greater appreciation for his speed." --
Helmholdt
DQB
Rancho Santa Margarita (Calif.)
Tesoro
NEW RANK
PREV. RANK
DIFFERENCE
237
NR
NA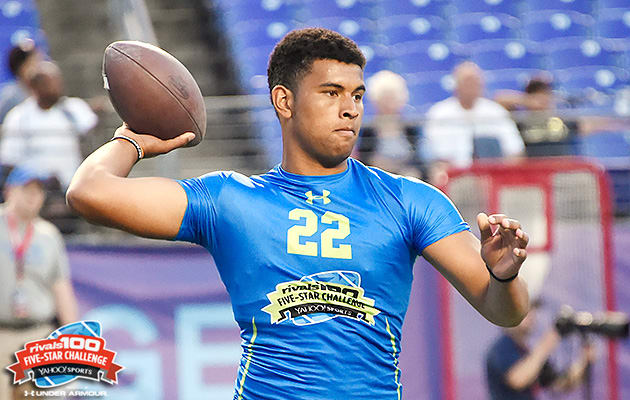 a more stable presence in the pocket. He has a strong arm but the thing that
most stands out about Modster is that he spins the ball incredibly well, is
really accurate and always seems to find an open receiver. He can move around,
too, but sitting back and tossing it around is his best strength." --
Gorney
OG
Lewisville, Texas
NEW RANK
PREV. RANK
DIFFERENCE
243
NR
NA

"Okafor spends his time at tackle but is projected by most for an interior spot.
As a senior he played with a nasty edge in the trenches. The Texas commit comes off the ball
low, packs a powerful punch, and is a strong downfield blocker." --
Howell
APB
Houston (Texas) C.E. King
NEW RANK
PREV. RANK
DIFFERENCE
244
NR
NA
"Williams quickness makes him a threat to go the distance at any moment. He hits
his top speed in a hurry and his footwork makes him a tough target in open
space. He may not be the biggest, but his explosive ability makes up for what he
lacks in size." -- Howell
CB
St. Louis (Mo.) Chaminade
NEW RANK
PREV. RANK
DIFFERENCE
246
NR
NA

"After winning the defensive back MVP award at the Rivals Camp Series in St.
showed an outstanding feel for the position and playmaking ability during his
senior season. He has great length for the position, fluid hips and plenty of
speed to run with receivers down the field." -- Helmholdt
DT
Roselle (Ill.) Lake Park
NEW RANK
PREV. RANK
DIFFERENCE
247
NR
NA
"The 6-foot-4, 275-pound Panasiuk has always been one of the strongest prospects
in the 2016 class, but his move to four-stars and into the Rivals250 was due to
showing as a senior that he is more than a space eater in the middle. The Michigan State commit
displayed a level of athleticism we had not seen from him earlier and proved he
can get after the quarterback." -- Helmholdt
ATH
Little Rock (Ark.) Robinson
NEW RANK
PREV. RANK
DIFFERENCE
248
NR
NA
"Hammond added more strength and explosive power to his game in 2015 and he ran
through his competition on a weekly basis. His vision and quick burst give the Arkansas commit
big-play ability as a running back, receiver, and a return specialist. As a
senior he averaged over 14 yards a carry rushing and scored 29 total touchdowns
as a senior." -- Howell
SLIDERS
WR
Lawrenceville (Ga.) Archer
NEW RANK
PREV. RANK
DIFFERENCE
109
68
-41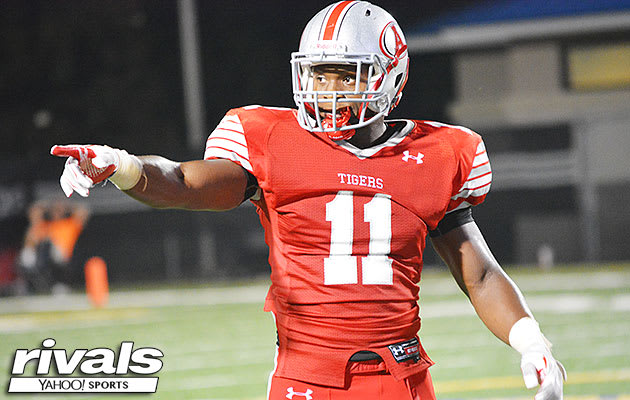 "Davis is still one of the country's top wide receivers, but he struggled with
the extra attention he received from defenses during his senior year. The Auburn commit is a big
target and will still haven't plenty of success in college, but we think he's
better suited to be ranked in this range." -- Wommack
WDE
Homerville (Ga.) Clinch County
NEW RANK
PREV. RANK
DIFFERENCE
120
73
-47
"Manac plays against a lower level of competition than some of the other
highly-ranked players at his position and while he flashes dominance at time, we
may have overshot his initial ranking. His versatility still makes the Georgia commit a very
intriguing prospect and someone we still hold in high regard." --
Wommack
S
Atlanta (Ga.) Westlake
NEW RANK
PREV. RANK
DIFFERENCE
123
53
-70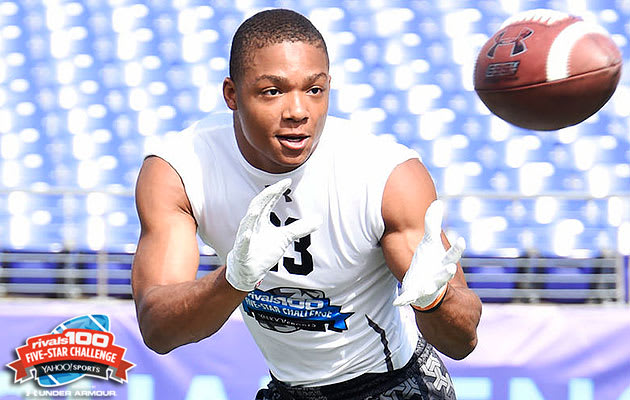 "Warrior is one of the fastest safety prospects in the class but at 5-foot-11 he
may be a little undersized for the position. He has the raw tools to potentially
transition to corner, but will need time to develop if that's the move he ends
DT
Bradenton (Fla.) IMG Academy
NEW RANK
PREV. RANK
DIFFERENCE
130
19
-111
"Manuel has not developed in the way most projected. He still has a tremendous
frame and an extremely high upside, but he carries some bad weight and was not
the dominant force most expected him to be as a senior. He'll need to do some
conditioning work if he's to reach his full potential early in his college
career. Manuel is thought to be choosing between Florida and Florida State. He will likely land with the Gators. " -- Cassidy
WR
La Puente (Calif.) Bishop Amat
NEW RANK
PREV. RANK
DIFFERENCE
133
58
-75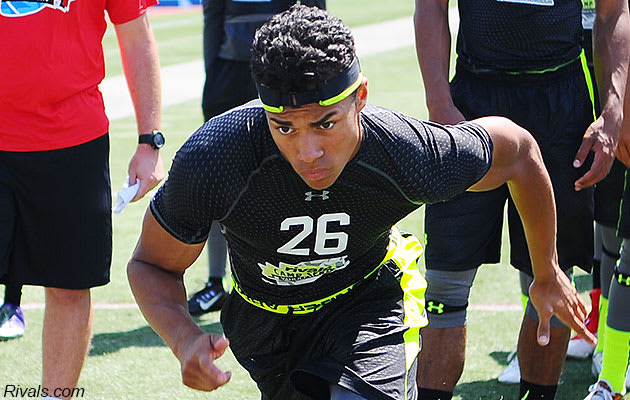 "Maybe more than any player in California, Sidney had a fantastic offseason,
up a lot during the season and never took over games like we wanted to see. He
still has tremendous speed and great hands but he needs to be more physical and
have a bigger presence on the field." -- Gorney
WDE
Hyattsville (Md.) DeMatha
NEW RANK
PREV. RANK
DIFFERENCE
137
97
-40
"Simmons is a true hybrid defensive end/outside linebacker. He didn't have the
type of year we thought he would as a defensive end and he didn't see time as an
outside linebacker. The overall athleticism and nose for the ball are there but
Friedman
DT
Powder Springs (Ga.) McEachern
NEW RANK
PREV. RANK
DIFFERENCE
142
84
-58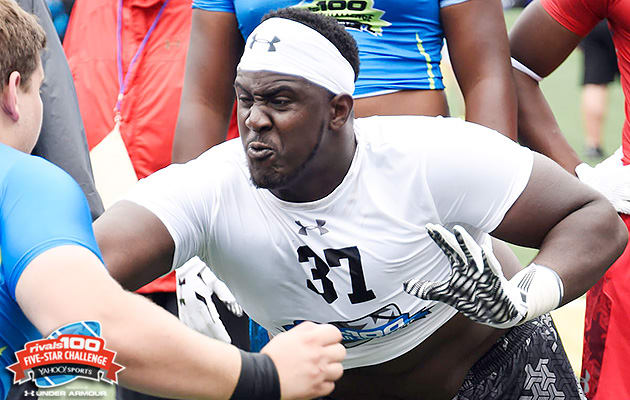 "It's no secret Rochester has struggled with his weight since suffering an
offseason injury and his added bulk seemed to slow him down during his senior
year on the field. The Georgia commit still has a very high ceiling, but might take a little
more time than initially thought to be a dominating force." --
Wommack
OG
Detroit (Mich.) Cass Tech
NEW RANK
PREV. RANK
DIFFERENCE
157
83
-74
"Onwenu was outstanding at the Rivals100 Five-Star Challenge last June, nearly
taking home offensive line MVP honors. In game action this season, though, Onwenu was limited in his ability to handle blocks that were not directly in
but in comparison with other offensive guards he still has work to do in that
area." -- Helmholdt
OT
Santa Ana (Calif.) Mater Dei
NEW RANK
PREV. RANK
DIFFERENCE
158
114
-44
"Martin is a tough, physical lineman who is well-coached and comes from an
outstanding program. There are still questions, though, whether he will play
offensive tackle or move inside to play guard at USC. If he does move inside
there will be a learning curve because it's not a position he has played during
his high school career." -- Gorney
S
Nashville (Tenn.) Father Ryan
NEW RANK
PREV. RANK
DIFFERENCE
164
86
-78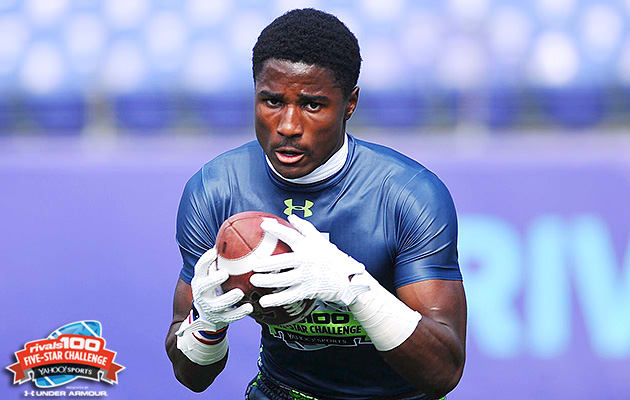 "Williams spent the offseason excelling against marquee competition on the camp
circuit, but he was always known as a camp first guy. Headed into the fall he
was looking to cement his top 100 spot with a strong senior season, but his
Wommack
OG
Washington (D.C.) Archbishop Carroll
NEW RANK
PREV. RANK
DIFFERENCE
179
85
-94
"Merritt can be a very effective offensive lineman but his conditioning is
really holding him back. For a player that size, Merritt moves extremely well
but not finishing plays and slowing down as the game progresses are not traits
top prospects possess. A college workout plan and the strength and conditioning
DT
Concord (Calif.) De La Salle
NEW RANK
PREV. RANK
DIFFERENCE
187
128
-59
"Tagaloa is a big body in the middle who is a run stuffer and also has
surprising athleticism to get into the backfield to stop running backs and get
to quarterbacks. What we would like to see is more consistent productivity from
Tagaloa and a constant relentlessness to make the play from his defensive tackle
spot. Tagaloa remains wide open in his recruitment but is considering a bunch of Pac-12 schools including UCLA and he's also seriously looking at Michigan." -- Gorney
ATH
Chandler, Ariz.
NEW RANK
PREV. RANK
DIFFERENCE
197
122
-75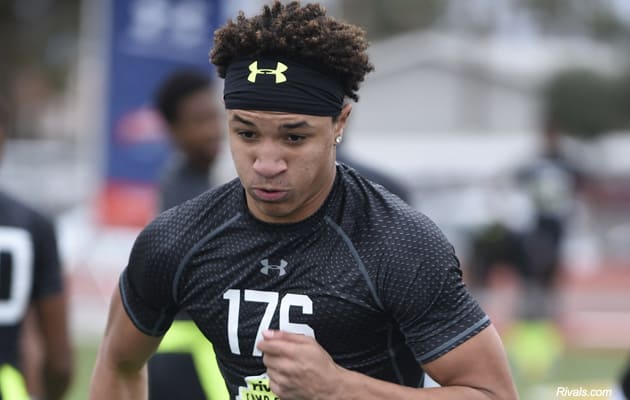 knee injury while returning a kickoff in his second game. He returned to action
to help Chandler to the playoffs, but the time he missed appeared to affect his
rhythm and might have limited him on offense. The Sun Devils, according to
Lucas, have tossed around the idea of utilizing him at safety next year. Despite
falling a bit in the rankings, Lucas should have the versatility to make an
impact early with his hometown program." -- Rivals.com West
Recruiting Analyst Blair Angulo
WR
Suwanee (Ga.) North Gwinnett
NEW RANK
PREV. RANK
DIFFERENCE
217
131
-86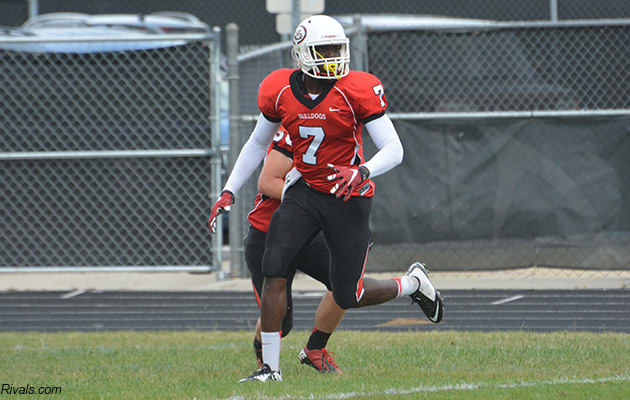 "Imatorbhebhe had a terrific junior season in 2014 and followed it up with an
impressive summer, but unfortunately that success didn't carry over into the
fall. The USC commit struggled for stretches and it seemed as if his frustration level
boiled over into his play, hurting his production. Imatorbhebhe's size and
athleticism still make him a candidate for the Rivals250, but he will have to
work on his consistency at the next level." -- Wommack
OT
Downers Grove (Ill.) South
NEW RANK
PREV. RANK
DIFFERENCE
223
115
-108
"Swenson arrived on the recruiting scene very early in his career, earning his
first scholarship offers shortly after his freshman season. The 6-foot-5,
300-pound tackle continues to be an outstanding prospect, but we did not see the
be at the right tackle position." -- Helmholdt
Mike Farrell
National Recruiting Director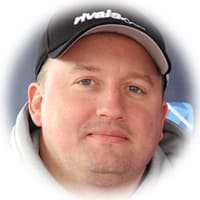 Adam Gorney
National Recruiting Analyst

Blair Angulo
West Recruiting Analyst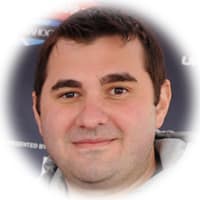 Rob Cassidy
Southeast Recruiting Analyst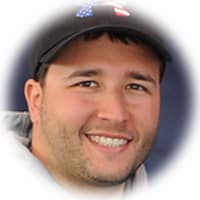 Adam Friedman
Mid-Atlantic Recruiting Analyst
Josh Helmholdt
Midwest Recruiting Analyst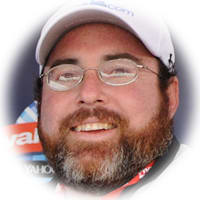 Jason Howell
Mid-South Recruiting Analyst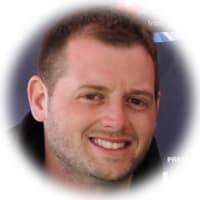 Woody Wommack
Southeast Recruiting Analyst