Rivals250 RB Anthony McFarland stays home, picks Maryland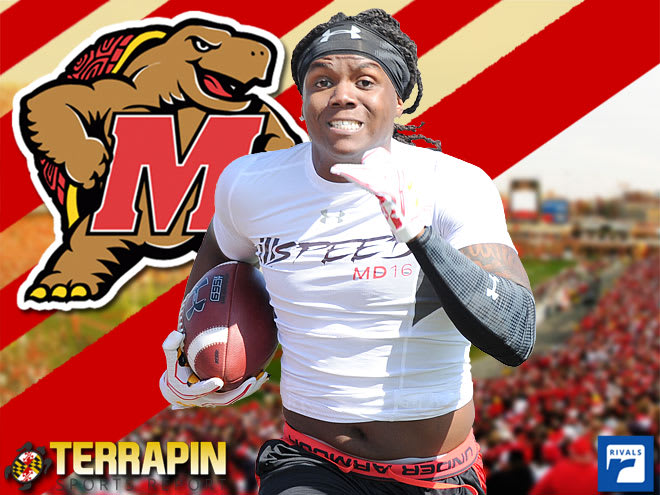 With the commitment of Rivals250 running back Anthony McFarland on Friday, DJ Durkin's staff at Maryland just pulled off their biggest recruiting win to date. Miami was viewed by many as the favorite to land the Hyattsville (Md.) DeMatha star earlier in the week but during an in-home visit Tuesday the Maryland staff convinced him to push back his originally scheduled commitment date of Wednesday and it paid off.
IN HIS OWN WORDS...
"I decided to commit to Maryland because I was thinking about staying home and staying close to my family," McFarland said. "I have brothers and sisters that I want to help take care of that are always just a phone call away. My family will be able to come see me play.
"The coaching staff is another reason I committed," he said. "I wasn't going to go to Maryland if Randy Edsall was still there. No disrespect to him, but I just felt like things weren't going the right way when he was up there. He wasn't handling things the right way. When Coach Durkin and the staff came in it really impressed me. The way he put that coaching staff together and brought them to College Park was big. With Coach Aazaar (Abdul-Rahim), I've been close with him since youth ball. That put them on a stepping stone as far as my recruitment and that helped me make my decision. Playing with my teammates (from DeMatha) one more time, Tino (Ellis), Terrance (Davis), Lorenzo (Harrison), and other local guys, was another reason why I decided to stay home.
"I feel like this is the right offense for me because they showed the versatile ways I would be used once I get there," said McFarland. "I saw it this year but they didn't have the right players and that's what they stressed to me. They rotate players from all over the field and they feel like once they have the right players, then they'll be on a roll and I feel like I can do that.
"I want everybody in the DMV to stay home," he said. "I want to show everyone this coming football season that when local big-time kids stay home, not just one person but a few people, it's going to make a big impact. Once that happens there will be another big impact in 2018. I just want those young kids to think about staying home and playing in front of their family and filling up that College Park stadium again."
RIVALS' REACTION
It's hard to understate the importance of Maryland landing McFarland's commitment. When healthy, he is a difference-maker on the field and can affect the game in a variety of ways. Off the field, McFarland has a lot of pull with local recruits and wields a considerable amount of influence which is huge for the Terps' "DMV to UMD Movement." Lots of credit has to go to Maryland assistant Abdul-Rahim. He spearheaded the effort by Maryland's staff to keep McFarland at home and is the lead recruiter for 10 of Maryland's 29 commitments.