Rivals250 back has Ohio State on top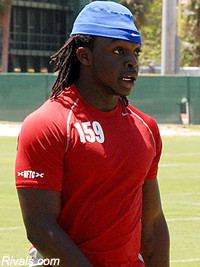 Despite being listed in the Rivals250 and being widely considered one of the best backs in the state of Florida in a loaded year for backs,
Trabis Ward
out of Ft. Lauderdale (Fla.) Dillard only has two written offers to date. However, college coaches certainly know who the 5-foot-10, 186-pounder is. Ward has been gaining serious interest from some of the nation's top programs.
"Ohio State is coming on now," Ward said. "They came to watch my practice and we've been talking a lot so we're about to be making a couple big moves."
Among the other schools that have shown heavy interest in Ward are Miami and Florida State with Troy and Toledo as his two written offers. However, the recent interest in the Buckeyes has shot them to the top of his list.
"They're saying I'm the type of back they want in their offense and whatever we have to do to make things work, we'll do it," he said. "Ohio State's number one right now because they're talking about what I'm talking about and they're willing to show me."
Several schools, including Ohio State, are waiting on Ward to get his test scores before an official offer is extended and Ward hopes to remedy that very soon.
"I take my test on June 14," he said. "There's a whole lot of schools waiting on that there."
The four-star prospect has intentions of going to Columbus, Ohio for a visit following his June 14 test and he also would love to hit Florida State, LSU and South Carolina for trips. He also hopes that his spring performance will send a message.
"I'm hoping that after this spring game when I go for 200 yards against Booker T. that I'll get that last star," he said.
Thursday, May 29, Dillard takes on Booker T. Washington in its Spring Game to close out Spring Practice.