Rivals250 ATH has good impression of three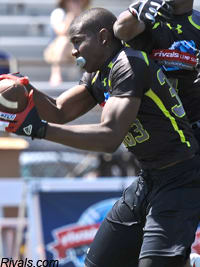 Another SEC school offered Brown a few days before the Gamecocks.
Brown is still trying to figure out which schools he will visit.
Throughout the process Brown has done a pretty good job of not tipping his hand but did mention three coaches he has taken a liking to.
"I've been pretty impressed with all the schools," said Brown. "I have a good relationship with Coach Brown from Virginia Tech, Coach Cohen from Rutgers and Coach Warinner from Ohio State. We talk pretty often.
"I don't think I've really seen enough schools to really count anybody out because I feel I need to really see the school to know if I'll fit in there," he said. "Until I take enough visits to where I'm comfortable, I'm not going to narrow anything down."
Brown has taken the recruiting process pretty slowly but things could pick up soon.
"I'm definitely going to narrow things down at the beginning of the summer and then probably again before the season," Brown said. "I'll either make my decision right before the season or early in the season."
Brown won the offensive skill MVP at the Newark RCS.