Rivals100 WR Boyd has a great trip to Oklahoma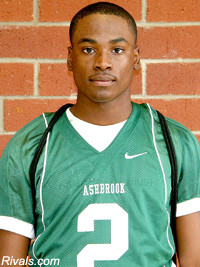 Rivals100 wide receiver
Jheranie Boyd
took his first official visit over the weekend. As late as Thursday the four-star prospect didn't have an offer from the school, but made it happen within a day.
"The trip went great, it was a great visit," he said. "The offer from Oklahoma came kind of late. I got it on Thursday. I felt good about getting the scholarship. Oklahoma was No. 2 in the nation, about to be No. 1. It feels great to be offered by the top team in the country. I know they throw the ball and they've got Sam Bradford. I'd get two years with him if I go there. I saw on Saturday the offense is explosive, they give the ball to their playmakers and the players told me they need a big guy with my speed. I definitely could play as a true freshman."
How did the trip come about in the first place?
"It came up kind of quick," he said. "I talked to Coach Norvell on Thursday and I told him I was going to go to the Clemson game, but if he had talked to me earlier in the week I could have taken an official there.
"He told me to hold on and asked the secretary. They called my coach the next morning on Friday and told me they got it worked out and I was able to go on an official to Oklahoma. I got out there about ten o'clock on Saturday."
What did Boyd do on the trip?
"On the first day I met all the coaches," he said. "It was game day and I met the players and hung out with Coach White and Coach Stoops a lot. He is real interactive with the players. He wanted to pick me up from the hotel and spend as much time as he could with me.
"I spent most of my time with Coach Norvell, White and Stoops. I liked them. It felt like I've been talking to them a long time. The relationship came really quick. I was comfortable around them. I really like Coach Stoops a lot too. He's down-to-earth and loves his players. I'm real attached to him."
On the trip, Boyd spent a lot of time with his host too.
"I also got to hang out with my host, Jermie Calhoun," he said. "It's one thing to hear from the coaches they you'll play as a true freshman. Coming from the players it means a lot more. He told me how they need wide receivers and how I'm big and they don't have the speed like me. He was fun and told me the differences from high school to college."
Of course the trip was to take in the game against TCU as well.
"I like the game, the atmosphere and crowd were great they cheered the whole time," he said. "It was a great experience and the campus was nice too. I liked everything about it."
Where does the four-star prospect go from here?
"I think I've got officials coming to Missouri, Illinois and Florida," he stated. "I know I'm going on them probably three weekends in October, the 11th, 18th and 25th. I haven't scheduled them yet.
"I picked those because Missouri throws the ball a ton and they have a good quarterback behind Chase Daniels. They are a top ten team too. I like Illinois because it's my home state. They would give me an opportunity to start as a true freshman and they have a pro-style offense. Finally, Florida runs the spread and they throw the ball a lot. They also compete for a national championship every year."
Would there be a fifth official?
"I don't know yet. I can say I'm not really looking at Oregon any more. I am looking at Auburn, but I'm not sure."
This season Boyd has hauled in seven touchdowns and is averaging 115-yards receiving a game.
"I'm getting the ball quicker and teams are pushing up coverage to confuse us," he said. "I'm also working with a different quarterback. Our quarterback got injured at the beginning of the year.
"Right now I'm trying to take the lead of my team to help them win a state championship."